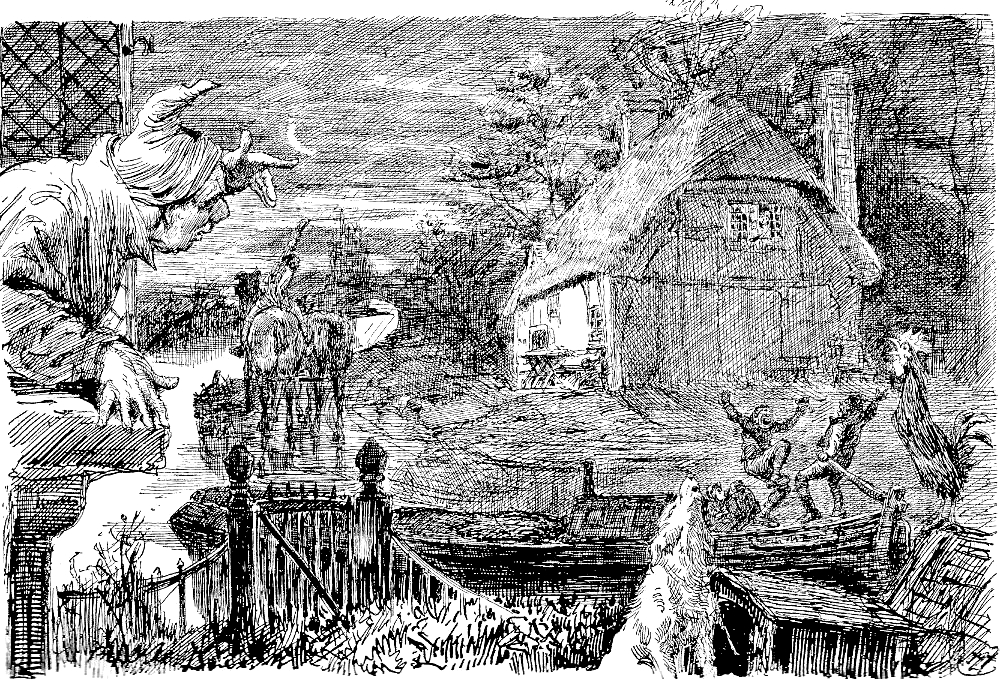 Night on the Barge (p. 321) — Chapter 43, 9.3 cm high x 13.8 cm wide, framed, in Charles Dickens's The Old Curiosity Shop, Charles Dickens Library Edition (1910), facing V, 321. Original caption: A chorus was maintained not only by the two men together, but also by the third man on horseback, who roared when his companions roared, and rent the very air. Many a cottager, who was roused from his soundest sleep by the discordant chorus. [Click on the image to enlarge it.]
The Uproarious Bargemen Disturb the Sleeping Villagers
She happened, while she was thus engaged, to encounter the face of the man on deck, in whom the sentimental stage of drunkenness had now succeeded to the boisterous, and who, taking from his mouth a short pipe, quilted over with string for its longer preservation, requested that she would oblige him with a song.
"You've got a very pretty voice, a very soft eye, and a very strong memory," said this gentleman; "the voice and eye I've got evidence for, and the memory's an opinion of my own. And I'm never wrong. Let me hear a song this minute."
"I don't think I know one, sir," returned Nell.
"You know forty-seven songs," said the man, with a gravity which admitted of no altercation on the subject. "Forty-seven's your number. Let me hear one of 'em — the best. Give me a song this minute."
"Not knowing what might be the consequences of irritating her friend, and trembling with the fear of doing so, poor Nell sang him some little ditty which she had learned in happier times, and which was so agreeable to his ear, that on its conclusion he in the same peremptory manner requested to be favoured with another, to which he was so obliging as to roar a chorus to no particular tune, and with no words at all, but which amply made up in its amazing energy for its deficiency in other respects. The noise of this vocal  performance awakened the other man, who, staggering upon deck and shaking his late opponent by the hand, swore that singing was his pride and joy and chief delight, and that he desired no better entertainment. With a third call, more imperative than either of the two former, Nell felt obliged to comply, and this time a chorus was maintained not only by the two men together, but also by the third man on horseback, who being by his position debarred from a nearer participation in the revels of the night, roared when his companions roared, and rent the very air. In this way, with little cessation, and singing the same songs again and again, the tired and exhausted child kept them in good humour all that night; and many a cottager, who was roused from his soundest sleep by the discordant chorus as it floated away upon the wind, hid his head beneath the bed-clothes and trembled at the sounds. [Chapter XLIII, 321]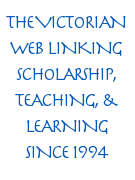 Related Material about
The Old Curiosity Shop
Scanned images and texts by Philip V. Allingham. [You may use this image without prior permission for any scholarly or educational purpose as long as you (1) credit the person who scanned the image, and (2) link your document to this URL.]
Bibliography
Dickens, Charles. The Old Curiosity Shop. Illustrated by Harry Furniss. The Charles Dickens Library Edition. 18 vols. London: Educational Book Company, 1910. V.
---
Created 8 May 2020

Last modified 27 November 2020