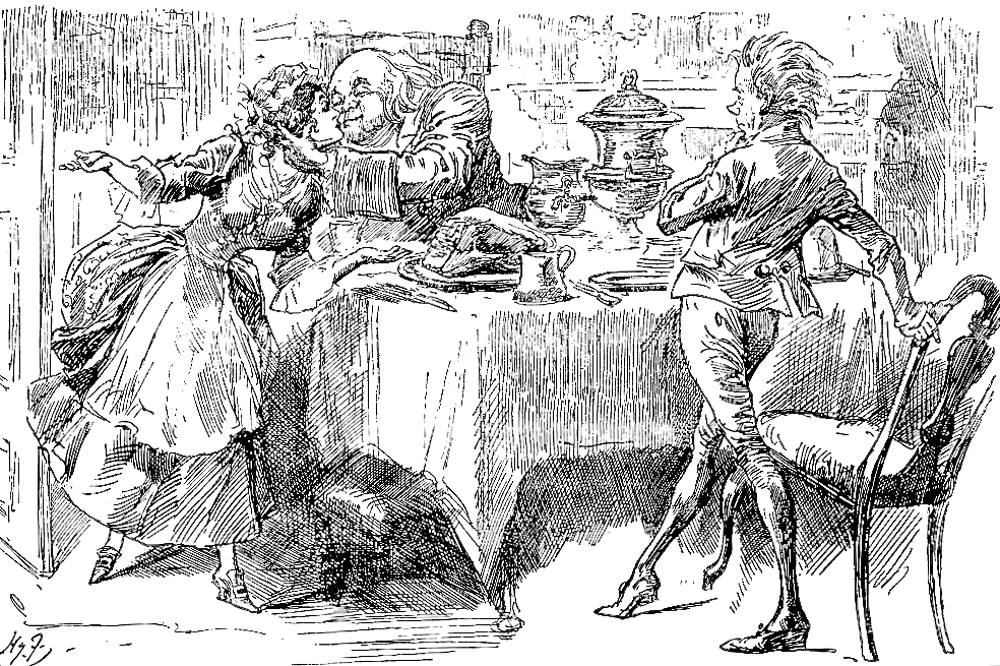 The Temptation of Sim Tappertit (37) — Chapter 4, 3 ½ by 5 ½ inches (9.3 cm high x 14.3 cm wide), vignetted, fifth illustration in Charles Dickens's Barnaby Rudge, Charles Dickens Library Edition (1910), facing VI, 39. Original caption: Fathers should never kiss their daughters when young men are by, it's too much. There are bounds to human endurance. So thought Sim Tappertit when 'Gabriel drew those rosy lips to his — those lips within Sim's reach from day to day, and yet so far off. [Click on the images to enlarge them.]
Context of the Illustration: Gabriel Varden provokes Sim to jealousy at Breakfast
With a smile upon her face, and looking at each of the three by turns, Miss Brass took two or three more pinches of snuff, and having by this time very little left, travelled round and round the box with her forefinger and thumb, scraping up another. Having disposed of this likewise and put the box carefully in her pocket, she said, —
Fathers should never kiss their daughters when young men are by. It's too much. There are bounds to human endurance. So thought Sim Tappertit when 'Gabriel drew those rosy lips to his — those lips within Sim's reach from day to day, and yet so far off. He had a respect for his master, but he wished the Yorkshire cake might choke him. [Chapter the Fourth, 37]
A Substantial Breakfast and a Helping of Jealousy
It was a substantial meal; for, over and above the ordinary tea equipage, the board creaked beneath the weight of a jolly round of beef, a ham of the first magnitude, and sundry towers of buttered Yorkshire cake, piled slice upon slice in most alluring order. There was also a goodly jug of well-browned clay, fashioned into the form of an old gentleman, not by any means unlike the locksmith, atop of whose bald head was a fine white froth answering to his wig, indicative, beyond dispute, of sparkling home-brewed ale. But, better far than fair home-brewed, or Yorkshire cake, or ham, or beef, or anything to eat or drink that earth or air or water can supply, there sat, presiding over all, the locksmith's rosy daughter, before whose dark eyes even beef grew insignificant, and malt became as nothing. {Chapter the Fourth, 37]
Furniss focuses on the balding locksmith's obvious affection for his adolescent daughter Dolly, and the diminutiove apprentice's romantic interest in her. Although Dickens describes Sim as five feet tall, Furniss makes him somewhat shorter, but with the spindly legs Dickens describes. The middle-aged bourgeois dotes upon his pretty young daughter, who as we learn from the dialogue and the narrator's remarks is obviously much taken with Joe Willet of the Maypole. The scene underscores apprentice Tappertit's infatuation with his master's daughter, and his rancourous jealousy of the handsome Joe. The illustrator makes considerable use of the passage in which Dickens describes the comestibles, particularly the large ham and the porter-pot called "Toby."
Parallel Scene from the Original Edition (1841)
Phiz's original illustration for this chapter, It's a Poor Heart That Never Rejoices (27 February 1841).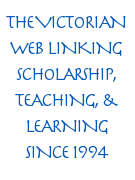 Related Material Including Other Illustrators of the Novel
Scanned image and text by Philip V. Allingham. [You may use this image without prior permission for any scholarly or educational purpose as long as you (1) credit the person who scanned the image and (2) link your document to this URL.]
Bibliography
Dickens, Charles. Barnaby Rudge in Master Humphrey's Clock. Illustrated by Phiz and George Cattermole. 3 vols. London: Chapman and Hall, 1841; rpt., Bradbury and Evans, 1849.
________. Barnaby Rudge — A Tale of the Riots of 'Eighty. Illustrated by Fred Barnard. The Household Edition. 22 vols. London: Chapman and Hall, 1874. VII.
_______. Barnaby Rudge. Illustrated by Harry Furniss. The Charles Dickens Library Edition. London: Educational Book Company, 1910. VI.
---
Created 24 May 2020

Last modified 5 December 2020