Phantoms in the Street
Harry Furniss
1910
13.5 x 8.9 cm framed
See below for passage realised, commentary, and comparison to other illustrators of A Christmas Carol
[Click on image to enlarge it.]
Details
Scanned image and text by Philip V. Allingham.
[You may use these images without prior permission for any scholarly or educational purpose as long as you (1) credit the photographer and (2) link your document to this URL in a web document or cite the Victorian Web in a print one.]
Passages Realised
Scrooge followed to the window: desperate in his curiosity. He looked out.
The air was filled with phantoms, wandering hither and thither in restless haste, and moaning as they went. Every one of them wore chains like Marley's Ghost; some few (they might be guilty governments) were linked together; none were free. Many had been personally known to Scrooge in their lives. He had been quite familiar with one old ghost, in a white waistcoat, with a monstrous iron safe attached to its ankle, who cried piteously at being unable to assist a wretched woman with an infant, whom it saw below, upon a door-ste The misery with them all was, clearly, that they sought to interfere, for good, in human matters, and had lost the power for ever.
Whether these creatures faded into mist, or mist enshrouded them, he could not tell. But they and their spirit voices faded together; and the night became as it had been when he walked home. [Stave One, "Marley's Ghost," 19]
Commentary
The void in the illustration, upper right is interesting in that it suggests both a dense London fog and an uncertain future for a society and a system that are so neglectful of the underprivileged. That the area is essentially unoccupied forces the eye to follow the diagonal of the white-waitcoated ghost down to the crying woman, upon both of whom Scrooge, skulking down the street, turns his back as he turns his gaze upon the reader. Using Scrooge's figure to exemplify the complacent middle classes, Furniss's
final illustration for Stave 1 shows a bent and twisted Scrooge turning his back on the world of the spirits — on the gentleman in the white waistcoat who, chained to a safe,reenacts the warnings of Marley, and on the huddled mother and child, the nativity of the streets, that Scrooge also refuses to acknowledge. Mixing fairy tale and serious social commentary, Furniss captures the children's story without reducing the Carol to sentimentality, and he reawakens the child in the adult reader. [Davis 126]
Although Leech in the original edition chose scenes that graphed Scrooge's moral progress, he did not emphasize the misery and privation of the Hungry Forties until he and Dickens's team of supporting illustrators tackled the social issues inherent in the second of the Christmas Books, The Chimes (1844). Thus, there is no immediate parallel for Furniss's "Phantoms in the Street" in the 1843 edition, but John Leech does offer social commentary in his famous visual denunciation of the capitalistic system, "Ignorance and Want", a scene echoed by Sol Eytinge, Jr., twenty-five years later in " Want and Ignorance", in which the Philadelphia-born illustrator substitutes ghetto housing blocks for the blackened factory buildings and chimneys that serve as the backdrop in Leech's grimly realistic illustration. However, the astute reader of various editions of The Christmas Books will find a scene corresponding to Furniss's "Phantoms in the Street" in Richard Doyle's "Meggy Veck and Her Child", in which Dickens confronts infanticide and female suicide, both byproducts of what the unreformed Scroogeand Malthusian economists might have termed "an economic adjustment between demand, supply, and labour," but which history has pronounced "The Hungry Forties." Writing at the end of the decade, Dickens touched on this selfsame theme again in the figure of Martha in David Copperfield who, without friends and relatives contemplates committing suicide in "The River" by Phiz (Hablot K. Browne), one of two illustrations for the sixteenth monthly (August 1850) number, specificallyfor chapter 47, "Martha."
A number of the illustrators of the Carol raise the spectre of urban poverty and urban blight, beginning with John Leech's "Ignorance and Want" (1843), and continuing through Eytinge's "Want and Ignorance" (1867) and Fred Barnard's purgatorial vision of Old Joe's pawnshop (1878). On the other hand, the American Household Edition illustrator, E. A. Abbey, offers no suggestion of working-class suffering and economic deprivation in his 1876 program, and Arthur Raclham in transforming the adult, cautionary tale into a children's picture-book only approaches social realism in a single illustration, "What do you call this?' said Joe. 'Bed-curtains" (image), not rivalling Barnard's in ghoulishness, but jarring the otherwise jolly, benign, middle-class vision of Dickens's novella.
This amalgam of three scenes juxtaposes Scrooge's turning his back on the sufferings of his fellow passengers to the grave (lower left) with the anguished ghost of a wealthy bourgeois in a white waistcoat (upper left), no longer able to intervene in human affairs, and a madonna figure (lower right), sheltered in a doorway with her infant. The moment when Scrooge looks out his window to see the homeless mother even as, in the air above her, he hears "incoherent sounds of lamentation and regret" (19) at the conclusion of Stave One occurs over ten pages before the reader encounters this multi-vignette illustration, positioned well into Stave Two. Paul Davis notes that the dog (lower right) cowering in front of the homeless woman "may be one of the blind men's dogs who lead their masters out of Scrooge's way when they see him coming down the street" (125). When all humanity seem to have abandoned the woman and child, representatives of that "surplus population" (9) whom Scrooge has derided earlier that day to the charity collectors, the street cur, an image of fidelity on mediaeval tombs, is the poor mother's only companion. The most interesting area of the composite picture, however, is the upper left, where Scrooge sees a multitude of phantoms, linked together — presumably in their insensitivity in life to the needs of the poor, the unemployed, and the homeless. The "monstrous iron safe" (19) — a symbol of financial success in a materialistic society — implies that the ghost of its once-prosperous owner was a successful capitalist, perhaps even an enabler of the system, a banker. But the swirling dark mass (the "mist" into which the spirits dissolve in this passage) contains other figures and several other faces, both male, suggesting the male-dominated financial, corporate, and governmental establishment that, like Scrooge now, has turned its collective back on the poor: "they might be guilty governments" (19), although Furniss seems to have thought of no way to make that identification explicit.
Related Illustrations from Earlier Editions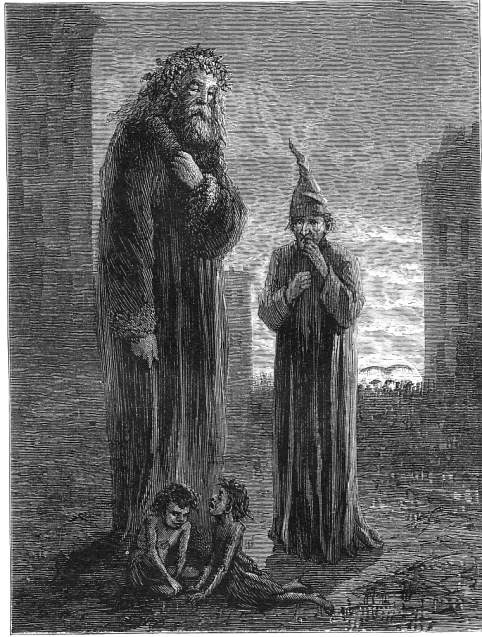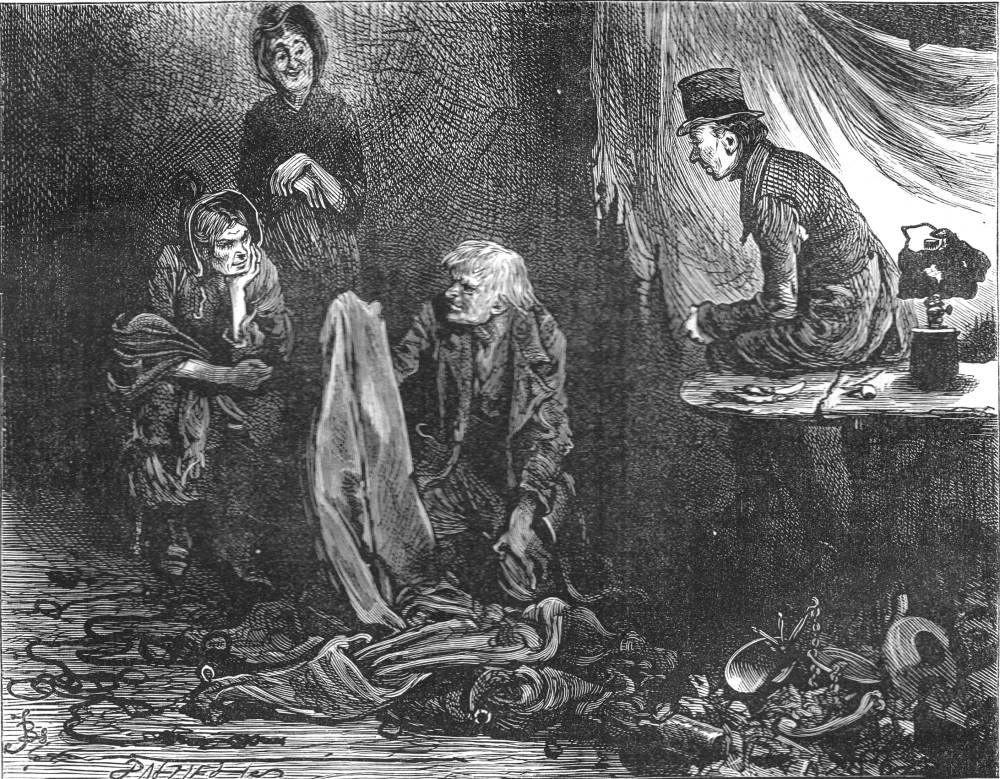 Left: John Leech's "Ignorance and Want" (1843); centre: Sol Eytinge, Jr.'s "Want and Ignorance" (1868); and, right, Fred Barnard's "'What do you call this?' said Joe. 'Bed-curtains?'" (1878). [Click on images to enlarge them.]
Bibliography
Guiliano, Edward, and Philip Collins, eds. The Annotated Dickens. New York: Clarkson N. Potter, 1986. Vol. 1.
Cordery, Gareth. An Edwardian's View of Dickens & His Illustrators: Harry Furniss's "A Sketch of Boz". Greensboro, NC: University of North Carolina Press and ELT Press, 2005.
Davis, Paul. The Lives and Times of Ebenezer Scrooge. New Haven: Yale U. , 1990.
Dickens, Charles. The Christmas Books. Il. Harry Furniss. Charles Dickens Library Edition. 18 vols. London: Educational Book Company, 1910. Vol. 8.
Dickens, Charles. Christmas Books. Il. E. A. Abbey. The Household Edition. New York: Harper and Brothers, 1876.
Dickens, Charles. Christmas Books. Il. Fred Barnard. The Household Edition. London: Chapman and Hall, 1878.
Dickens, Charles. A Christmas Carol. Il. John Leech. London: Chapman and Hall, 1843.
Dickens, Charles. A Christmas Carol. Il. Arthur Rackham. London: William Heinemann, 1915.
Dickens, Charles. A Christmas Carol. Il. Sol Eytinge, Junior. Boston: Ticknor and Fields, 1868.
Dickens, Charles. The Personal History of David Copperfield, il. Hablot Knight Browne ("Phiz"). The Centenary Edition. 2 vols. London & New York: Chapman & Hall, Charles Scribner's Sons, 1911.
Hearn, Michael Patrick, ed. The Annotated Christmas Carol. New York: Avenel, 1976.
---

Victorian
Web

Illustration

Harry
Furniss

Next
Last modified 5 June 2013