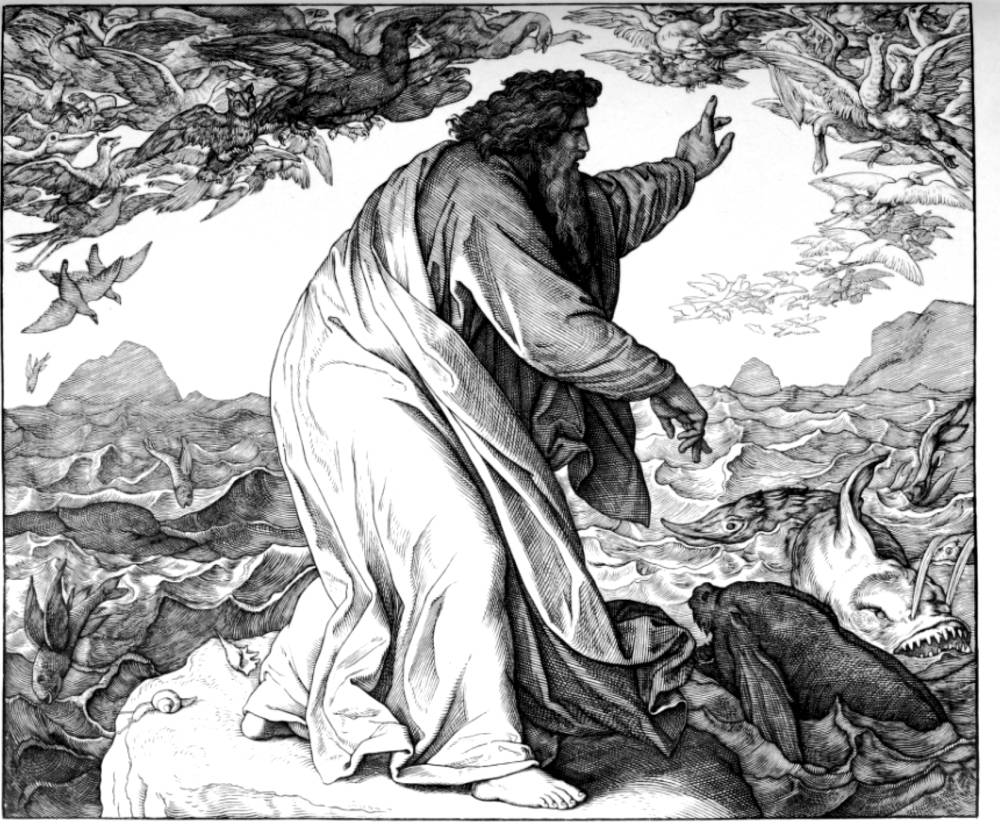 The Fifth Day of Creation. Artist: Julius Schnorr von Carolsfeld. Engraver: Z. Scheckel. Source: Die Bibel in Bildern, Plate 5. Click on image to enlarge it.
And God said, Let the waters bring forth abundantly the moving creature that hath life, and fowl that may fly above the earth in the open firmament of heaven. And God created great whales, and every living creature that moveth, which the waters brought forth abundantly, after their kind, and every winged fowl after his kind: and God saw that it was good. And God blessed them, saying, Be fruitful, and multiply, and fill the waters in the seas, and let fowl multiply in the earth. [Genesis 1: 20-22; King James Bible]
Schnorr's illustration crowds the sky with birds of all kinds, and down below we find flying fish, various sea monsters, and at lower right what appears to be a fish trying to climb on dry land.
Related material
You may use this image without prior permission for any scholarly or educational purpose as long as you (1) credit the Hathi Digital Trust Library and the Columbia University Library and (2) link your document to this URL in a web document or cite the Victorian Web in a print one.
Bibliography
Die Bibel in Bildern [Picture Bible] von Julius Schnorr von Carolsfeld. Leipzig: Georg Wigands, 1860. Hathi Digital Trust Library online version of a copy in the Columbia University Library. Web. 25 June 2016. — George P. Landow.
---
Last modified 26 June 2016