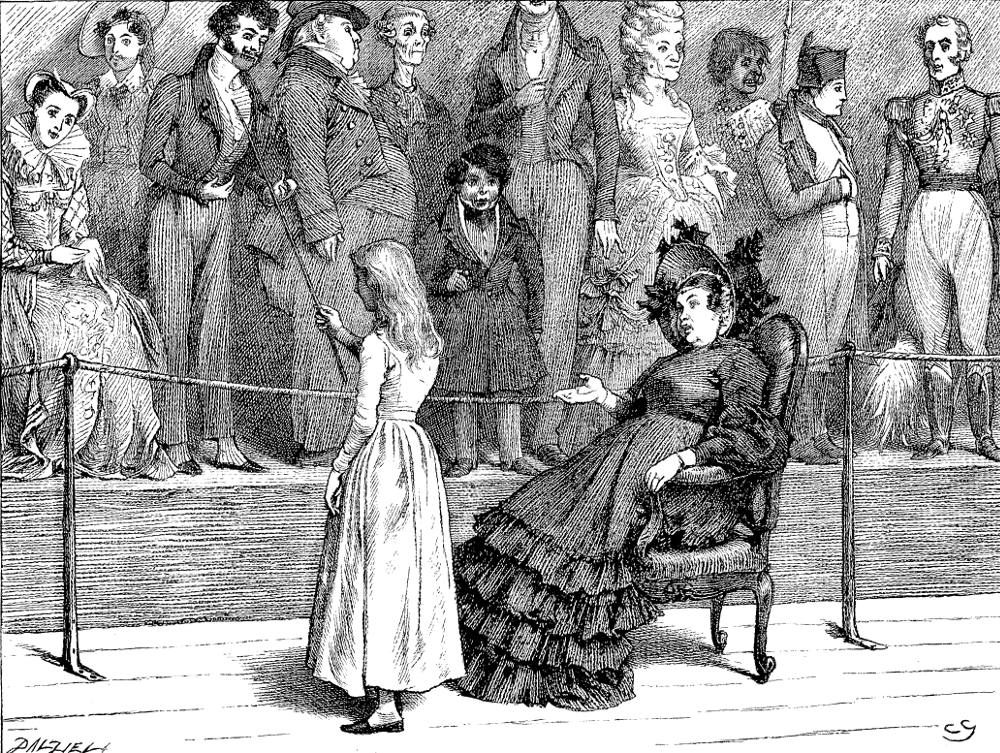 "That, Ladies and Gentlemen," said Mrs. Jarley, "is Jasper Packlemerton of atrocious memory." — P. 105 — Chap. XXVIII by Charles Green. 1876. 13.2 cm high by x 17.4 cm wide, framed (one of only three full-page plates in the volume). Dickens's The Old Curiosity Shop, in the 1876 British Household Edition, XII: facing 105. Running Head: "Mrs. Jarley's Poet" (105). [Click on the image to enlarge it.]
Context of the Illustration: Nell learns to be Mrs. Jarley's Docent
When Nell had exhausted her first raptures at this glorious sight, Mrs.  Jarley ordered the room to be cleared of all but herself and the child, and, sitting herself down in an arm-chair in the centre, formally invested Nell with a willow wand, long used by herself for pointing out the characters, and was at great pains to instruct her in her duty.
"That," said Mrs. Jarley in her exhibition tone, as Nell touched a figure at the beginning of the platform, "is an unfortunate Maid of Honour in the Time of Queen Elizabeth, who died from pricking her finger in consequence of working upon a Sunday. Observe the blood which is trickling from her finger; also the gold-eyed needle of the period, with which she is at work."
All this, Nell repeated twice or thrice: pointing to the finger and the needle at the right times: and then passed on to the next.
"That, ladies and gentlemen," said Mrs Jarley, "is Jasper Packlemerton of atrocious memory, who courted and married fourteen wives, and destroyed them all, by tickling the soles of their feet when they were sleeping in the consciousness of innocence and virtue. On being brought to the scaffold and asked if he was sorry for what he had done, he replied yes, he was sorry for having let 'em off so easy, and hoped all Christian husbands would pardon 'him the offence. Let this be a warning to all young ladies to be particular in the character of the gentlemen of their choice. Observe that his fingers are curled as if in the act of tickling, and that his face is represented with a wink, as he appeared when committing his barbarous murders." [Ch. XXVIII, 105; itals added for emphasis to indicate the original caption]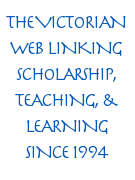 Related Material about
The Old Curiosity Shop
Scanned image and text by Philip V. Allingham. [You may use this image without prior permission for any scholarly or educational purpose as long as you (1) credit the person who scanned the image and (2) link your document to this URL in a web document or cite the Victorian Web in a print one.]
Bibliography
Dickens, Charles. The Old Curiosity Shop. Illustrated by Charles Green. The Household Edition. 22 vols. London: Chapman and Hall, 1876. XII.
---
Created 8 May 2020

Last modified 21 November 2020