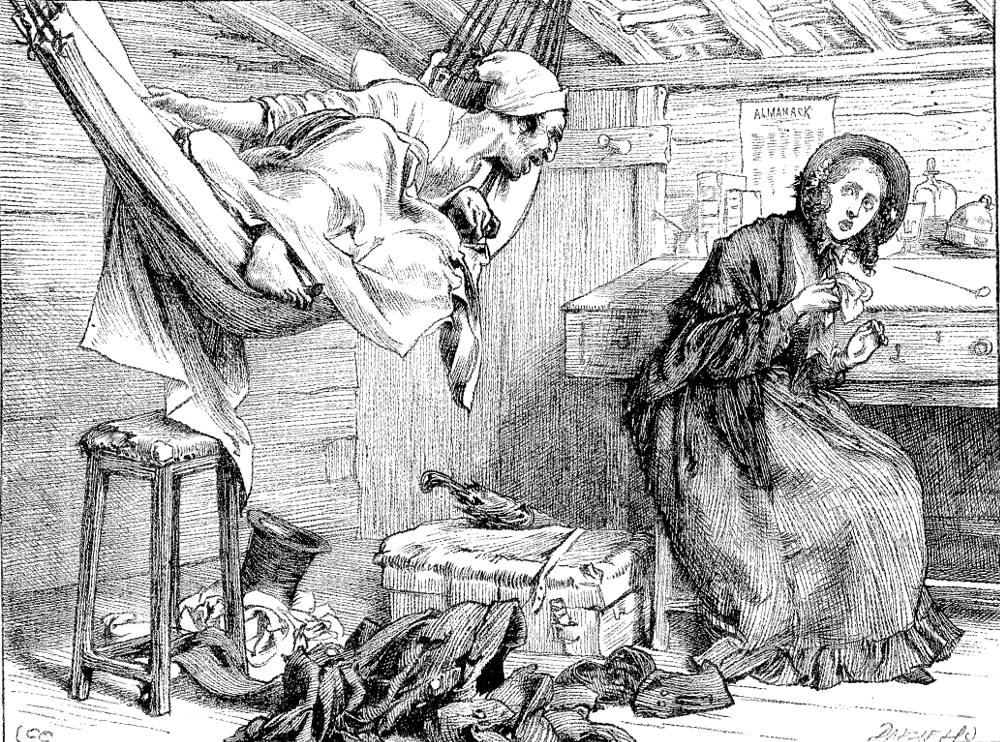 "Halloa!" — P. 186. — for Chap. L by Charles Green (one of just three full-page illustrations in the volume) 1876. 5 ¼ x 6 ½ inches (13.1 cm high by x 17.5 cm wide). Dickens's The Old Curiosity Shop, in the 1876 British Household Edition, XII: facing 187. Running head: "A Green Spot in the Wilderness" (187). [Click on the image to enlarge it.]
Context of the Illustration: Quilp camps out at his Thames-side Warehouse
Peeping cautiously over the side of his hammock, he descried Mrs. Quilp, to whom, after contemplating her for some time in silence, he communicated a violent start by suddenly yelling out — "Halloa!!"
"Oh, Quilp!" cried his poor little wife, looking up. "How you frightened me!"
"I meant to, you jade," returned the dwarf. "What do you want here? I'm dead, an't I?"
"Oh, please come home, do come home," said Mrs Quilp, sobbing; "we'll never do so any more, Quilp, and after all it was only a mistake that grew out of our anxiety."
"Out of your anxiety," grinned the dwarf. "Yes, I know that — out of your anxiety for my death. I shall come home when I please, I tell you. I shall come home when I please, and go when I please. I'll be a Will o' the Wisp, now here, now there, dancing about you always, starting up when you least expect me, and keeping you in a constant state of restlessness and irritation. Will you begone?"
Mrs. Quilp durst only make a gesture of entreaty.
"I tell you no," cried the dwarf. "No. If you dare to come here again unless you're sent for, I'll keep watch-dogs in the yard that'll growl and bite — I'll have man-traps, cunningly altered and improved for catching women — I'll have spring guns, that shall explode when you tread upon the wires, and blow you into little pieces. Will you begone?"
"Do forgive me. Do come back," said his wife, earnestly.
"No-o-o-o-o!" roared Quilp. "Not till my own good time, and then I'll return again as often as I choose, and be accountable to nobody for my goings or comings. You see the door there. Will you go?"
Mr. Quilp delivered this last command in such a very energetic voice, and moreover accompanied it with such a sudden gesture, indicative of an intention to spring out of his hammock, and, night-capped as he was, bear his wife home again through the public streets, that she sped away like an arrow. [Chapter L, 186]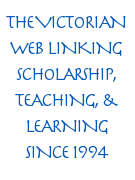 Related Material about
The Old Curiosity Shop
Scanned image and text by Philip V. Allingham. [You may use this image without prior permission for any scholarly or educational purpose as long as you (1) credit the person who scanned the image and (2) link your document to this URL in a web document or cite the Victorian Web in a print one.]
Bibliography
Dickens, Charles. The Old Curiosity Shop. Illustrated by Charles Green. The Household Edition. 22 vols. London: Chapman and Hall, 1876. XII.
---
Created 8 May 2020

Last modified 22 November 2020