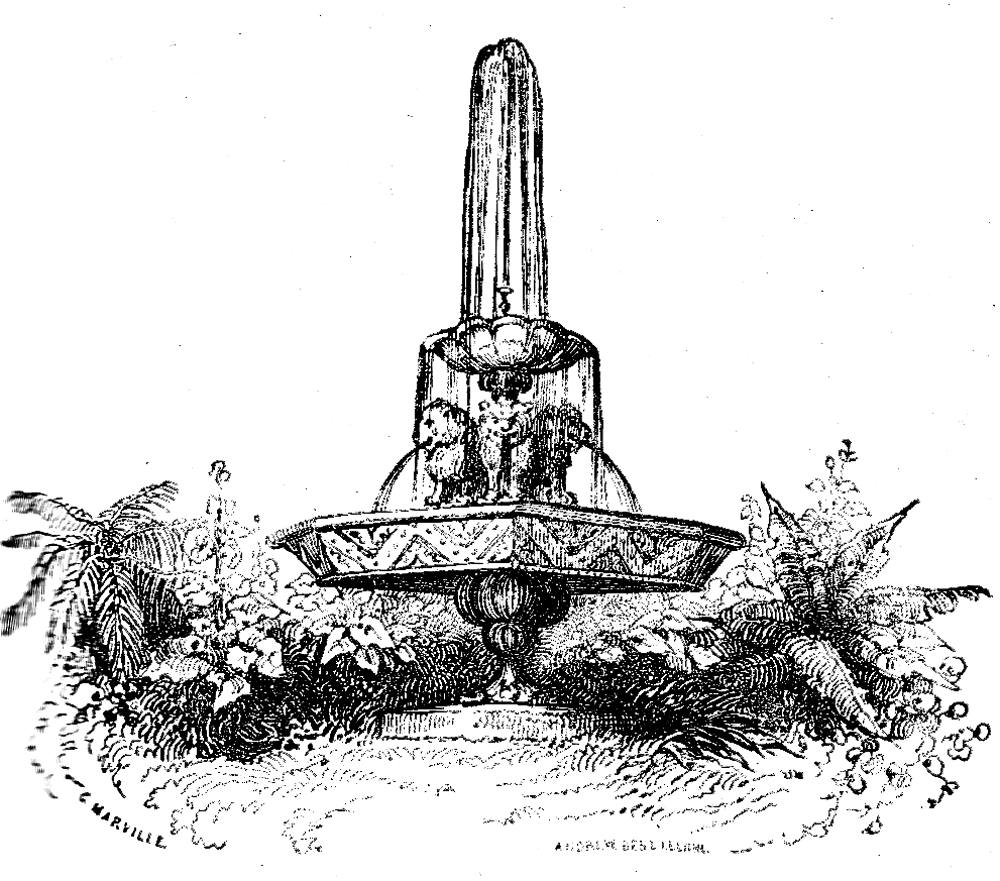 The Lion Fountain — tailpiece for "Calais" in Laurence Sterne's A Sentimental Journey through France and Italy, first published in 1768. Wood-engraving, 7 cm high by 8.5 cm wide, bottom of p. 21. Johannot may not actually be either the designer or engraver of the elegant illustration, which bears no relationship to Sterne's text. [Click on the image to enlarge it.]
Passage Complemented: An Elegant Park-like Setting
C'est bien vrai, said he. — But in this case I should only exchange one disquietude for another, and with loss: figure to yourself, my dear Sir, that in giving you a chaise which would fall to pieces before you had got half-way to Paris, — figure to yourself how much I should suffer, in giving an ill impression of myself to a man of honour, and lying at the mercy, as I must do, d'un homme d'esprit.
The dose was made up exactly after my own prescription; so I could not help tasting it, — and, returning Mons. Dessein his bow, without more casuistry we walk'd together towards his Remise, to take a view of his magazine of chaises. ["Calais," pp. 20-21]
Commenary
Since the Port of Calais was something of a cultural backwater in the eighteenth century, having lost out to Dieppe and other French Channel ports in terms of commerce, the elegant fountain is not likely a facet of the town's architecture. Rather, Johannot would seem to be alluding to the thirty fountains of Paris constructed in the eighteenth century, fourteen of which are still extant, testimonials to the skill of Jean Beausire, the Contrôleur des bâtiments of the city of Paris between 1692 and 1740. However, as Beausire's designs are for the most part small fountains set against a wall, with a niche and a single spout pouring water into a small basin, Johannot (or whatever engraver-designer is responsible for the tailpiece) has likely produced this particular specimen from his imagination to reflect such public works which the government undertook in the capital, especially the Fontaine des Quatre-Saisons (1739) and the grand project square with numerous fountains, Place Louis XV. However, this fountain does not correspond to Johannot's tailpiece. Executed by Edme Bouchardon, Louis XV's sculptor, the huge fountain which opened in 1745 had just two lion-headed mascarons, or water spouts, and had an urban architectural rather than a park-like setting, so that it did not resemble the present illustration of a large-scale, free-standing fountain set amidst topical plants which is signed by C. Marville and Andrew, rather than by Johannot himself.
Bibliography
Sterne, Laurence. A Sentimental Journey through France and Italy. Illustrated with one hundred engravings on wood, by Bastin and G. Nichols, from original designs by Jacque and Fussell. London: Joseph Thomas, 1841.
Sterne, Laurence. A Sentimental Journey through France and Italy. With 100 illustrations by Tony Johannot. London: Willoughby, 1857.
Turner, Katherine. "Notes." Laurence Sterne's A Sentimental Journey through France and Italy (1768). Peterborough, ON: Broadview, 2010.
---
Last modified 21 September 2018