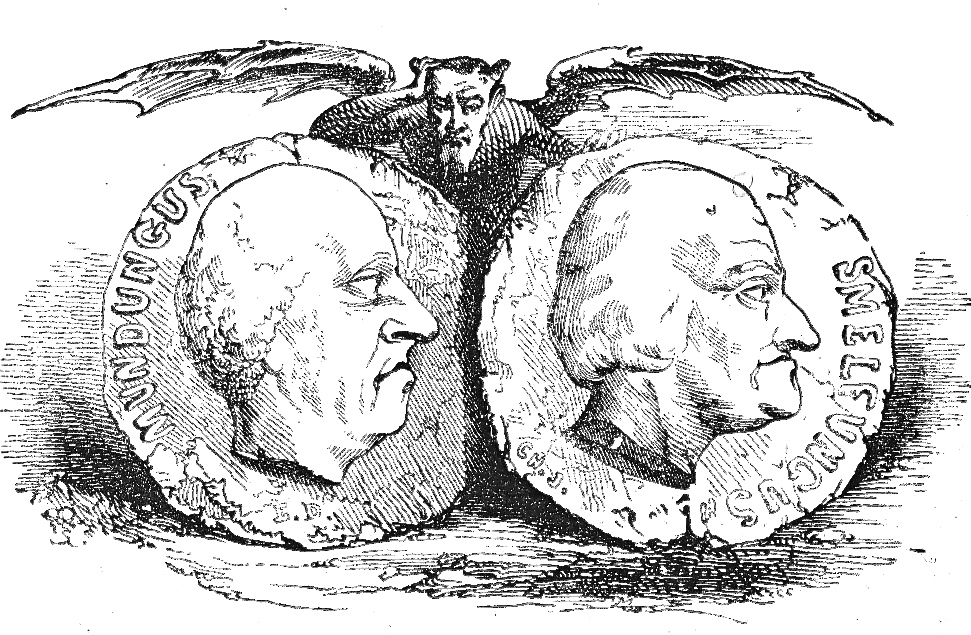 Medallions of Mundungus and Smelfungus — tailpiece for "In the Street. Calais" in Laurence Sterne's A Sentimental Journey through France and Italy, first published in 1768. Wood-engraving, 4.8 cm high by 8.5 cm wide, bottom of p. 49. Johannot shows the pair of travel-writers as mere profiles, one-sided rather than multi-dimensional writers like Sterne. The strange creature, part-man and part-bat, who puzzles over them seems to suggest that the pair are strangers to the fabulous and exotic, the world of passion and imagination. [Click on the image to enlarge it.]
Passage Illustrated
The learned Smelfungus travelled from Boulogne to Paris, — from Paris to Rome, — and so on; — but he set out with the spleen and jaundice, and every object he passed by was discoloured or distorted. He wrote an account of them, but 'twas nothing but the account of his miserable feelings.
I met Smelfungus in the grand portico of the Pantheon: — he was just coming out of it. — 'Tis nothing but a huge cockpit, said he: "I wish you had said nothing worse of the Venus of Medicis," replied I — for in passing through Florence, I had heard he had fallen foul upon the goddess, and used her worse than a common strumpet, without the least provocation in nature.
I popp'd upon Smelfungus again at Turin, in his return home; and a sad tale of sorrowful adventures had he to tell, wherein he spoke of "moving accidents by flood and field, and of the cannibals that each other eat: the Anthropophagi" — he had been flayed alive, and bedevil'd, and used worse than St. Bartholomew, at every stage he had come at.
"I'll tell it,' cried Smelfungus, "to the world. "
"You had better tell it, said I, to your physician."
Mundungus, with an immense fortune, made the whole tour; going on from Rome to Naples, — from Naples to Venice, — from Venice to Vienna, — to Dresden, to Berlin, without one generous connection or pleasurable anecdote to tell of; but he had travelled straight on, looking neither to his right hand nor his left, lest Love or Pity should seduce him out of his road.
Peace be to them! if it is to be found; but heaven itself, were it possible to get there with such tempers, would want objects to give it; every gentle spirit would come flying upon the wings of Love to hail their arrival. Nothing would the souls of Smelfungus and Mundungus hear of, but fresh anthems of joy, fresh raptures of love, and fresh congratulations of their common felicity. I heartily pity them; they have brought up no faculties for this work; and, were the happiest mansion in heaven to be allotted to Smelfungus and Mundungus, they would be so far from being happy, that the souls of Smelfungus and Mundungus would do penance there to all eternity. ["In the Street. Calais," pp. 47-49]
Commentary
Johannot conceives of the hard-nosed, unimaginative English travellers Mundungus and Smelfungus as profiles on medallions — these are Sterne's pseudonyms for travel-writers Dr. Samuel Sharp, c. 1700-78, and Tobias Smollett, author of The Expedition of Humphry Clinker and Letters from France and Italy (1766). Apparently Sterne and Smollett met just once, in Montpellier, France, in November 1763, so that Yorick's encountering Smelfungus in Italy ("I met Smelfungus in the grand portico of the Pantheon" in Rome) is pure fiction. Katherine Turner, editor of the Broadview edition, notes that the biographical facts of Dr. Sharp and the European itinerary of Mundungus do not match: "His Letters are also, in fact, rather genial and anecdotal. Mundungus seems rather to be a generic representative of the aristocratic grand tourist, who would blindly follow the exhausting itineraries laid out in guidebooks such as Thomas Nugent's The Grand Tour" (p. 83n4).
Johannot's showing the two travel-writers as profiles on coins, as if they were Roman emperors, demonstrates an inspired interpretation of two wizened, old foreigners whom Sterne describes wandering myopically throughout Europe. They look neither to the right nor the left, and possess a monocular vision that limits them to describing the buildings of the past in minute detail, but prevents them from interacting the present-day people who live amidst this great legacy of the past.
Bibliography
Sterne, Laurence. A Sentimental Journey through France and Italy. With 100 illustrations by Tony Johannot. London: Willoughby, 1857.
Turner, Katherine. "Notes." Laurence Sterne's A Sentimental Journey through France and Italy (1768). Peterborough, ON: Broadview, 2010.
---
Last modified 21 September 2018