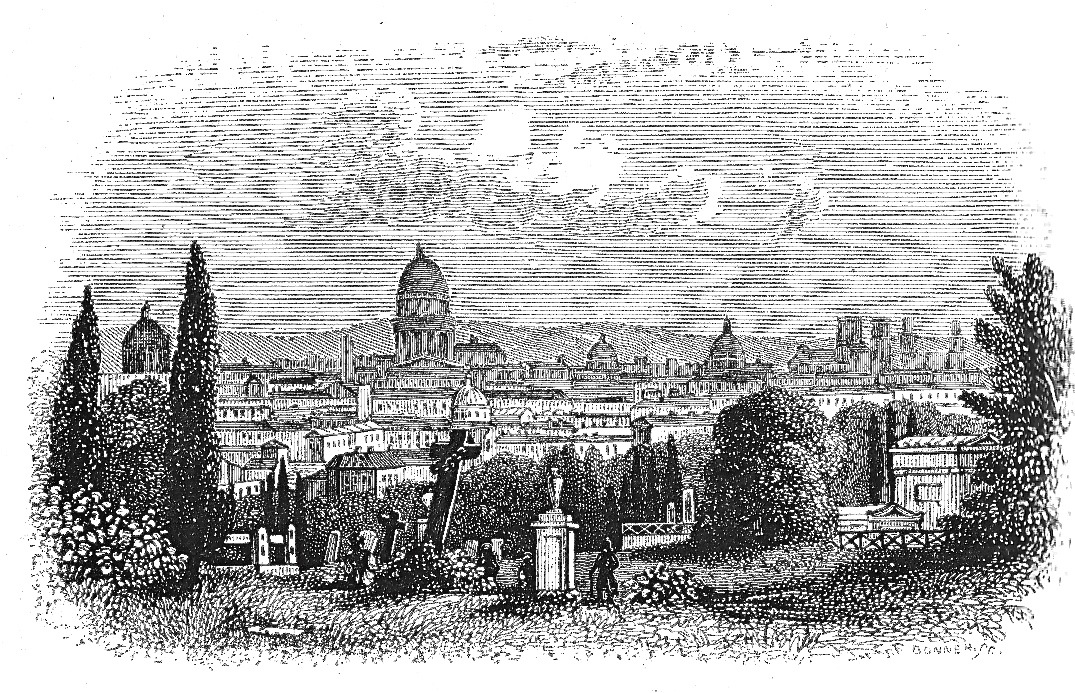 Uncaptioned Headpiece — "Paris" in Laurence Sterne's A Sentimental Journey through France and Italy, first published in 1768. Wood-engraving, 5.3 cm high by 9 cm wide, top of p. 84. Johannot uses the skyline of eighteenth-century Paris as viewed from the cemetery to introduce Yorick's adventures in the capital and nearby Versailles — even though the Monmartre Cemetery post-dates the publication of the book. [Click on the image to enlarge it.]
Passage Complemented
When a man can contest the point by dint of equipage, and carry all on floundering before him with half a dozen of lackies and a couple of cooks — 'tis very well in such a place as Paris,—he may drive in at which end of a street he will.
A poor prince who is weak in cavalry, and whose whole infantry does not exceed a single man, had best quit the field, and signalize himself in the cabinet, if he can get up into it: — I say up into it — for there is no descending perpendicular amongst 'em with a "Me voici! mes enfans!" — here I am — whatever many may think.
I own my first sensations, as soon as I was left solitary and alone in my own chamber in the hotel, were far from being so flattering as I had prefigured them. I walked up gravely to the window in my dusty black coat, and looking through the glass saw all the world in yellow, blue, and green, running at the ring of pleasure. The old with broken lances, and in helmets which had lost their vizards — the young in armour bright which shone like gold, beplumed with each gay feather of the east, — all, — all, tilting at it like fascinated knights in tournaments of yore for fame and love. ["Paris," pp. 84-85]
A Tourist's Views of Paris
Although not a Parisian, Johannot seems to have been proud of the sophisticated urban environment of the French capital, which Yorick and his servant now enter. The few scenes of significance Sterne actually sets in the streets near the Opéra Comique and at the bookseller's on the Quai de Conti, as well as in Opéra and at nearby Versailles. However, Johnannot seems to have based his incidental illustrations of Paris's public buildings not on Sterne's descriptions, but on 19th c. readers' expectations about Yorick's engagement with the metropolitan culture and famous sights of the French capital. For instance, Sterne merely alludes to the Carousal to the Palais Royal, and utilizes as settings only a few hotels, a barber's and glove-maker's shops, so that we should regard these tourist-oriented drawings as visual complements or textual ornamentations rather than illustrations in the strict sense.
Other Architectural Scenes from the 1857 Edition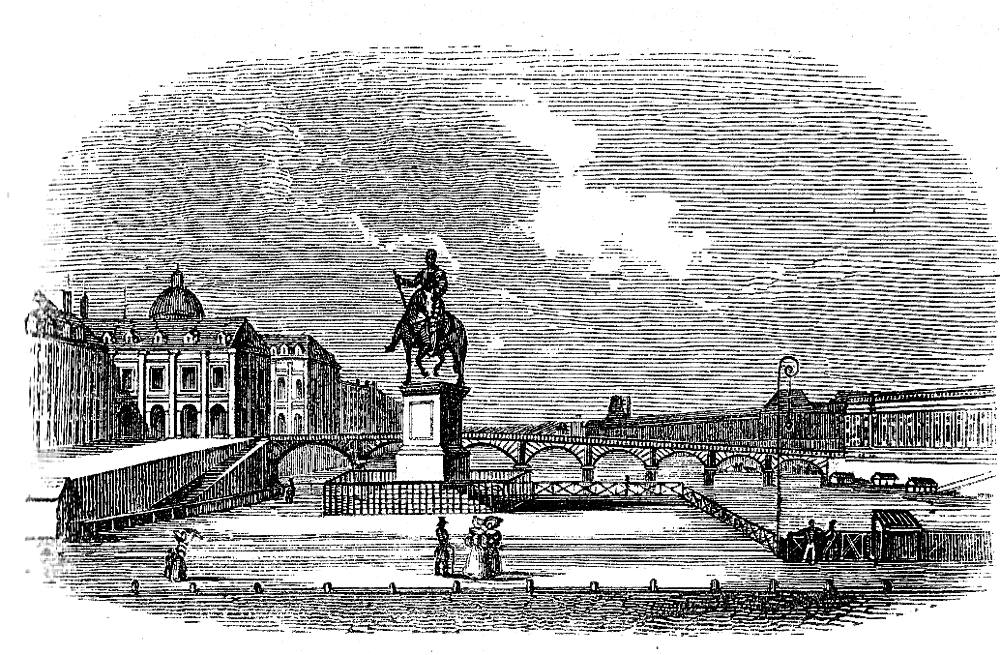 Above: Johannot's forthcoming illustration of the equestrian statue of Henri IV and the Pont Neuf in the background, uncaptioned. [Click on the image to enlarge it.]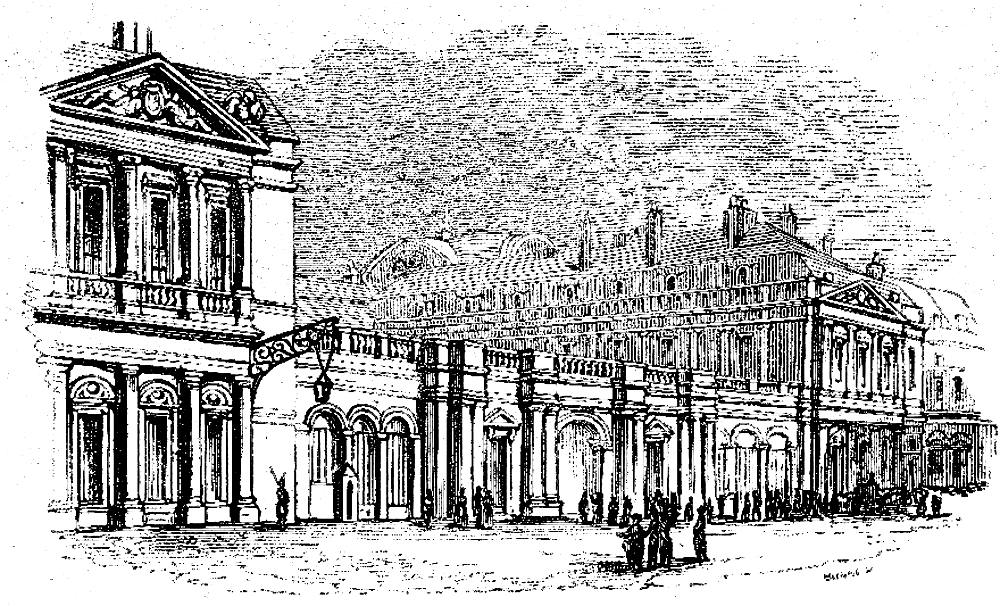 Above: Johannot's forthcoming illustration of the entrance to the Opéra Comique in "The Dwarf. Paris," uncaptioned.
Above: Johannot's forthcoming illustration of the Palais de Justice on the Île de la Cité, uncaptioned.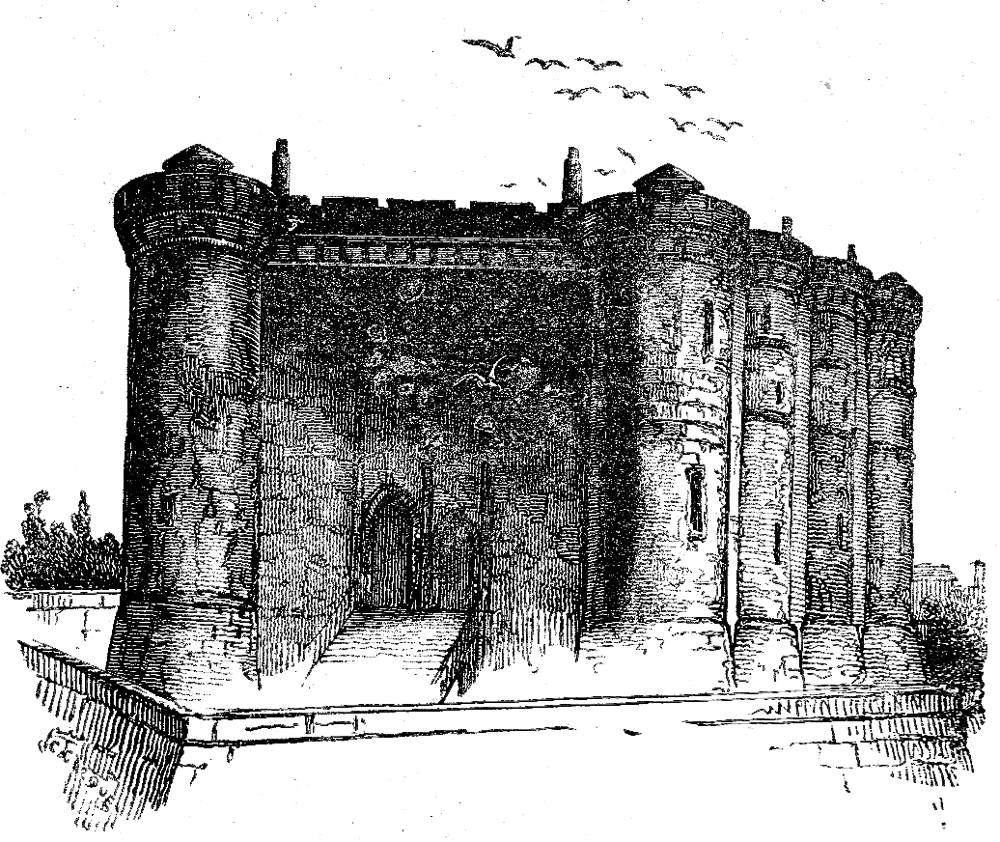 Above: Johannot's illustration suggesting Yorick's apprehensions about being incarcerated as an enemy alien or spy, the Bastile, uncaptioned, from "The Captive. Paris.".
Bibliography
Sterne, Laurence. A Sentimental Journey through France and Italy. With 100 illustrations by Tony Johannot. London: Willoughby, 1857.
---
Last modified 24 September 2018