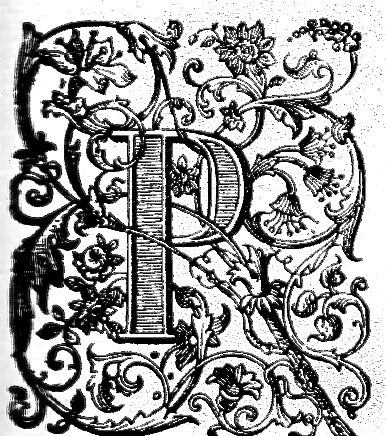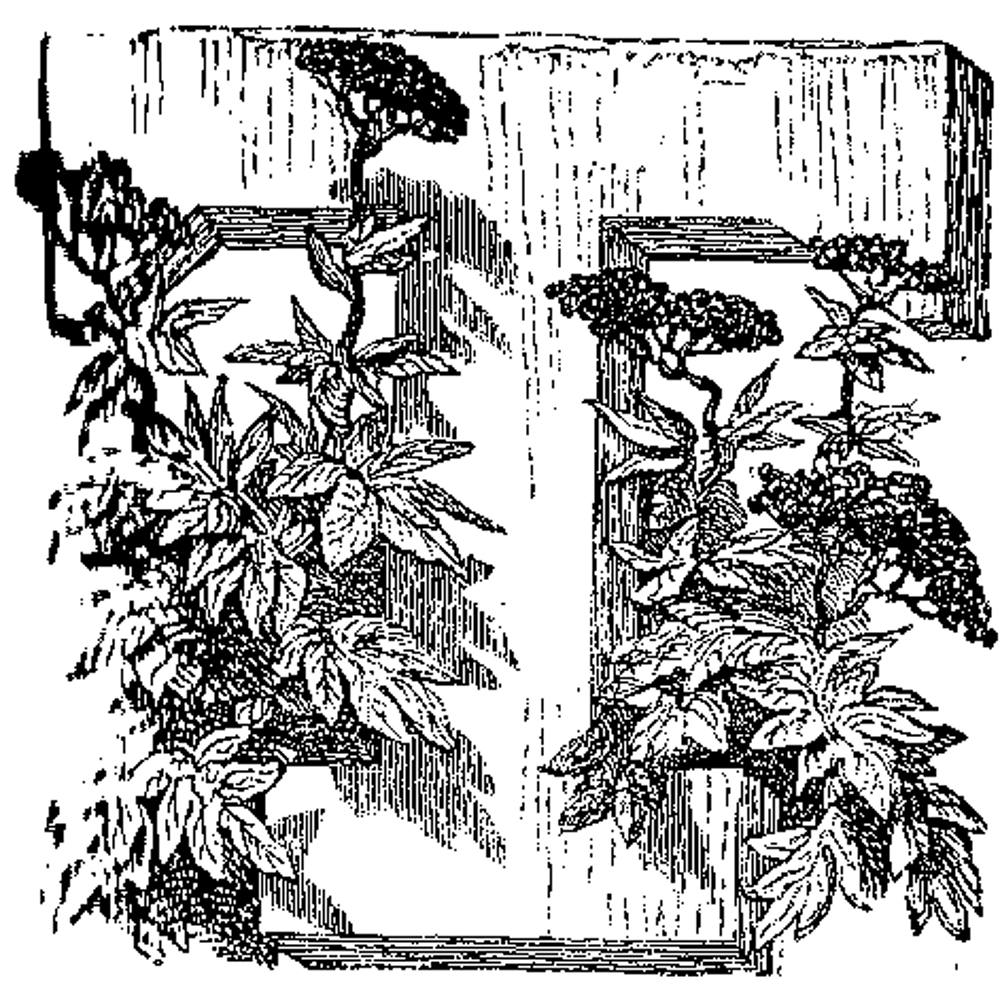 Initial Letters "P" & "T" — Johannot's initial-letter vignettes for "Memoir of Laurence Sterne" by E. L. Blanchard and the opening page in Sterne's A Sentimental Journey through France and Italy, 1857 edition, published by Willoughby, 26 Smithfield, London. Wood-engravings, 3.5 high and 3.0 cm wide for the "Memoir," p. v, and 3.8 cm high by 3.8 cm wide, vignetted, p. 1. Second and fourth illustrations. The artistic elaboration of the initial letters for the introductory biographical sketch and the opening page of the novel befits a standard work from the previous century.
Scanned image and text by Philip V. Allingham. [You may use this image without prior permission for any scholarly or educational purpose as long as you (1) credit the person who scanned the image and (2) link your document to this URL.]
Passages Introduced
Places that enshrined the remains of great men were by our ancestors, in the early days of British history, generally indicated by cairns or masses of broken stones; to which each passer-by afterwards contributed his share, until the rude, unshapen monument became a goodly pile. With matters of biography we have seemed lately to imitate, in this respect, the example of our forefathers. ["Memoir of Laurence Sterne," p. v]
They order, said I, this matter better in France.
"You have been in France?" said my gentleman, turning quick upon me, with the most civil triumph in the world. Strange! quoth I, debating the matter with myself, that one and twenty miles sailing, for 'tis absolutely no further from Dover to Calais, should give a man these rights — [Introduction, pp. 1-2]
Commentary
E. L. Blanchard's analogy seems particularly apt for a Victorian re-issue of a classic eighteenth-century work, for whereas the original two-volume publication of 1768 contained no illustrations, each successive generation of readers received more and more densely illustrated editions, the illustrations constituting the memorial stones added by each successive traveller in the opening lines of the "Memoir." The 1841 edition, for example, involves one hundred, mostly small thumbnail vignettes of the places and people that Yorick encounters, and the 1857 edition contains both eleven "large" (i. e., full-page) engravings and 104 smaller illustrations, many of them elaborate headpieces and tailpieces.
Bibliography
Sterne, Laurence. A Sentimental Journey through France and Italy. With 100 illustrations by Tony Johannot. London: Willoughby, 1857.
Turner, Katherine. "Notes." Laurence Sterne's A Sentimental Journey through France and Italy (1768). Peterborough, ON: Broadview, 2010.
---
Last modified 13 September 2018