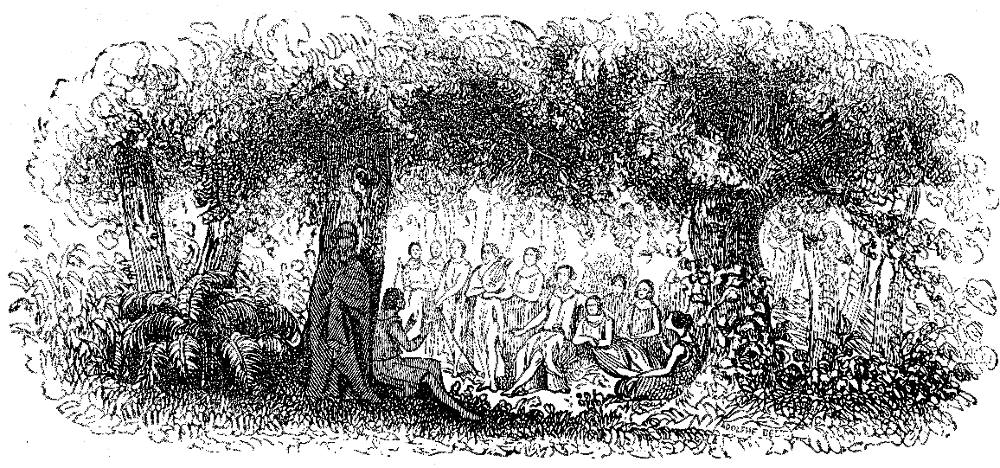 Uncaptioned Headpiece — "The Supper" in Laurence Sterne's A Sentimental Journey through France and Italy, first published in 1768. Wood-engraving, 4.4 cm high by 9.7 cm wide, top of p. 205. Johannot expresses greater interest in the lively peasant dance that concludes Yorick's visit to the humble, extended family in the Bourbonnois after his melancholy visit to see Mad Maria in Moulines. However, Johannot invests the gathering with the quality of a picnic, placing the diners amidst a grove of noble oaks. [Click on the image to enlarge it.]
Commentary
These final scenes at the peasant farmhouse in the Bourbonnois district remind us that the Age of Sentiment, which A Sentimental Journey through France and Italy, like Gray's Elegy written in a Country Churchyard (1750) and Goldsmith's Deserted Village (1770), exemplifies, anticipated in many ways the Romantic Revolution. Here, Sterne anticipates one of the salient characteristics of the literature of the Romantic Era, a deep sympathy with obscure, humble, or underprivileged people (such as the dwarfs and beggars whom Yorick encounters in Paris) and with those who live close to nature. This aspect of the work of the so-called "Pre-Romantics" was part of a larger democratic ideallism and insistence on the rights of the individual, no matter what his or her class. Although Sterne does not betray an interest in the language of the peasantry, he effectively communicates their nobility of character, their emphasis on whole-hearted enjoyment of rustic pursuits and pastimes, and their family values, as exemplified by the dinner here and the dance that follows. Sterne presents the extended peasant family as a kind of ante-diluvian ideal, in sharp contrast to the false sentiments of those who consume luxurious dishes and beverages in the fashionable Paris salons that Yorick has suddenly quitted.
Reacting to the text rather than merely illustrating it, Johannot does not place the family's meal in the context of the farmhouse interior, unlike the illustrators of the 1841 edition. In that 1841 illustration, Mr. Yorick is standing at the door, waiting to be admitted to the evening meal in the little farm-house near Mount Taurina, whose ascent has cost his horse a shoe which he now hopes the owner of the farm will help La Fleur replace. Soup steams from a large tureen as the grandfather gestures towards a vacant seat. In contrast, Johannot generalizes the figures, and places emphasis on the natural setting rather than the harmonious gathering of generations.
Relevant illustration from the 1841 edition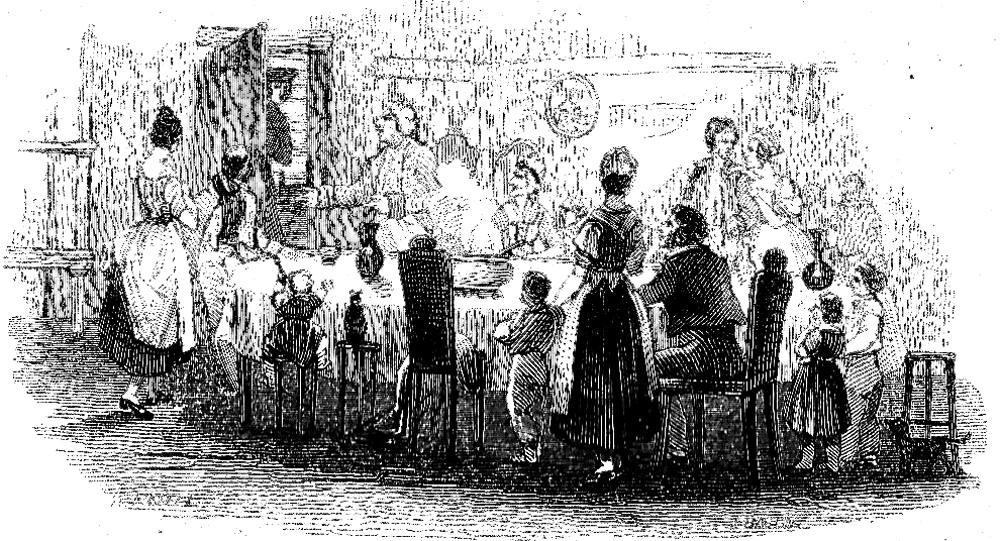 Above: Jacque and Fussell's more accurate depiction of the family dinner in the farmhouse (uncaptioned, but appearing above the chapter title "The Supper").
Bibliography
Sterne, Laurence. A Sentimental Journey through France and Italy. Illustrated with one hundred engravings on wood, by Bastin and G. Nichols, from original designs by Jacque and Fussell. London: Joseph Thomas, 1841.
Sterne, Laurence. A Sentimental Journey through France and Italy. With 100 illustrations by Tony Johannot. London: Willoughby, 1857.
---
Last modified 30 September 2018