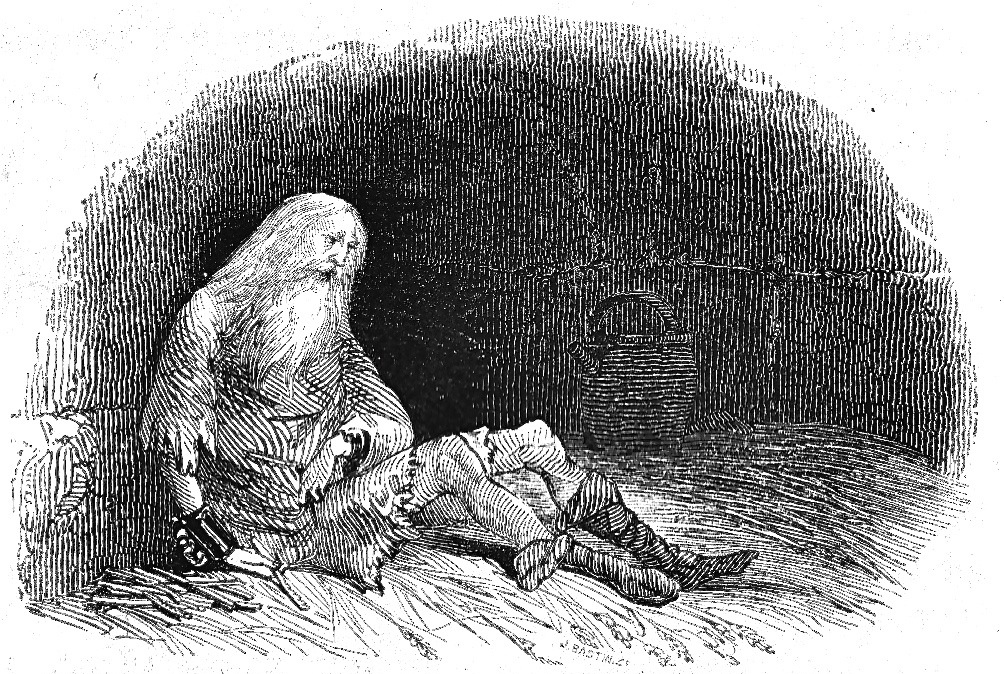 The Captive — headpiece for "The Captive. Paris" in Laurence Sterne's A Sentimental Journey through France and Italy, first published in 1768. Wood-engraving, 5.7 cm high by 8.3 cm wide, top half of p. 104. In the 1841 edition, the illustrators employ an image of a white-bearded prisoner in a darkened prison cell to suggest Yorick's mental image of himself as a long-term inmate of the notorious fortress-prison. In contrast, Tony Johannot in the 1857 merely implies the aged prisoner that Yorick fears he will become by employing the impersonal image of the fortress itself as the headpiece, with a concluding tailpiece of a stout prison door. [Click on the image to enlarge it.]
Passage Illustrated
I was going to begin with the millions of my fellow-creatures born to no inheritance but slavery: but finding, however affecting the picture was, that I could not bring it near me, and that the multitude of sad groups in it did but distract me. —
— I took a single captive, and having first shut him up in his dungeon, I then look'd through the twilight of his grated door to take his picture.
I beheld his body half-wasted away with long expectation and confinement, and felt what kind of sickness of the heart it was which arises from hope deferr'd. Upon looking nearer I saw him pale and feverish: in thirty years the western breeze had not once fann'd his blood; — he had seen no sun, no moon, in all that time — nor had the voice of friend or kinsman breathed through his lattice. — His children —
But here my heart began to bleed — and I was forced to go on with another part of the portrait.
He was sitting upon the ground upon a little straw, in the furthest corner of his dungeon, which was alternately his chair and bed: a little calendar of small sticks were laid at the head, notch'd all over with the dismal days and nights he had passed there; — he had one of these little sticks in his hand, and, with a rusty nail he was etching another day of misery to add to the heap. As I darkened the little light he had, he lifted up a hopeless eye towards the door, then cast it down,—shook his head, and went on with his work of affliction. I heard his chains upon his legs, as he turned his body to lay his little stick upon the bundle. — He gave a deep sigh. — I saw the iron enter into his soul! — I burst into tears. — I could not sustain the picture of confinement which my fancy had drawn. — I started up from my chair, and calling La Fleur: I bid him bespeak me a remise, and have it ready at the door of the hotel by nine in the morning. ["The Captive. Paris," p. 125-27]
Relevant illustration from the 1857 edition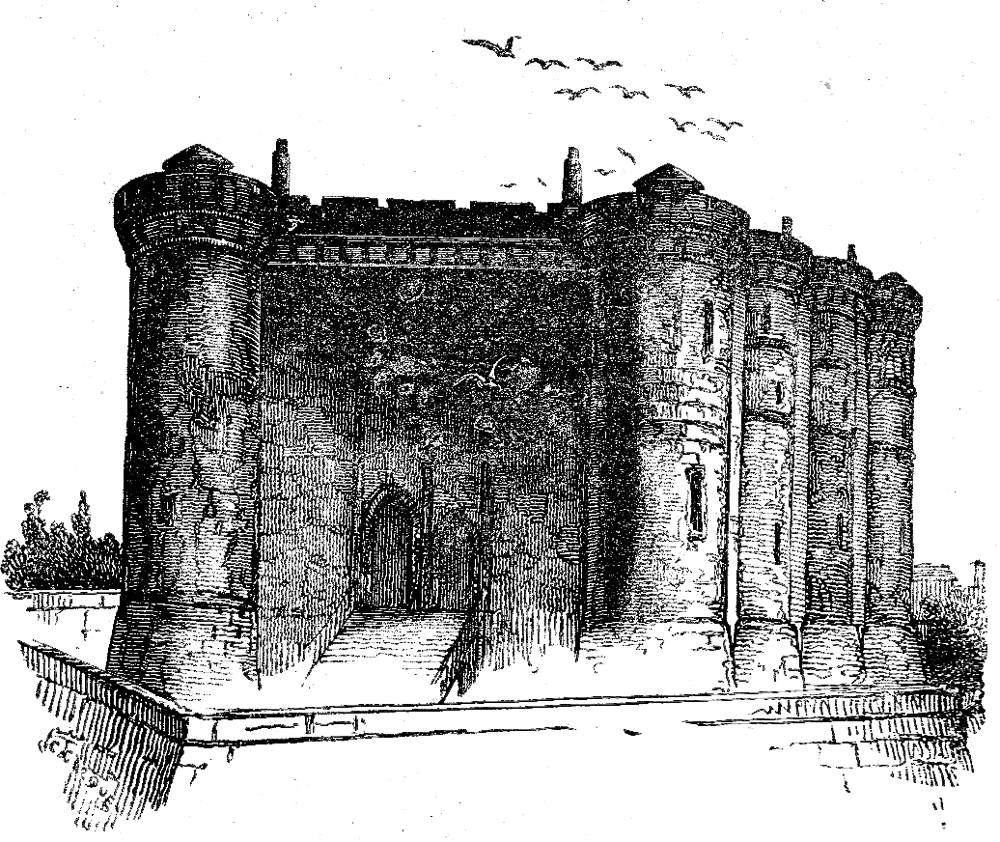 Tony Johannot's purely architectural illustration of the Bastille for the same chapter, uncaptioned.
Bibliography
Sterne, Laurence. A Sentimental Journey through France and Italy. Illustrated with one hundred engravings on wood, by Bastin and G. Nichols, from original designs by Jacque and Fussell. London: Joseph Thomas, 1841.
Sterne, Laurence. A Sentimental Journey through France and Italy. With 100 illustrations by Tony Johannot. London: Willoughby, 1857.
Turner, Katherine. "Notes." Laurence Sterne's A Sentimental Journey through France and Italy (1768). Peterborough, ON: Broadview, 2010.
---
Last modified 12 September 2018