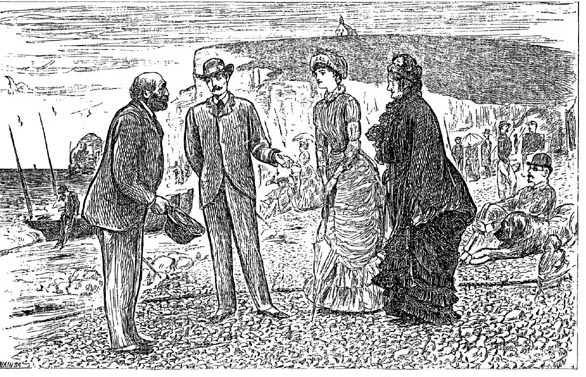 "Somerset Now Made Them Known To One Another." [George Somerset introduces his father to Paula Power] by George Du Maurier for Harper's New Monthly Magazine (1880). Plate 13. Thomas Hardy's A Laodicean. Image scan, caption, and commentary by Philip V. Allingham. [You may use this image without prior permission for any scholarly or educational purpose as long as you (1) credit the person who scanned the image and (2) link your document to this URL in a web document or cite the Victorian Web in a print one.]
Du Maurier missed his opportunity, particularly in the final instalment, to depict the castle, a symbol of mediaeval power and authority, which Hardy juxtaposes against such modernist symbols of heavy industry, rapid transit, and instant communication as the railway (the source of Paula's fiscal power and social influence) and the telegraph, which "amusingly replaces the letter in amorous correspondence" (Barbara Hardy, "Introduction" to the New Wesse edn. A Laodicean , 25) between Somerset and Paula. While the de Stancy family portraits, commodities to be enjoyed by the privileged few and detritus of the pre-industrial and oligarchic age, move us backward in time (and are ultimately consumed in a purgative conflagration set by the envious and malicious Dare, bent on destroying what he cannot possess), the railway and telegraph, accessible to all and emblematic of modern engineering and the democratic age, move us backward and forward over vast distances to stitch the narrative together. And yet, in Du Maurier's plates, one has little sense of these conflicting symbols.
Although he liked Du Maurier's first two drawings, Harper's London agent, R. R. Bowker, noted in his journal as early as 30 July, 1880, Du Maurier's failing artistic powers (occasioned by his having sight in only one eye), and by 10 December, 1880, was concerned that the later drawing for A Laodicean were proving disappointing. The cause of the decline in quality after the early plates, conjectures Jackson, probably lies in the fact that during Hardy's extended illness (23 October, 1880, through April, 1881) "Du Maurier was without Hardy's "minute points" for half the drawings" (51); certainly, the plates produced after the sixth ("Is The Resemblance Strong?") are much inferior to those early illustrations for which Hardy furnished Du Maurier with sketches and suggestions. The rooms in which Du Maurier's version of Hardy's characters chat are filled with late Victorian bric-a-brac--clocks, vases with flower arrangements, ornate fireplace screens and mantles, chairs, and tables literally surround the figures, defining them materially. Du Maurier gives us little sense of Hardy's Wessex (more properly "Outer Wessex" or Somersetshire here), a significant presence in his Novels of Character and Environment, or of the picturesque Continental backdrops peculiar to A Laodicean.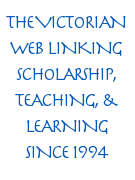 Image scan, caption, and commentary by Philip V. Allingham. [You may use this image without prior permission for any scholarly or educational purpose as long as you (1) credit the person who scanned the image and (2) link your document to this URL in a web document or cite the Victorian Web in a print one.]
---
Created 11 May 2001

Last modified 31 December 2019