"Good-bye, my love! Good-bye!" The last words were spoken aloud as the vigilant Blandois stopped, turned his head, and looked at them from the bottom of the staircase — Book 2, chap. vii, is the full title as given in the Harper and Brothers printing. Sixties' illustrator James Mahoney's thirty-fifth illustration for Charles Dickens's Little Dorrit, Household Edition, 1873. Wood-engraving by the Dalziels, 10.51 cm high by 13.6 cm wide, p. 257, framed, under the running head "Mrs. General's Designs." [Click on the image to enlarge it.]
Scanned image and text by Philip V. Allingham. [You may use this image without prior permission for any scholarly or educational purpose as long as you (1) credit the person who scanned the image and (2) link your document to this URL.]
Passage Illustrated
. . . Mrs. Gowan whispered:
"He killed the dog."
"Does Mr. Gowan know it?" Little Dorrit whispered.
"No one knows it. Don't look towards me; look towards him. He will turn his face in a moment. No one knows it, but I am sure he did. You are?"
"I — I think so," Little Dorrit answered.
"Henry likes him, and he will not think ill of him; he is so generous and open himself. But you and I feel sure that we think of him as he deserves. He argued with Henry that the dog had been already poisoned when he changed so, and sprang at him. Henry believes it, but we do not. I see he is listening, but can't hear. Good-bye, my love! Good-bye!"
The last words were spoken aloud, as the vigilant Blandois stopped, turned his head, and looked at them from the bottom of the staircase. Assuredly he did look then, though he looked his politest, as if any real philanthropist could have desired no better employment than to lash a great stone to his neck, and drop him into the water flowing beyond the dark arched gateway in which he stood. No such benefactor to mankind being on the spot, he handed Mrs. Gowan to her boat, and stood there until it had shot out of the narrow view; when he handed himself into his own boat and followed. — Book the Second, "Riches," Chapter 7, "Mostly, Prunes and Prism," p. 261.
Commentary
Taking his cue from the original Phiz illustration for the previous chapter, Instinct stronger than Training (November 1856: Part Twelve), Mahoney has the sardonic Blandois wait upon Henry Gowan's wife, Pet, and her new English friend, Amy Dorrit, at the base of the stairs in the Gowan flat in Venice. Both young women strongly suspect that the cruel and cunning Frenchman has poisoned Henry's mastiff because the dog threatened to attack him when he was serving as Henry's model in the studio above — but both are at a loss as how to prove that he is the malefactor, let alone how to persuade Henry that Blandois is hardly a friend. In fact, he terrifies both women, but they cannot determine how to eliminate him from Pet's life as long as Gowan cultivates his friendship in order to keep his wife off-balance. What neither young woman realizes is that Gowan secretly detests his new-found, foreign friend.
Although James Mahoney's illustration is successful insofar as it offers a visual characterization of these three characters, showing how their disparate paths have now crossed in Venice, the illustrator offers none of those interesting background details that inform the Italian scenes in the original serial. Although this is the chapter in which Mrs. General's marital "designs" upon William Dorrit become apparent, Mahoney has responded instead to Blandois' poisoning of Gowan's dog, and the putative menace that he represents to Pet, the elegantly dressed young woman with the sausage-roll curls, shawl, and elegant muff, dressed still in bridal white to distinguish her from the more serviceably attired Amy. In his villainous cloak, Blandois smirks at them both, as if he knows precisely what they are talking about — but cannot gather evidence to support their supposition. In the absence of anyone else whom she can trust, Pet has made a recent acquaintance into a confidante. The only ornamental element, the ornate balustrade, serves to connect the ladies to the right and Blandois to the left, and subtly emphasizes their descent to his level, when he hopes to have them in his power.
Italian Scenes in other 19th c. series of illustration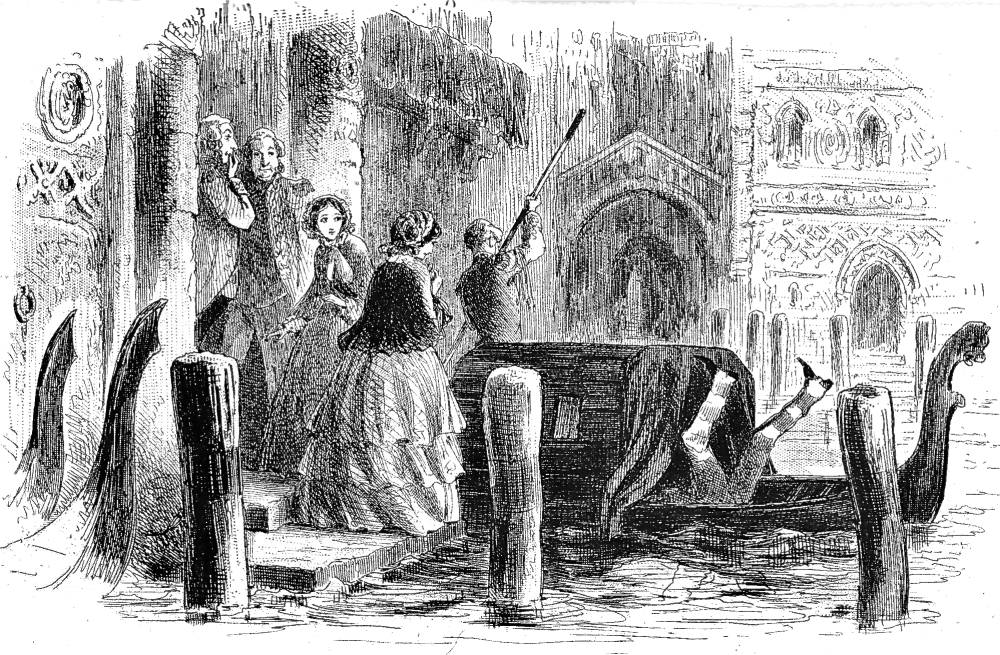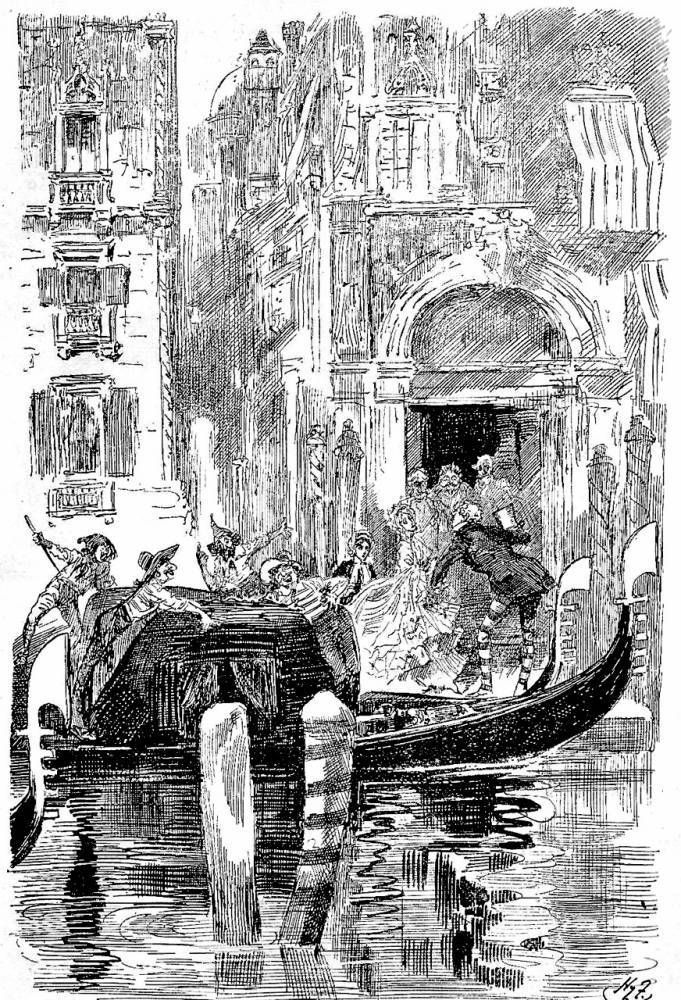 Right: Phiz's comic illustration for the twelfth instalment, full of Venetian elements, Mr. Sparkler under a Reverse of Circumstances (Chapter 6: November 1856). Centre: Sol Eytinge, Junior's study of tHe artist assessing his own Venetian painting, which his young wife struggles to understand, Mr. and Mrs. Henry Gowan (1867). Right: Harry Furniss's realisation of the awkward Edmund Sparkler's courting Fanny from a gondola, Miss Fanny meets an Acquaintance in Venice without his mother to protect him from Fanny's designs — 1910 lithograph. [Click on images to enlarge them.]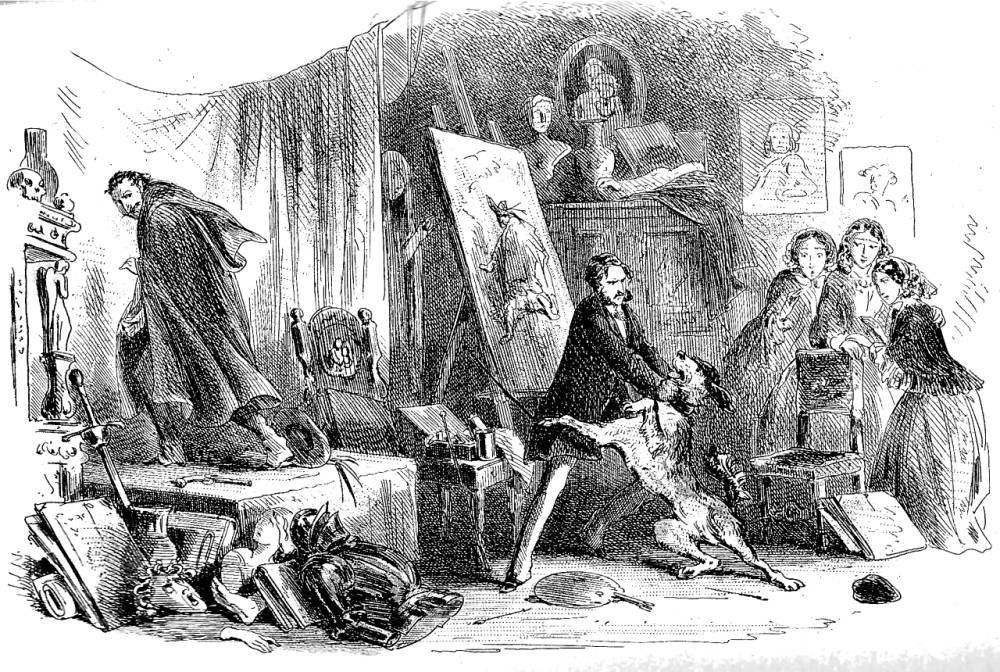 Above: Phiz's study in the original serial of the studio scene in which Gowan brutally punishes Lion for attempting to attack Blandois, Instinct stronger than Training (Part 12, November 1856). [Click on the image to enlarge it.]
References
Dickens, Charles. Little Dorrit. Illustrated by Hablot Knight Browne ("Phiz"). The Authentic Edition. London: Chapman and Hall, 1901 [rpt. of the 1868 volume, based on the 30 May 1857 volume].
Dickens, Charles. Little Dorrit. Frontispieces by Felix Octavius Carr Darley and Sir John Gilbert. The Household Edition. 55 vols. New York: Sheldon & Co., 1863. 4 vols.
Dickens, Charles. Little Dorrit. Illustrated by Sol Eytinge, Jr. The Diamond Edition. Boston: Ticknor & Fields, 1867. 14 vols.
Dickens, Charles. Little Dorrit. Illustrated by James Mahoney. The Household Edition. 22 vols. London: Chapman and Hall, 1873. Vol. 5.
Dickens, Charles. Little Dorrit. Illustrated by Harry Furniss. The Charles Dickens Library Edition. 18 vols. London: Educational Book, 1910. Vol. 12.
Hammerton, J. A. "Chapter 19: Little Dorrit." The Dickens Picture-Book. The Charles Dickens Library Edition. Illustrated by Harry Furniss. 18 vols. London: Educational Book Co., 1910. Vol. 17. Pp. 398-427.
Kitton, Frederic George. Dickens and His Illustrators: Cruikshank, Seymour, Buss, "Phiz," Cattermole, Leech, Doyle, Stanfield, Maclise, Tenniel, Frank Stone, Landseer, Palmer, Topham, Marcus Stone, and Luke Fildes. Amsterdam: S. Emmering, 1972. Re-print of the London 1899 edition.
Lester, Valerie Browne. Phiz: The Man Who Drew Dickens. London: Chatto and Windus, 2004.
"Little Dorrit — Fifty-eight Illustrations by James Mahoney." Scenes and Characters from the Works of Charles Dickens, Being Eight Hundred and Sixty-six Drawings by Fred Barnard, Gordon Thomson, Hablot Knight Browne (Phiz), J. McL. Ralston, J. Mahoney, H. French, Charles Green, E. G. Dalziel, A. B. Frost, F. A. Fraser, and Sir Luke Fildes. London: Chapman and Hall, 1907.
Schlicke, Paul, ed. The Oxford Reader's Companion to Dickens. Oxford and New York: Oxford U. P., 1999.
Steig, Michael. Dickens and Phiz. Bloomington: Indiana University Press, 1978.
Vann, J. Don. Victorian Novels in Serial. New York: The Modern Language Association, 1985.
---
Last modified 9 June 2016