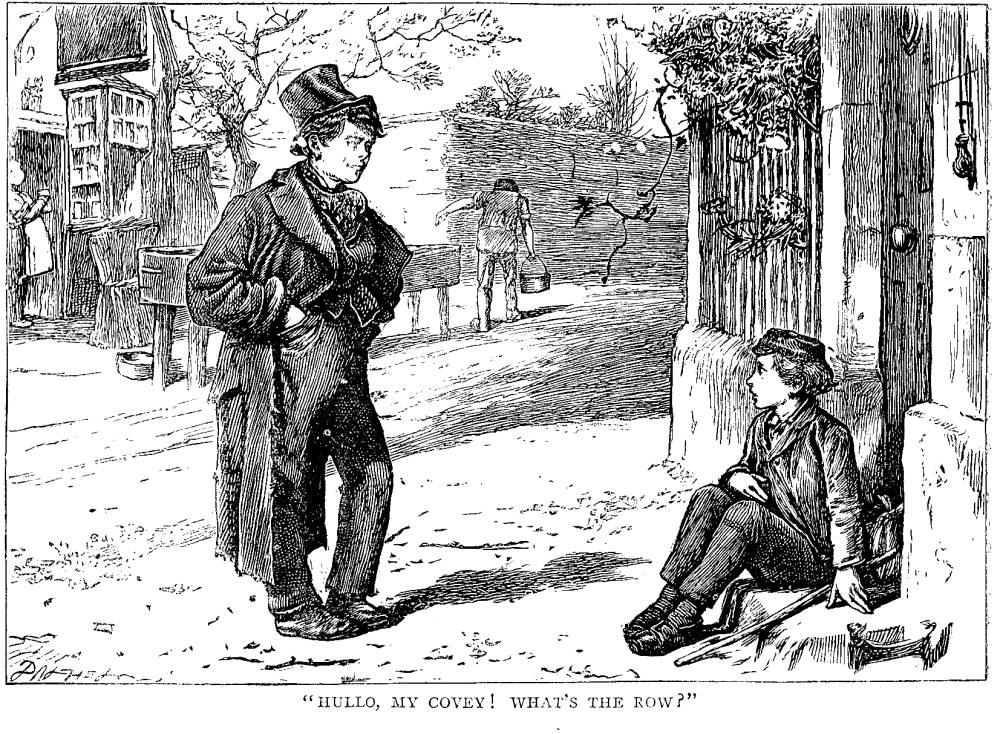 "Hullo, my covey! What's the row?"," James Mahoney's initial interpretation of George Cruikshank's streetwise pickpocket, Jack Dawkins, otherise known as "The Artful Dodger," in Dickens's The Adventures of Oliver Twist, Household Edition, page 25. 1871. Wood engraving by the Dalziels, 9.3 cm high by 13.5 cm wide. Having run away from his apprenticeship with Sowerberry, Oliver determines to walk the Great North Road to London after he has visited Mrs. Mann's baby-farm to say goodbye to Little Dick, the only friend he made there. Befriended on the road by a charitable turnpike keeper and an elderly lady, on the seventh morning Oliver limps slowly into the marketplace of Barnet at sunrise. At this point, he encounters a boy only a little older than himself, but wearing the clothing and affecting the self-confident manner of an adult. In fact, today the Borough of Barnet is Greater London's second-largest, but in the period in which Dickens has set the story, it was still a small market-town north of central London, in the county of Hertfordshire. Scanned image and text by Philip V. Allingham. [You may use this image without prior permission for any scholarly or educational purpose as long as you (1) credit the person who scanned the image and (2) link your document to this URL in a web document or cite it in a print one.]
Passage Illustrated
He had been crouching on the step for some time: wondering at the great number of public-houses (every other house in Barnet was a tavern, large or small), gazing listlessly at the coaches as they passed through, and thinking how strange it seemed that they could do, with ease, in a few hours, what it had taken him a whole week of courage and determination beyond his years to accomplish: when he was roused by observing that a boy, who had passed him carelessly some minutes before, had returned, and was now surveying him most earnestly from the opposite side of the way. He took little heed of this at first; but the boy remained in the same attitude of close observation so long, that Oliver raised his head, and returned his steady look. Upon this, the boy crossed over; and, walking close up to Oliver, said,
"Hullo, my covey! What's the row?"
The boy who addressed this inquiry to the young wayfarer, was about his own age: but one of the queerest looking boys that Oliver had ever seen. He was a snub-nosed, flat-browed, common-faced boy enough; and as dirty a juvenile as one would wish to see; but he had about him all the airs and manners of a man. He was short of his age: with rather bowlegs, and little, sharp, ugly eyes. His hat was stuck on the top of his head so lightly, that it threatened to fall off every moment — and would have done so, very often, if the wearer had not had a knack of every now and then giving his head a sudden twitch, which brought it back to its old place again. He wore a man's coat, which reached nearly to his heels. He had turned the cuffs back, half-way up his arm, to get his hands out of the sleeves: apparently with the ultimate view of thrusting them into the pockets of his corduroy trousers; for there he kept them. He was, altogether, as roystering and swaggering a young gentleman as ever stood four feet six, or something less, in his bluchers.
"Hullo, my covey! What's the row?" said this strange young gentleman to Oliver.
"I am very hungry and tired," replied Oliver: the tears standing in his eyes as he spoke. "I have walked a long way. I have been walking these seven days."
"Walking for sivin days!" said the young gentleman. "Oh, I see. Beak's order, eh? But," he added, noticing Oliver's look of surprise, "I suppose you don't know what a beak is, my flash com-pan-i-on?" [Chapter 8, "Oliver walks to London. He encounters on the road a strange sort of young gentleman," p. 27]
Commentary
In a north of England town, perhaps based on Peterborough since Oliver's birthplace is roughly seventy miles from London, eleven-year-old Oliver Twist, having retaliated against fellow-apprentice Noah Claypole for his unmerciful bullying and taunting, runs away after enduring a caning by the parish beadle. The momentous meeting of Oliver, according to his assigned surname born to twist at the end of a rope for felony, and Fagin's chief pickpocket does not occur in George Cruikshank's sequence of illustrations for the monthly instalments in Bentley's Miscellany. Rather, in the April 1837 instalment Cruikshank provided the underworld scene in Fagin's hideout, Oliver introduced to the respectable Old Gentleman.
In James Mahoney's sequence, there is no equivalent to the scene in which Oliver first meets Fagin. In place, then, of this celebrated scene, in the Household Edition James Mahoney has elected to describe the low-key meeting of Oliver and the exemplar of the criminal underclass of the metropolis, an important stage in "The Parish Boy's Progress," if one regards the Hogarthian progresses of the Rake and the Harlot as Dickens's models at this point. The illustrator implies the leisurely pace of village life by the landlord taking his morning coffee (left rear) and one of servants at the inn hauling water from the trough (upper centre). Oliver, with his few meagre belongings wrapped in a bundle (lower right) seems curious about the strange adult-child that dominates the scene, hands in the top-pockets of his corduroy bluchers and battered hat worn at a rakish angle.
Although Eytinge has followed his established practice of presenting a pair of closely associated characters in presenting the Artful Dodger with Charley Bates, Furniss realizes the fateful meeting of Oliver and Jack Dawkins in the marketplace at Barnet, basing his scene in all likelihood on Mahoney's, although he does not offer a thumbnail version of the significant meeting in Characters in the Story, the ornamental frame for the title-page.
Illustrations from the Serial (1837), the Diamond Edition (1867), and the Charles Dickens Library Edition (1910)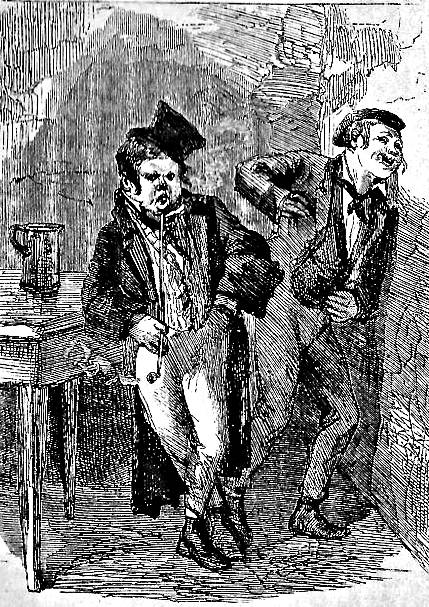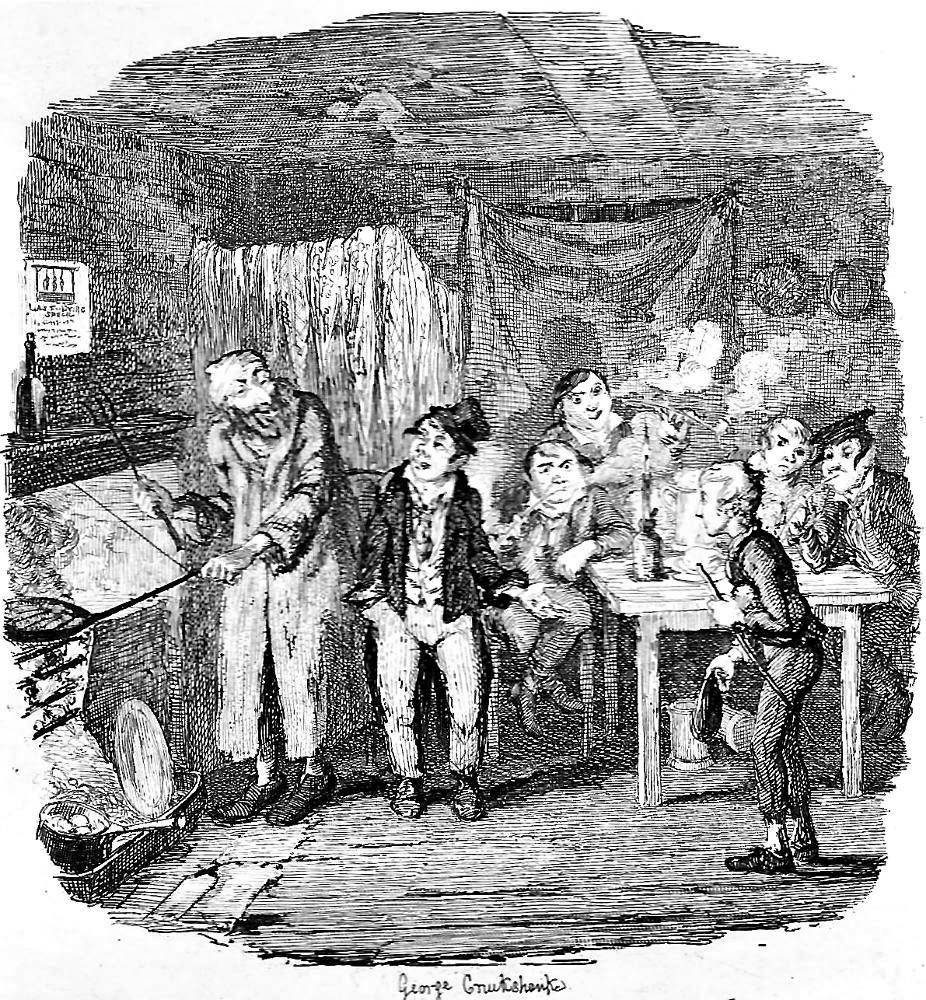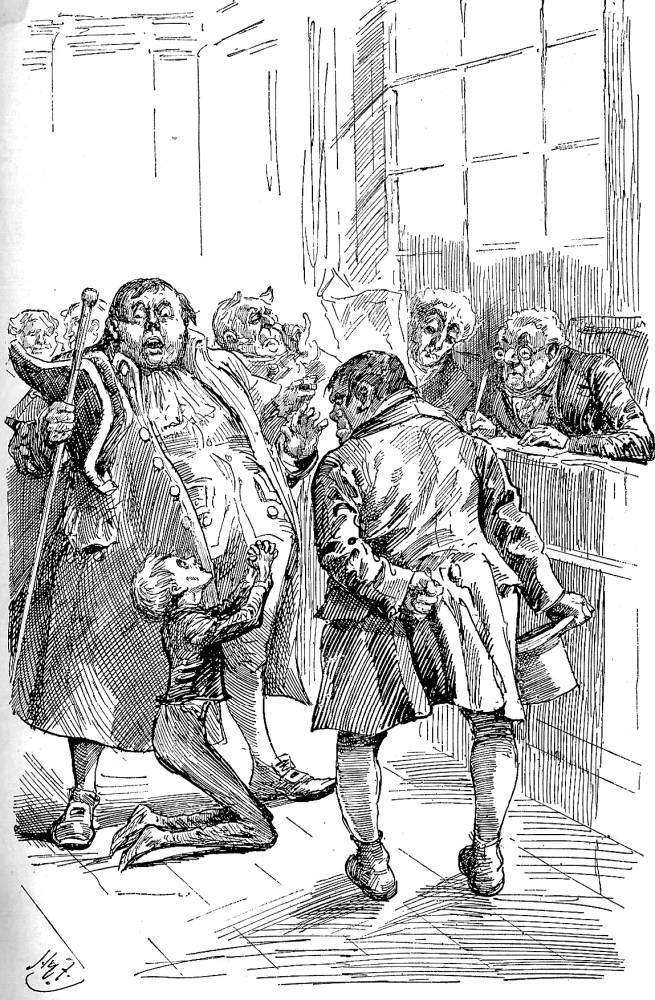 Left: Sol Eytinge, Junior's The Artful Dodger and Charley Bates. Centre: George Cruikshank's original version of Oliver introduced to the respectable Old Gentleman. Right: Harry Furniss's Charles Dickens Library Edition illustration (1910) Oliver falls in with the Artful Dodger . [Click on images to enlarge them.]
References
Bentley, Nicolas, Michael Slater, and Nina Burgis. The Dickens Index. New York and Oxford: Oxford U. P., 1990.
Darley, Felix Octavius Carr. Character Sketches from Dickens. Philadelphia: Porter and Coates, 1888.
Davis, Paul. Charles Dickens A to Z: The Essential Reference to His Life and Work. New York: Facts On File, 1998.
Dickens, Charles. Oliver Twist. Illustrated by George Cruikshank. London: Bradbury and Evans; Chapman and Hall, 1846.
Dickens, Charles. Oliver Twist. Works of Charles Dickens. Household Edition. 55 vols. Il. F. O. C. Darley and John Gilbert. New York: Sheldon and Co., 1865.
Dickens, Charles. Oliver Twist. Works of Charles Dickens. Diamond Edition. 18 vols. Illustrated by Sol Eytinge, Jr. Boston: Ticknor and Fields, 1867.
Dickens, Charles. The Adventures of Oliver Twist. Works of Charles Dickens. Household Edition. Illustrated by James Mahoney. London: Chapman and Hall, 1871.
Dickens, Charles. Oliver Twist. Works of Charles Dickens. Charles Dickens Library Edition. Illustrated by Harry Furniss. London: Educational Book Company, 1910.
---
Last modified 27 November 2014