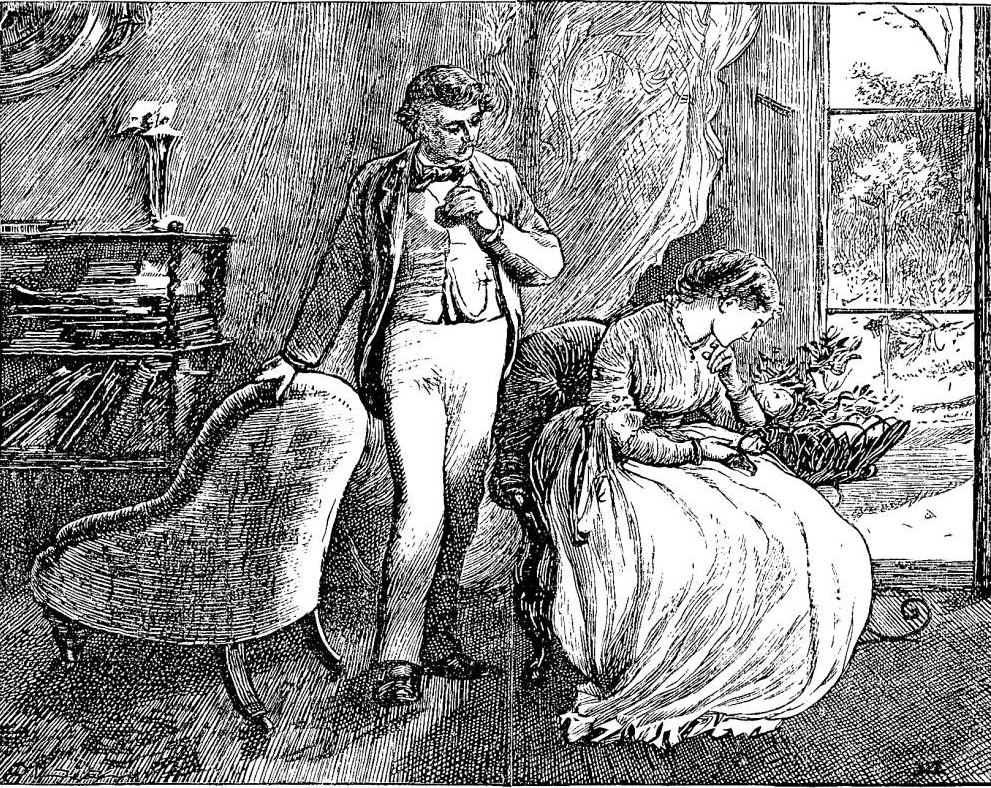 "A few — a very few — will suffice, Rose,"​said the young man, drawing his chair towards her. Chapter 35, "Containing the Unsatisfactory Result of Oliver's Adventure; and a Conversation of Some Importance between Harry Maylie and Rose." James Mahoney's illustration fleshes our the "back story" of the adopted seventeen-year-old Rose and her relationship with her sibling, Harry, who is declaring his love for her, despite her dubious background. While the original narrative-pictorial sequence focuses at this point on the strange incident in Chapter 34,​in which Fagin and Monks appeared at Oliver's window. Perhaps Mahoney, keenly aware that his predecessor had already treated the visit of Fagin and Monks to Oliver's home in the country, chose to focus instead upon Rose's becoming desperately ill, miraculously recovering, and then receiving Harry's proposal — which entails his renouncing a promising political career because of her shadowy past. Mahoney develops the problem-fraught romance of Rose, Oliver's aunt, and Harry Maylie as a significant subplot in the Household Edition. In the original narrative-pictorial serial sequence by George Cruikshank in Bentley's Miscellany, the periodical reader encountered instead a pictorial realisation of the terrifying moment which shatters Oliver's three-months' peace of mind Fagin and Monks in (Part 15, June 1838), for Chapter 34 of The Adventures of Oliver Twist; or, The Parish Boy's Progress. The Mahoney illustration of Harry's proposal is on page 129, facing the textual passage realised. 1871. Wood engraving by the Dalziels, 10.8 cm high by 13.8 cm wide.
Scanned image and text by Philip V. Allingham. [You may use this image without prior permission for any scholarly or educational purpose as long as you (1) credit the person who scanned the image and (2) link your document to this URL in a web document or cite it in a print one.]
Passage Realised
But, although this happy change had a visible effect on the little circle; and although cheerful voices and merry laughter were once more heard in the cottage; there was at times, an unwonted restraint upon some there: even upon Rose herself: which Oliver could not fail to remark. Mrs. Maylie and her son were often closeted together for a long time; and more than once Rose appeared with traces of tears upon her face. After Mr. Losberne had fixed a day for his departure to Chertsey, these symptoms increased; and it became evident that something was in progress which affected the peace of the young lady, and of somebody else besides.
At length, one morning, when Rose was alone in the breakfast-parlour, Harry Maylie entered; and, with some hesitation, begged permission to speak with her for a few moments.
"A few — a very few — will suffice, Rose,"​said the young man, drawing his chair towards her. "What I shall have to say, has already presented itself to your mind; the most cherished hopes of my heart are not unknown to you, though from my lips you have not heard them stated."
Rose had been very pale from the moment of his entrance; but that might have been the effect of her recent illness. She merely bowed; and bending over some plants that stood near, waited in silence for him to proceed.
"I — I — ought to have left here, before,"​said Harry."
"You should, indeed,"​replied Rose."​Forgive me for saying so, but I wish you had." [Ch 35, p. 128]
Commentary: Rose Fleming and Harry Maylie — The Back-story
In Chapter 34, Dickens introduces the romance of Harry Maylie, an up-and-coming politician, and his adopted sister, Rose (her identity as the sister of Oliver's mother awaits disclosure in Chapter 50). Whereas George Cruikshank in his June 1838 illustration focusses on a figure from the main "Newgate" plot — Fagin — and the grafted "lost heir plot" — Monks (the alias of Edwin Leeford), Mahoney takes this opportunity to develop further the back-story of Rose Maylie that he had introduced in When it became quite dark, and they returned home, the young lady would sit down to the piano, and play some pleasant air. The proposal scene underscores Dickens's motif of self-sacrifice for love as Rose initially refuses Harry's proposal because, with "a stain upon [her] name" (130), she fears that as Harry's wife she would be an impediment to his "high and noble pursuits" (130) and that he will be able to score "triumphs" in public life only if she does not impair his "great talents" by marrying him. Presumably, his "powerful connexions" necessary to the advanced of his career would disown him were he to marry a girl with the shadow of impropriety of birth (i. e., illegitimacy) hanging over her. For her devotion Dickens rewards her with Harry, who renounces his political aspirations for love, and becomes a Church of England parson — an identity and a sacrifice that Cruikshank had celebrated in the so-called ​"Fireside" or cancelled plate, an illustration of Oliver's domestic bliss that Dickens viewed negatively as it shifted the focus from the suffering of Agnes Fleming, Oliver's mother, in the workhouse towards Oliver's acquiring a conventional upper-middle-class Victorian family, displaying the Rev. Harry Maylie in silk dressing gown and his aged mother (who had originally rejected the notion of Rose as a daughter-in-law) left. Literary critic John Forster (also Dickens's business agent and confidant), writing to Richard Bentley on November 1838, vigorously denounced the "Fireside" plate as, virtually, an advertisement for Rowland Macassar oil (Pilgrim Edition of the Letters vol. 1, p. 451) — in other words, lacking in characterisation, narrative interest, or artistic merit. Consequently, if Mahoney was able to sudy this "cancelled" plate in an early third volume of the November 1838 Richard Bentley trip-decker, nevertheless in this scene he has moved beyond the depiction of a stereotypical, upper-middle-class parlour scene.
Despite its understated realism, the wood-engraving is nonetheless reminiscent of the narrative painting of Augustus Leopold Egg, in particular Past and Present (I), The Infidelity Discovered​(1858), with the poses of the middle-class gentleman and lady revealing an inner turmoil that belies the superficial tranquility and normalcy of the drawing-room, illuminated by natural light from the garden to the rear. In describing the outward and visible signs of the deteriorating relationship between the husband and wife, Egg the Pre​-​​R​aphaelite is far more self-consciously melodramatic and sensational than New Man of the Sixties, the realist Mahoney; however, like Egg's narrative painting, Mahoney's illustration invites the reader to interpret the characters' emotions, explore their motivations, and reconstruct their back-stories — all of which activities are facilitated by a close reading of the accompanying text, an adjunct that Egg's painting does not have.
There is nothing at first glance to suggest that Mahoney's is anything other than a conventional drawing-room scene with a young man dressed in the style of the Sixties (centre), casually supporting himself by placing one hand on the back of the easy chair — until one studies the pose of the young woman dressed in the fashion of the 1860s also. She turns away, hand to her chin in thought, rejecting reluctantly the marriage proposal that is almost an inevitability, given the proximity in which the two have grown up. The comfortable parlour, looking out on the very same garden in which Oliver has recently scene Fagin and Monks, a blight on his past and a menace to his future, is thus a scene of powerful internal conflict, as the slightly agitated curtain suggests. Brought up reading the same books and periodicals, casually jumbl;ed together on the shelf, left), the couple are well-matched intellectually, just as their fashionable, upper-middle-class attire implies their compatibility in terms of social class. But something troubles the girl as she receives the longed-for proposal, and Mahoney compels the reader to study the letter-press to determine the cause of her unease since he does not reveal her expression.
Whereas Cruikshank and Eytinge have totally neglected the Rose and Harry Maylie romance, Harry Furniss in the 1910 Charles Dickens Library Edition volume provides a series of illustrations that focus on Rose, culminating in Chapter 51's Rose Maylie. Thus, over successive editions, Rose Maylie (Fleming) moves from a secondary position, featured prominently only in Cruikshank's The Meeting (Part Twenty, December 1838), to a leading figure in the back-story of Agnes Fleming, the absent mother and sister featured prominently in The Shade of Agnes (see below) in Chapter 53. In the original sequence, Dickens may have felt it inappropriate to flag the impropriety which Rose fears may taint Harry's career as he focuses instead upon Agnes's legal marriage and therefore Oliver's legitimacy, both suppressed by Monks when he destroys the evidence of Agnes and his father's marriage. Certainly, the original series of illustrations significantly underplays the figure and back-story of Rose Fleming.
​
Relevant Illustrations from the serial edition (1837-39) and the Charles Dickens Library Edition (1910)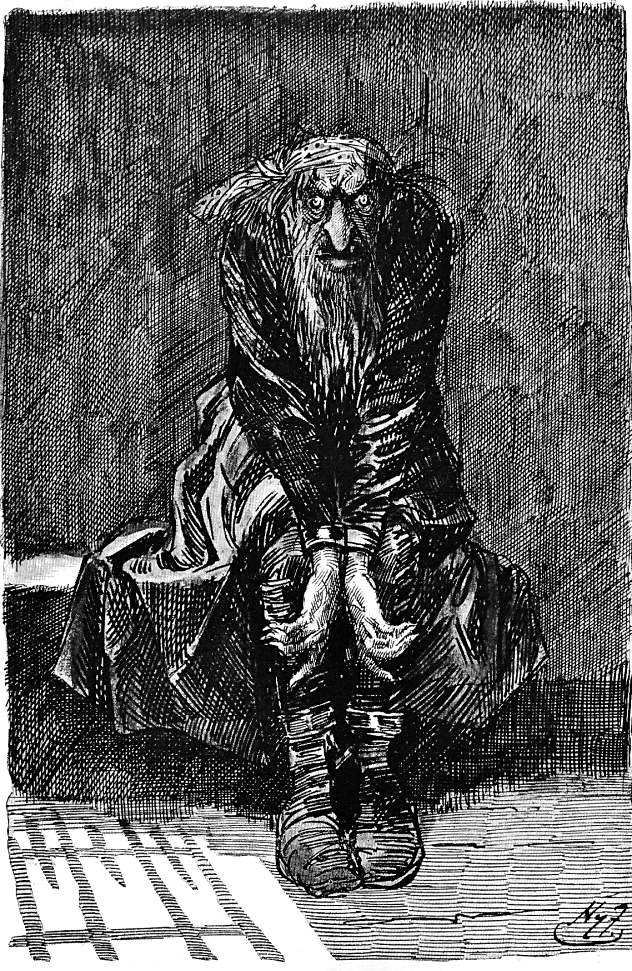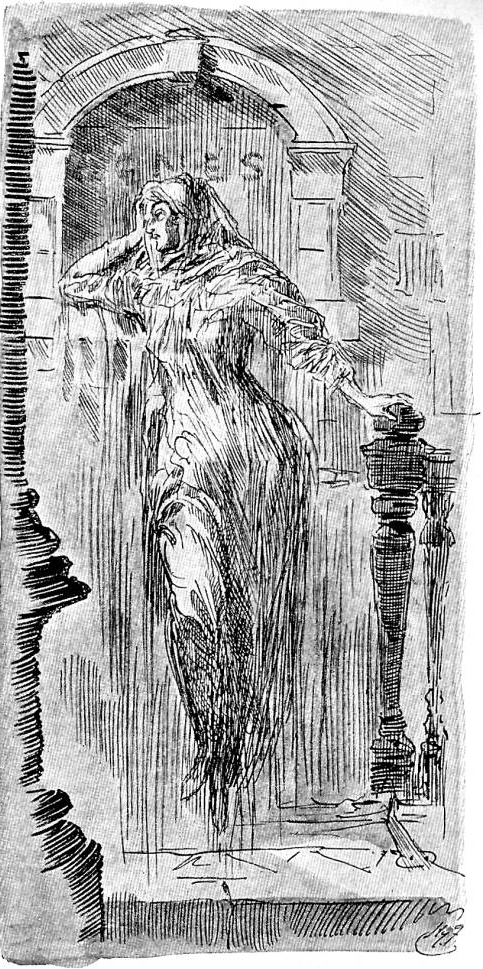 Left: George Cruikshank's Oliver's Family (1838). Centre: Harry Furniss's Rose Maylie (1910). Right: Harry Furniss's The Shade of Agnes (1910). [Click on images to enlarge them.]
References
Bentley, Nicolas, Michael Slater, and Nina Burgis. The Dickens Index. New York and Oxford: Oxford U. P., 1990.
Cohen, Jane Rabb. "George Cruikshank." Charles Dickens and His Original Illustrators. Columbus: Ohio State U. P., 1980. Pp. 15-38.
Darley, Felix Octavius Carr. Character Sketches from Dickens. Philadelphia: Porter and Coates, 1888.
Davis, Paul. Charles Dickens A to Z: The Essential Reference to His Life and Work. New York: Facts On File, 1998.
Dickens, Charles. The Letters of Charles Dickens. Ed. Graham Storey, Kathleen Tillotson, and Angus Eassone. The Pilgrim Edition. Oxford: Clarendon, 1965. Vol. 1 (1820-1839).
Dickens, Charles. Oliver Twist. Illustrated by George Cruikshank. London: Bradbury and Evans; Chapman and Hall, 1846.
Dickens, Charles. Oliver Twist. Works of Charles Dickens. Household Edition. 55 vols. Il. F. O. C. Darley and John Gilbert. New York: Sheldon and Co., 1865.
Dickens, Charles. Oliver Twist. Works of Charles Dickens. Diamond Edition. 18 vols. Illustrated by Sol Eytinge, Jr. Boston: Ticknor and Fields, 1867.
Dickens, Charles. The Adventures of Oliver Twist. Works of Charles Dickens. Household Edition. Illustrated by James Mahoney. London: Chapman and Hall, 1871.
Dickens, Charles. Oliver Twist. Works of Charles Dickens. Charles Dickens Library Edition. Illustrated by Harry Furniss. London: Educational Book Company, 1910.
---
Last modified 13 December 2014