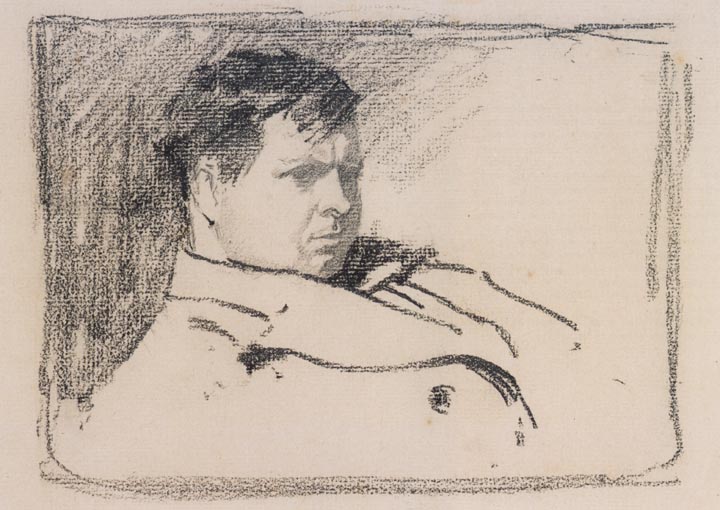 Frank Brangwyn by Phillip William May, RI, RP, 1854-1903. Inscribed on an old mount 'Frank Brangwyn by Phil May 1885'. Pencil, 6 1/2 x 8 1/2 inches. Provenance: Given to Mr H.P. Gilbert by Brangwyn, inherited by Mrs. Jervis and Miss Griffiths, given to J. Homery Folkes, 5 October 1946.
Comentary by Rupert Maas
In order to pursue his aspirations to be a painter, the illustrator and cartoonist Phil May and his wife went on holiday in France with May's friend Brangwyn in 1896. According to Brangwyn, despite good intentions of painting hard all day every day, the two would often spend days drinking and sketching at a cafe instead. May, with characteristic generosity, would stand drinks for all and sundry, and although very little progress was made at painting, a very convivial time was had by both.
The age of Brangwyn in this wonderfully proficient drawing is more likely to fit with the French trip in 1896, when Brangwyn was 32, than the date given on the old mount of 1885 when Brangwyn was only 21, but it could have been drawn later still.
The Maas Gallery, London has most generously given its permission to use in the Victorian Web information, images, and text from its catalogues. The copyright on text and images from their catalogues remains, of course, with the Maas Gallery. Readers should consult the gallery website to obtain information about recent exhibitions and to order their catalogues. [GPL]
Bibliography
Maas, Rupert. British Pictures. London: The Maas Gallery. 2006. Catalogue number 31.
---
Last modified 13 August 2006