"I hope your Mama is quite well?" (Vol. V, page 133) — Twenty-second wood-engraving for Charles Dickens's Great Expectations, first published in Instalment 15, serialised in Harper's Weekly V for 2 March 1861), Chapter XXI. 11.7 cm by 11.8 cm wide (roughly 4 ½ inches square) Plate 16 (facing p. 114 in the T. B. Peterson single-volume edition of 1861). [Click on the images to enlarge them.]
Passage Illustrated: Pip meets the vacuous Mrs. Pocket in the garden at Hammersmith
Mrs. Pocket was sitting on a garden chair under a tree, reading, with her legs upon another garden chair; and Mrs. Pocket's two nurse-maids were looking about them while the children played. "Mamma," said Herbert, "this is young Mr. Pip." Upon which Mrs. Pocket received me with an appearance of amiable dignity.
"Master Alick and Miss Jane," cried one of the nurses to two of the children, "if you go a bouncing up against them bushes you'll fall over into the river and be drownded, and what'll your pa say then?"
At the same time this nurse picked up Mrs. Pocket's handkerchief, and said, "If that don't make six times you've dropped it, Mum!" Upon which Mrs. Pocket laughed and said, "Thank you, Flopson," and settling herself in one chair only, resumed her book. Her countenance immediately assumed a knitted and intent expression as if she had been reading for a week, but before she could have read half a dozen lines, she fixed her eyes upon me, and said, "I hope your mamma is quite well?" This unexpected inquiry put me into such a difficulty that I began saying in the absurdest way that if there had been any such person I had no doubt she would have been quite well and would have been very much obliged and would have sent her compliments, when the nurse came to my rescue. [Instalment fifteen, Chapter XXI, 134]
Commentary: The Undomesticated Chatelaine, Mrs. Pocket
The book that Mrs. Pocket, younger than her years despite being Herbert's mother, ought to be reading is Mrs. Ellis's Daughters of England, a popular upper-middle-class manual for "the Economy of House-hold Affairs" (Paroissien, 209). However, her odd question to Pip about whether he is fond of travelling suggests that she has immersed herself in quite another sort of book, a popular travelogue (travel to continental situations such as spas and the Alps then being in vogue). And the other odd question she asks, about Pip's mother (whom the reader knows from the opening pages of the novel is long since dead) suggests that she has not attended to anything that her husband and her son (right) have told her about the visitor to their garden in suburban Hammersmith. McLenan depicts her as relaxed, charming, beautiful, fashionably dressed, and girlish. He renders the maids and children as mere shadows to suggest her obliviousness to their activities and her responsibilities as a domestic manager. In the background one the shadowy nurses wrestles with the infant Miss Jane while the other reprimands Herbert's little brother, Master Alick, who is playing in the bushes to the left. The reader's overall impression is that this new novel by the master of English prose has indeed been "Splendidly Illustrated by John McLenan" (133).
Relevant Illustration from a later edition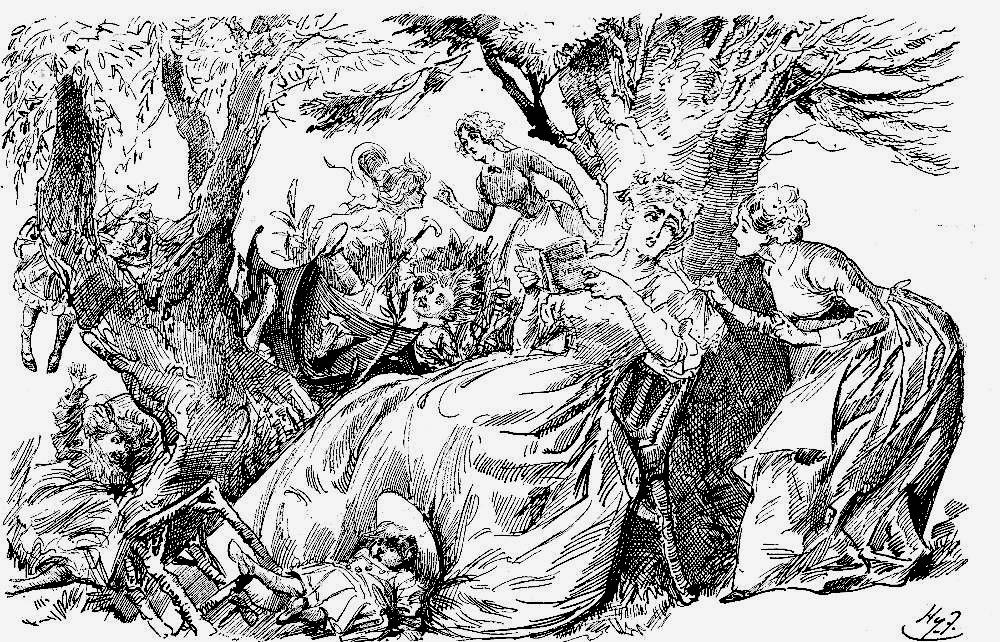 Above: Harry Furniss's version of Mrs. Pocket's garden idyll: Mrs. Pocket and her Family (Charles Dickens Library Edition, 1910). [Click on the image to enlarge it.]
Related Material
Other Artists' Illustrations for Dickens's
Great Expectations
Scanned images and text by Philip V. Allingham. [You may use these images without prior permission for any scholarly or educational purpose as long as you (1) credit the photographer and (2) link your document to this URL in a web document or cite the Victorian Web in a print one.]
Bibliography
Allingham, Philip V. "The Illustrations for Great Expectations in Harper's Weekly (1860-61) and in the Illustrated Library Edition (1862) — 'Reading by the Light of Illustration'." Dickens Studies Annual, Vol. 40 (2009): 113-169.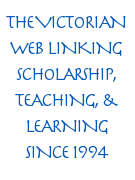 Dickens, Charles. Great Expectations. Harper's Weekly: A Journal of Civilization. Illustrated by John McLenan. Vols. IV and V (1860-61).
______. ("Boz."). Great Expectations. With thirty-four illustrations from original designs by John McLenan. Philadelphia: T. B. Peterson (by agreement with Harper & Bros., New York), 1861.
______. Great Expectations. Volume 6 of the 22-volume Household Edition. Illustrated by F. A. Fraser. London: Chapman and Hall, 1876.
______. Great Expectations. "With 28 Original Plates by Harry Furniss." Volume 14 of the Charles Dickens Library Edition (18 vols). London: Educational Book Co., 1910.
Paroissien, David. The Companion to "Great Expectations." Westport, Conn.: Greenwood, 2000.
---
Created 10 December 2007 Last updated 15 December 2021