The placid look at the white ceiling came back, and passed away, and his head dropped quietly on his breast (Vol. V, page 447) — thirty-eighth wood-engraving for Charles Dickens's Great  Expectations, first published in Instalment 35, serialised in Harper's Weekly V for 27 July 1861, Chapter LVI. 11.4 cm high by 11.5 cm wide (4 ½ by 4 ½ inches) Plate 32 (facing p. 254 in the T. B. Peterson single-volume edition of 1861). [Click on the images to enlarge them.]
Passage Illustrated: Pip tends to Magwitch as he dies in the prison infirmary
The number of the days had risen to ten, when I saw a greater change in him than I had seen yet. His eyes were turned towards the door, and lighted up as I entered.
"Dear boy," he said, as I sat down by his bed: "I thought you was late. But I knowed you couldn't be that."
"It is just the time," said I. "I waited for it at the gate."
"You always waits at the gate; don't you, dear boy?"
"Yes. Not to lose a moment of the time."
"Thank'ee dear boy, thank'ee. God bless you! You've never deserted me, dear boy."
I pressed his hand in silence, for I could not forget that I had once meant to desert him.
"And what's the best of all," he said, "you've been more comfortable alonger me, since I was under a dark cloud, than when the sun shone. That's best of all."
He lay on his back, breathing with great difficulty. Do what he would, and love me though he did, the light left his face ever and again, and a film came over the placid look at the white ceiling.
"Are you in much pain to-day?"
"I don't complain of none, dear boy."
"You never do complain."
He had spoken his last words. [Instalment 35; Chapter LVi, 447]
Commentary
The Death of Magwitch in the Prison Infirmarary is understandably not a subject that illustrators of the Pip-Estella romance wish to deal with, but McLenan as something of a social realist does not shy away from it. The prison physician turns away from the death-bed to make a remark to the medical attendant, and his expression is anything but hopeful. The bareness of the room certainly conveys the emotional sterility of such a place. But Pip's gentlemanly attire seems in sharp contrast with the physician's coarse wool suit and the cell-like situation in which Magwitch is spared the agony and humiliation of execution. And Pip has apparently spared him the news that the "Magwitch fortune" has been seized by the Crown: "he need never know how his hopes of enriching me had perished" (closing line of Chapter LIV). Like Pip's other surrogate father, Joe Gargery, Abel Magwitch "never does complain."
Relevant Scenes from Other Editions (1876 through 1910)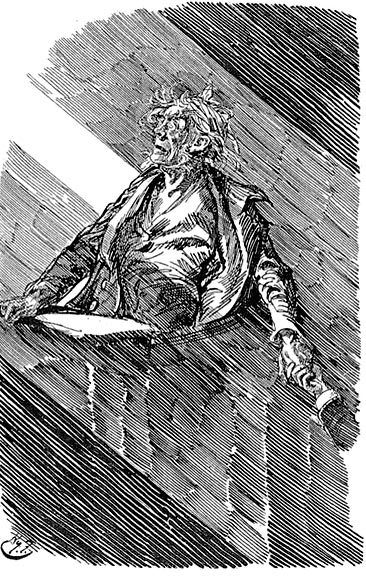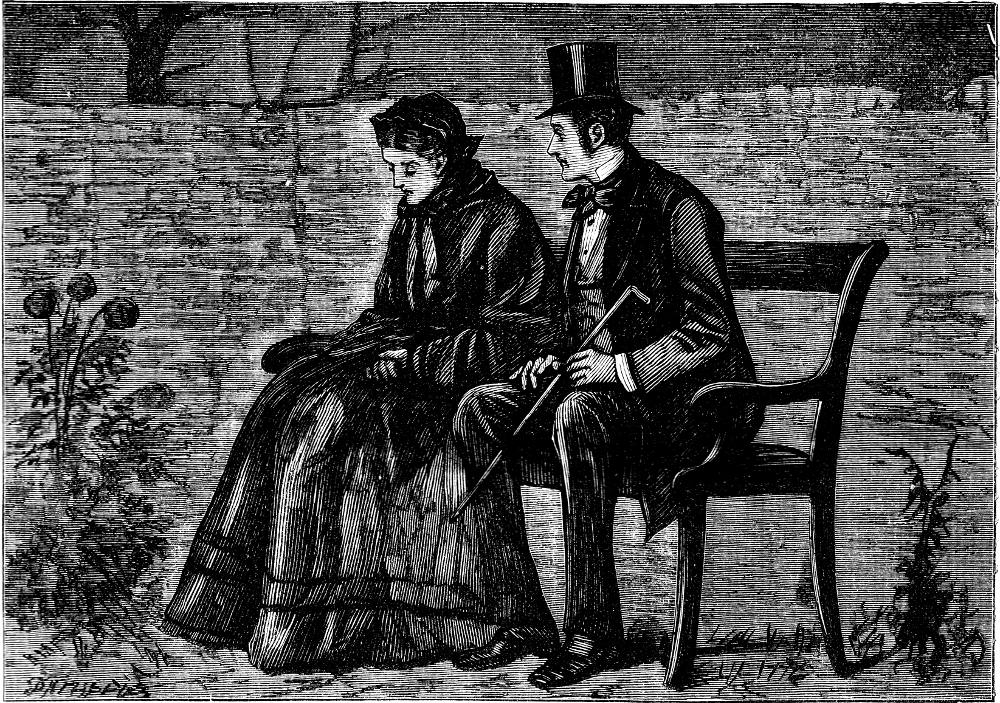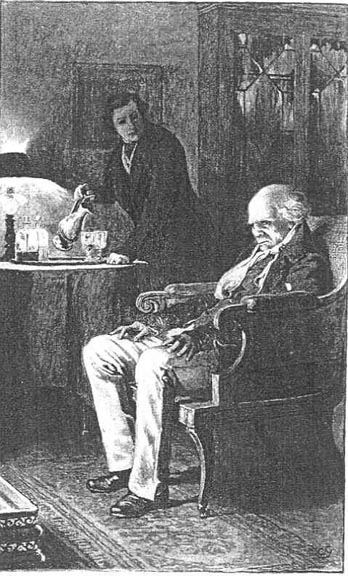 Left: In the 1910 Charles Dickens Library Edition Magwitch stands confidently and even defiantly at the prisoner's dock: Magwitch under Sentence of Death. Centre: Household Edition illustrator F. A. Fraser's handling of the death of Magwitch focuses on Pip: He had spoken his last words (1876). Right: Charles Green's scene in Chapter 39 when Pip entertains a gloomy visitor from the Antipodes: Pip and Magwich (The Gadshill Edition, 1898).
Related Material, Including Penal Transportation and Film Adaptations
Other Artists' Illustrations for the Novel (1862-1939)
Scanned images and text by Philip V. Allingham. [You may use these images without prior permission for any scholarly or educational purpose as long as you (1) credit the photographer and (2) link your document to this URL in a web document or cite the Victorian Web in a print one.]
Bibliography
Allingham, Philip V. "The Illustrations for Great Expectations in Harper's Weekly (1860-61) and in the Illustrated Library Edition (1862) — 'Reading by the Light of Illustration'." Dickens Studies Annual, Vol. 40 (2009): 113-169.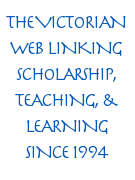 _______. "'We Can Now See That the Days of Illustrated Novels Were Drawing to an End' — Not So." The Dickens Magazine. Haslemere, Surrey: Bishops Printers. Series 1, Issue 3, pp. 6-7.
Dickens, Charles. Great Expectations. Harper's Weekly: A Journal of Civilization. Illustrated by John McLenan. Vol. IV-V (24 November 1860 through 3 August 1861).
______. ("Boz."). Great Expectations. With thirty-four illustrations from original designs by John McLenan. Philadelphia: T. B. Peterson (by agreement with Harper & Bros., New York), 1861.
______. Great Expectations. Household Edition in 22 volumes. Illustrated by F. A. Fraser. London: Chapman and Hall, 1876. Vol. XI.
Guiliano, Edward, and Philip Collins eds. Dickens's Great Expectations in The Annotated Dickens. New York: Clarkson N. Potter, 1986. Vol. II: 822-1115.
Paroissien, David. The Companion to "Great Expectations." Westport, Conn.: Greenwood, 2000.
Watts, Alan S. "Why Wasn't Great Expectations Illustrated?" The Dickens Magazine. Haslemere, Surrey: Bishops Printers. Series 1, Issue 2, pp. 8-9.
Waugh, Arthur. "Charles Dickens and His Illustrators." Retrospectus and Prospectus: The Nonesuch Dickens. London: Bloomsbury, 1937, rpt. 2003. Pp. 6-52.
---
Created 30 November 2007 Last updated 15 December 2021