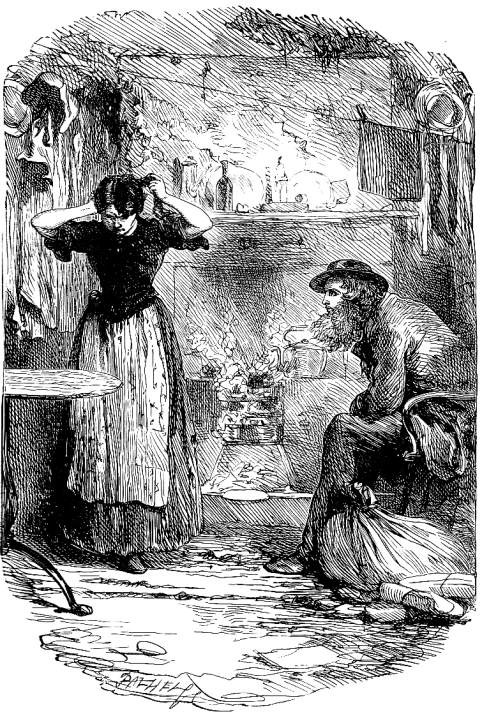 Miss Riderhood at Home
Marcus Stone
Wood engraving by Dalziel
14.2 cm high x 9.5 cm wide
Stone's illustration for Book 2, Chapter 12, "More Birds of Prey," makes an interesting basis for comparison with the far less detailed character study of Pleasant Riderhood and her surly father in Sol Eytinge's series for the same novel in the Diamond Edition, published by Dickens's principal American distributors, Ticknor Fields.
Scanned image and text by Philip V. Allingham.
[You may use these images without prior permission for any scholarly or educational purpose as long as you (1) credit the photographer and (2) link your document to this URL in a web document or cite the Victorian Web in a print one. ]
Whereas Eytinge in his 1870 Diamond Edition illustrations for Our Mutual Friend chose to focus on the abusive relationship between Rogue Riderhood and his adult daughter in "Rogue Riderhood and Miss Pleasant at Home" depicting her as cowering and lacking the ability to stand up for herself even verbally, Marcus Stone in "Miss Riderhood at Home," the first illustration for Part 9 (January 1865) shows her as far more self-assured, and places her figure in the context of a cluttered shop, "little better than a cellar or cave" (306) in Limehouse Hole. What is so pronounced here is the utter blurring of domestic and business spaces and roles, for this cramped room is both Miss Pleasant's home and the nexus of two businesses — an unlicensed pawnbroker's and a seamen's rooming house.
Both artists have elected to depict the young "unlicensed pawnbroker" in her characteristic pose, with both hands to her head as she attempts to put her tumbling, unruly hair back into a more workplace format. Dickens emphasizes how the habitual untidiness of her hair frustrates her designs to accomplish her business and reflects the general untidiness of the dual-natured apartment. Nevertheless, despite its "ill-lighted window" (306), the room has objects that reflect upon the nautical and riparian nature of its occupants: "a flaring handkerchief or two, an old peacoat or so, a few valueless watches and compasses, a jar of tobacco and two crossed pipes, a bottle of walnut ketchup, and some horrible sweets" (306). Although the viewer gradually notes these contextual objects, the viewer's attention is drawn immediately to the two vividly realised, realistic figures: Miss Pleasant herself, twisting her hair into place with both hands, and a young, profusely bearded merchant sailor seated with his gunny sack at his feet. Stone deliberately avoids showing the sailor's hands, which, though a sunburnt, have a peculiarly "unused colour and texture" (306), suggesting that he is not what he seems. From his posture one may deduce that this is the passage that Stone had in mind:
Taking notice of Pleasant Riderhood at the door, the man crossed so quickly that she was still winding herself up, when he stood close before her.
Is your father at home?' said he.
'I think he is,' returned Pleasant, dropping her arms; 'come in.'
It was a tentative reply, the man having a seafaring appearance. Her father was not at home, and Pleasant knew it. 'Take a seat by the fire,' were her hospitable words when she had got him in; 'men of your calling are always welcome here' [Her business after all is not just a Leaving Shop but also a seaman's boarding-house.] [306]
Although, as in the text, Pleasant has taken "her observant stand on one side of the fire" (306) , she has in fact already completed her first attempt at tidying up of her "ragged knot" (305) by the time her guest seats himself. Stone's sailor is sitting as the text describes, "his left arm carelessly thrown across his left leg a little above the knee." But the viewer cannot see all that Pleasant sees, namely that his "right arm as carelessly thrown over the elbow of the wooden chair, with the hand curved, half open and half shut" (306). Moreover, Miss Pleasant sees by his thoroughly complete nautical kit that the sailor in the peacoat is not looking for a pawn broker's: "you've got too much of an outfit on you for that" may be taken as a clue that, in fact, this young sailor is too well equipped, as if he were an ersatz-sailor trying too hard to look precisely like the merchant seamen he has known and observed at close quarters. Thus, the illustration prepares the reader for the subsequent scene in which John Harmon removes his disguise.
Compared to Eytinge's illustration of a subsequent scene between the young woman and her domineering father, Stone does a better job of realising in its details the setting of the Riderhoods' domestic circumstances, the parlour in Stone's version replete with such homely details as the hearth with a kettle on the boil, the laundry line and ironing board, and Pleasant's ample apron and numerous hats. The Eytinge illustration better conveys her sense of domesticity as quarrelling and fighting, and her father's frequently verbally and physically abusing her. Since her hair is constantly falling out of its "ragged knot," Stone logically depicts her as having to adjust it ("winding herself up with both hands") before she can proceed with her ironing and continue her "Poll Parroting" with nautical visitor, while Eytinge conflates that action with a much later scene involving her father's throwing one of a pair of sea-boots at her at the very close of the chapter, after the stranger's departure.
Marcus Stone in the monthly illustration is inviting the reader to penetrate John Harmon's disguise, just as Dickens in the accompanying text tempts us to interrogate the sailor's identity when Pleasant asks, "But you're a seafaring man?" (307), evidently not satisfied with the plausible exterior of the compleat nautical personage she sees before her in what is clearly (given her working again on her hair) the precise moment depicted:
The conversation had arrived at a crisis to justify Miss Pleasant's hair in tumbling down. It tumbled down accordingly, and she twisted it up, looking from under her bent forehead at the man. In taking stock of his familiarly worn rough-weather nautical clothes, piece by piece, she took stock of a formidable knife in a sheath at his waist ready to his hand, and of a whistle hanging round his neck, and of a short jagged knotted club with a loaded head that peeped out of a pocket of his loose outer jacket or frock. He sat quietly looking at her; but, with these appendages partially revealing themselves, and with a quantity of bristling oakum-coloured head and whisker, he had a formidable appearance. [307-308]
Instead of offering these clues to the sailor's bogus identity, Stone has elected to communicate the true nature of the sailor merely through his excessively bushy beard and smooth skin; moreover, Stone makes his scene a complement to Dickens's text rather than simply a repetition of it. Clearly, this "sounding out" scene Stone — perhaps in conjunction with the novelist's own inclinations — found of far greater interest than Rogue Riderhood's menacing his daughter with a boot, the rather more melodramatic scene that ensues and that Eytinge elected to depict in the Diamond Edition for American readers.
References
Dickens, Charles. Our Mutual Friend. Il. Marcus Stone. Volume 14 of the Authentic Edition. London: Chapman and Hall; New York: Charles Scribners' Sons, 1901.
Dickens, Charles. Our Mutual Friend. Il. Sol Eytinge, Jr. The Illustrated Household Edition. Boston: Lee & Shepard; New York: Charles T. Dillingham, 1870.
Davis, Paul. Charles Dickens A to Z: The Essential Reference to His Life and Work. New York: Checkmark and Facts On File, 1998.
---

Victorian
Web

Our Mutual
Friend

Illus-
tration

Marcus
Stone

Next

Last modified 13 June 2011