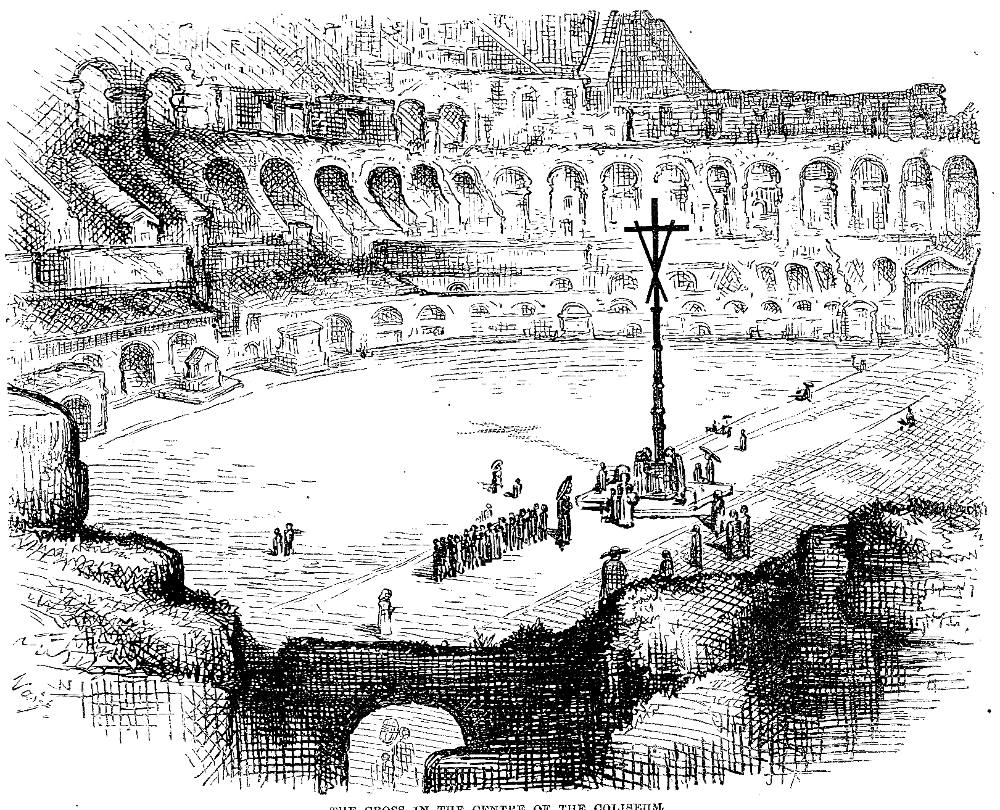 The Cross in the Centre of The Coliseum by Thomas Nast, in Charles Dickens's Pictures from Italy, Sketches, and American Notes, eleventh chapter, "Rome," 60. Wood-engraving, 4 ⅛ by 5 ½ inches (10.6 cm by 13.6 cm), vignetted. [Click on the images to enlarge them.
Scanned image and text by Philip V. Allingham. [You may use these images without prior permission for any scholarly or educational purpose as long as you (1) credit the photographer and (2) link your document to this URL in a web document or cite the Victorian Web in a print one.]
Passage Realized: A Study in Contrasts — Christian Piety and Pagan Barbarity
It is no fiction, but plain, sober, honest Truth, to say: so suggestive and distinct is it at this hour: that, for a moment — actually in passing in — they who will, may have the whole great pile before them, as it used to be, with thousands of eager faces staring down into the arena, and such a whirl of strife, and blood, and dust going on there, as no language can describe. Its solitude, its awful beauty, and its utter desolation, strike upon the stranger the next moment, like a softened sorrow; and never in his life, perhaps, will he be so moved and overcome by any sight, not immediately connected with his own affections and afflictions.
To see it crumbling there, an inch a year; its walls and arches overgrown with green; its corridors open to the day; the long grass growing in its porches; young trees of yesterday, springing up on its ragged parapets, and bearing fruit — chance produce of the seeds dropped there by the birds who build their nests within its chinks and crannies; to see its Pit of Fight filled up with earth, and the peaceful Cross planted in the centre; to climb into its upper halls, and look down on ruin, ruin, ruin, all about it; the triumphal arches of Constantine, Septimus Severus, and Titus; the Roman Forum; the Palace of the Cæsars; the temples of the old religion, fallen down and gone; is to see the ghost of old Rome, wicked, wonderful old city, haunting the very ground on which its people trod. It is the most impressive, the most stately, the most solemn, grand, majestic, mournful sight, conceivable. Never, in its bloodiest prime, can the sight of the gigantic Coliseum, full and running over with the lustiest life, have moved one's heart, as it must move all who look upon it now, a ruin. God be thanked: a ruin! [Chapter Eleven, "Rome," 53; descriptive headline: "Rome — St. Peter's"]
Commentary: Conflicting Feelings about The Colosseum
Although Dickens consistently reveals himself in Pictures from Italy to be an advocate of Victorian social and technological progress, like George Gordon, Lord Byron, before him, Dickens found himself in awe of the ruined grandeur of the Flavian Amphitheatre, popularly known (owing to its massive scale) as The Colosseum or Coliseum. "A sense of awe at Rome's magnificent, bloody past, the 'old butchery of Rome' (PI 118), is sharply tempered by a determination to embrace modern Italy" (Ledger 82). In his illustration Nast juxtaposes the living, minute beings who have come to pray at the spot where so many Christians lost their lives in the Diocletian Persecution and the cavernous ruins of ancient Rome's premier entertainment venue. The scale of the amphitheatre, capable of holding perhaps 80,000 spectators, almost overwhelms the persona here as he envisions the pageants and spectacles of gladiatorial combats, mock sea battles, animal hunts, re-enactments of famous battles, plays based on Greco-Roman mythology, and executions. The artist captures the contrast between the present Christian shrine and the symbol of imperial Rome, laid waste by time and mediaeval Romans, who used it as stone quarry — one of the Seven Wonders of the Ancient World.
Related Material
References
Dickens, Charles. Pictures from Italy. Illustrated by Samuel Palmer. London: Chapman and Hall, 1846; rpt., 1850.
Dickens, Charles. American Notes for General Circulation and Pictures from Italy in Works. Illustrated by Marcus Stone. Illustrated Library Edition. London: Chapman and Hall: 1862, rpt. 1874.
_________. Chapter XI, "Rome." Pictures from Italy, Sketches by Boz, and American Notes. Illustrated by A. B. Frost and Thomas Nast. The Household Edition. New York: Harper and Brothers, 1877, 53-70.
_________. Pictures from Italy and American Notes. Illustrated by A. B. Frost and Gordon Thomson. London: Chapman and Hall, 1880, 1-381.
Ledger, Sally. Chapter Seven, "'God Be Thanked: A Ruin!' The Embrace of Italian Modernity in Pictures From Italy and The Daily News." Dickens and Italy: Pictures From Italy and Little Dorrit, ed. Michael Hollington and Francesca Orestano. Cambridge: Cambridge Scholars, 2009, 82-92.
---
Last modified 12 May 2019