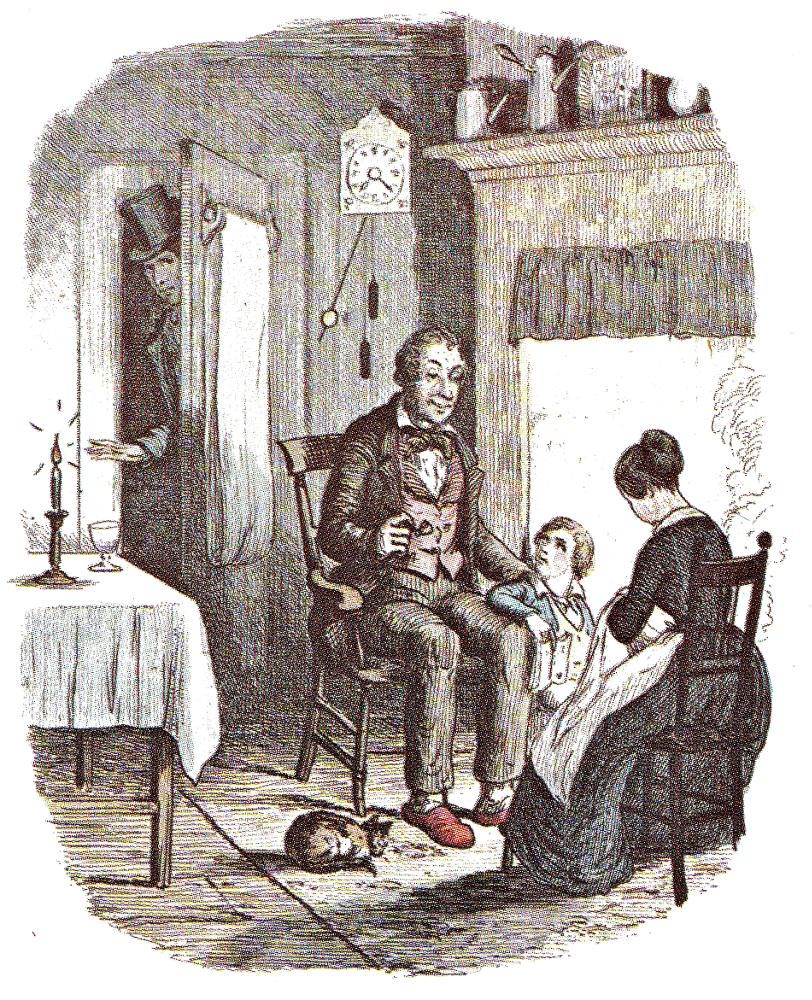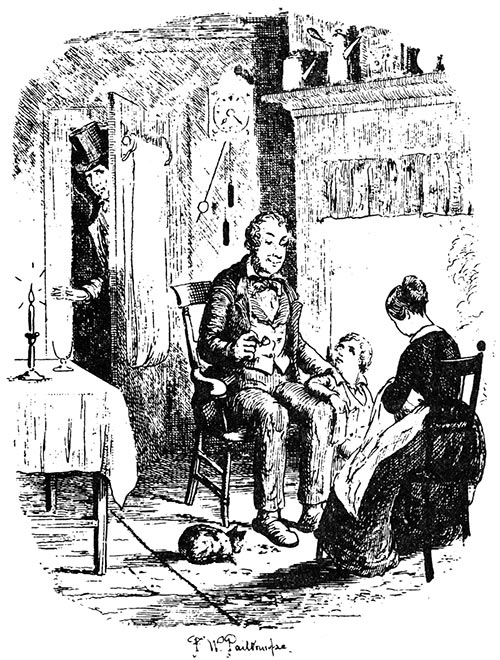 The Old Place by the Kitchen Firelight (page 522) — twenty-first black-and-white lithograph from engraving (1885), but seventeenth hand-coloured lithograph (1979) for Charles Dickens's Great  Expectations, first published in the Robson and Kerslake edition, Chapter LIX. 5.1 x 4 inches (9.5 cm by 7.5 cm), vignetted, facing p. 502. "Dear Joe, I hope you will have children to love, and that some little fellow will sit in this chimney corner of a winter night."
Passage Illustrated: Pip's Resolution with Joe and Biddy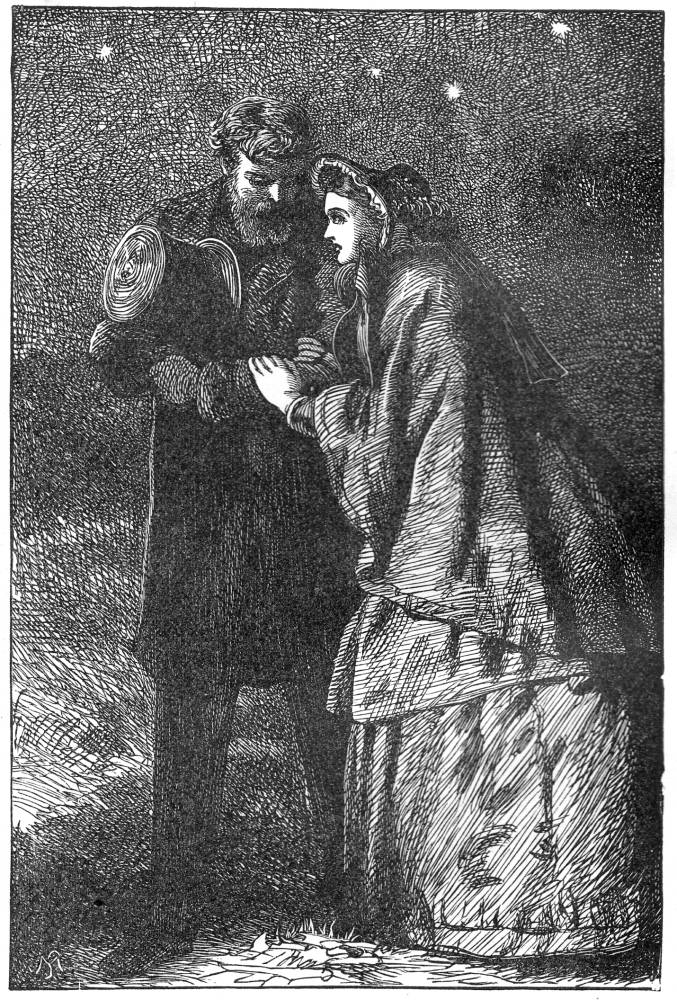 Marcus Stone's iconic concluding image of the mature Pip and Estella in the garden at Satis House in the 1862 Illustrated Library Edition: With Estella after all.
For eleven years, I had not seen Joe nor Biddy with my bodily eyes, — though they had both been often before my fancy in the East, — when, upon an evening in December, an hour or two after dark, I laid my hand softly on the latch of the old kitchen door. I touched it so softly that I was not heard, and looked in unseen. There, smoking his pipe in the old place by the kitchen firelight, as hale and as strong as ever, though a little grey, sat Joe; and there, fenced into the corner with Joe's leg, and sitting on my own little stool looking at the fire, was — I again!
"We giv' him the name of Pip for your sake, dear old chap," said Joe, delighted, when I took another stool by the child's side (but I did not rumple his hair), "and we hoped he might grow a little bit like you, and we think he do." [Chapter LIX, pp. 522-523]
Commentary: What an odd ending for a romance!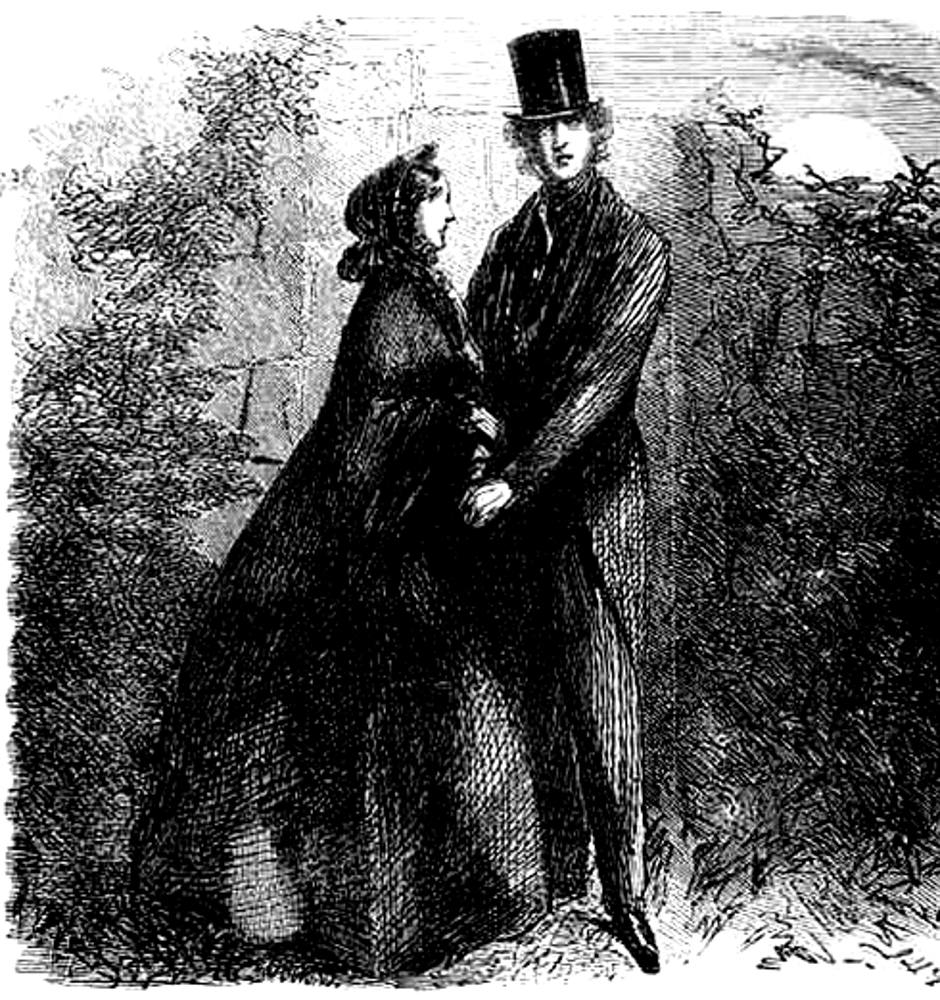 John McLenan's serial conclusion of the Pip and Estella in the 3 August 1861 Harper's Weekly series: I saw the shadow of no parting from her, as they stand, ready to leave Satis House together.
Readers familiar with the other nineteenth-century programs of illustrations for the novel, as well as those twentieth-century readers who have seen a number of the many film and television adaptations, must be shocked to see that F. W. Pailthorpe has concluded his program back at Joe's forge, with Joe, Biddy, and Young Pip II rather than in the ruined garden at Satis House. What has become of the life-long romance between Pip and Estella? How can the illustrator abandon the mature lovers' finally breaking the dark legacy of Miss Havisham, and entering the sunlight from the s hades of the prison house?
The culminating scene should surely be that chosen by F. A. Fraser in the Household Edition and Marcus Stone in the Illustrated Library Edition, the latter of which enjoyed Dickens's imprimatur and fittingly shows a mature Pip (fashionably bearded, as were many men after the Crimean War) who has abandoned snobbery and learned the value of work. Pip drescribes himself to her as one who "work[s] pretty hard for a sufficient living," and the illustrators of the 1861, 1862, and 1876 editions show that he is as fashionably and soberly dressed as Estella. But unlike Stone and Fraser, F. W. Pailthorpe seems to be more interested in the next generation, perhaps suggesting that the son of Biddy and Joe will be happier and more content as a blacksmith's son rather than a "gentleman." His view of mature Pip silently entering Joe's parlour does not afford closure, only the fragile possibility of the next generation's learning from the errors of the previous one.
In the cramped but welcoming parlour of the contented artisan and his perceptive wife a fire roars cheerfully in the hearth and a cat, curled up at Joe's feet, suggests domestic contentment. Entering surreptitiously is the middle-class Pip, his hand enigmatically towards the candle, perhaps a gesture which the illustrator intends as a reminder of the fate that befell the reclusive Miss Havisham a decade earlier. The Swiss cuckoo clock points towards the early evening, so Pip is too late for both tea and dinner, and indeed no comestibles or dishes are in evidence. Joe now gets to smoke his pipe indoors under Biddy's more benign household supervision, and she appears to be engaged in sewing, stitching, or needlework (all very feminine domestic pastimes). The reader wonders about the meaning of Pip's gesture and expression, as well as whether his visit is impromptu and unannounced, or pre-arranged for this odd time of day. Certainly the composition of the illustration is inconsistent with Pailthorpe's caption, even though it relates directly to the engraving's title The old place by the Kitchen firelight, and the very opening of Chapter 59.
As the ultimate chapter opens, Pip has been absent from England from eleven years, working at some outpost of Empire with Herbert for Clarriker and Company. As far as Pip is prepared to confide in us, he has had no family but Herbert, Clara, and Clarriker's, and no romantic attachments. And now Pip returns, "an hour or two after dark" (522), and therefore about the time that Pailthorpe indicates by the clock above Joe — 7:25 P. M. As in the text, so in the illustration Pip's "unseen" hand enters before Pip himself: "I laid my hand softly on the latch of the old kitchen door. I touched it so softly that I was not heard, and looked in unseen" (522). In the illustration, Pip has yet to see the three figures seated in the parlour, and seems to be rather unsure about the kind of reception he will receive in this temple of domestic bliss.
Related Material
Other Artists' Illustrations for Dickens's
Great Expectations
Scanned images and text by Philip V. Allingham. [You may use these images without prior permission for any scholarly or educational purpose as long as you (1) credit the photographer and (2) link your document to this URL in a web document or cite the Victorian Web in a print one.]
Bibliography
Allingham, Philip V. "The Illustrations for Great Expectations in Harper's Weekly (1860-61) and in the Illustrated Library Edition (1862) — 'Reading by the Light of Illustration'." Dickens Studies Annual, Vol. 40 (2009): 113-169.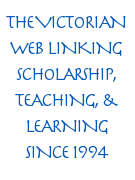 Dickens, Charles. Great Expectations. Illustrated by John McLenan. [The First American Edition]. Harper's Weekly: A Journal of Civilization, Vols. IV: 740 through V: 495 (24 November 1860-3 August 1861).
______. ("Boz."). Great Expectations. With thirty-four illustrations from original designs by John McLenan. Philadelphia: T. B. Peterson (by agreement with Harper & Bros., New York), 1861.
______. Great Expectations. Illustrated by Marcus Stone. The Illustrated Library Edition. London: Chapman and Hall, 1862. Rpt. in The Nonesuch Dickens, Great Expectations and Hard Times. London: Nonesuch, 1937; Overlook and Worth Presses, 2005.
_____. Great Expectations. Illustrated by Sol Eytinge, Junior. Diamond Edition. 14 vols. Boston: Ticknor & Fields, 1867. XIII.
______. Great Expectations. Volume 6 of the Household Edition. Illustrated by F. A. Fraser. London: Chapman and Hall, 1876.
______. Great Expectations. The Gadshill Edition. Illustrated by Charles Green. London: Chapman and Hall, 1898.
______. Great Expectations. The Grande Luxe Edition, ed. Richard Garnett. Illustrated by Clayton J. Clarke ('Kyd'). London: Merrill and Baker, 1900.
______. Great Expectations. "With 28 Original Plates by Harry Furniss." Volume 14 of the Charles Dickens Library Edition. London: Educational Book Co., 1910.
_____. Great Expectations. Illustrated by Frederic W. Pailthorpe with 17 hand-tinted water-colour lithographs. The Franklin Library. Franklin Center, Pennsylvania: 1979. Based on the Robson and Kerslake (London) edition, 1885.
Harmon, William, and C. Hugh Holman. "Picaresque Novel." A Handbook to Literature. Upper Saddle River, NJ: Prentice Hall, 2000. Pp. 389-390.
Paroissien, David. The Companion to "Great Expectations." Westport, Conn.: Greenwood, 2000.
---
Created 26 February 2004 Last modified 9 November 2021