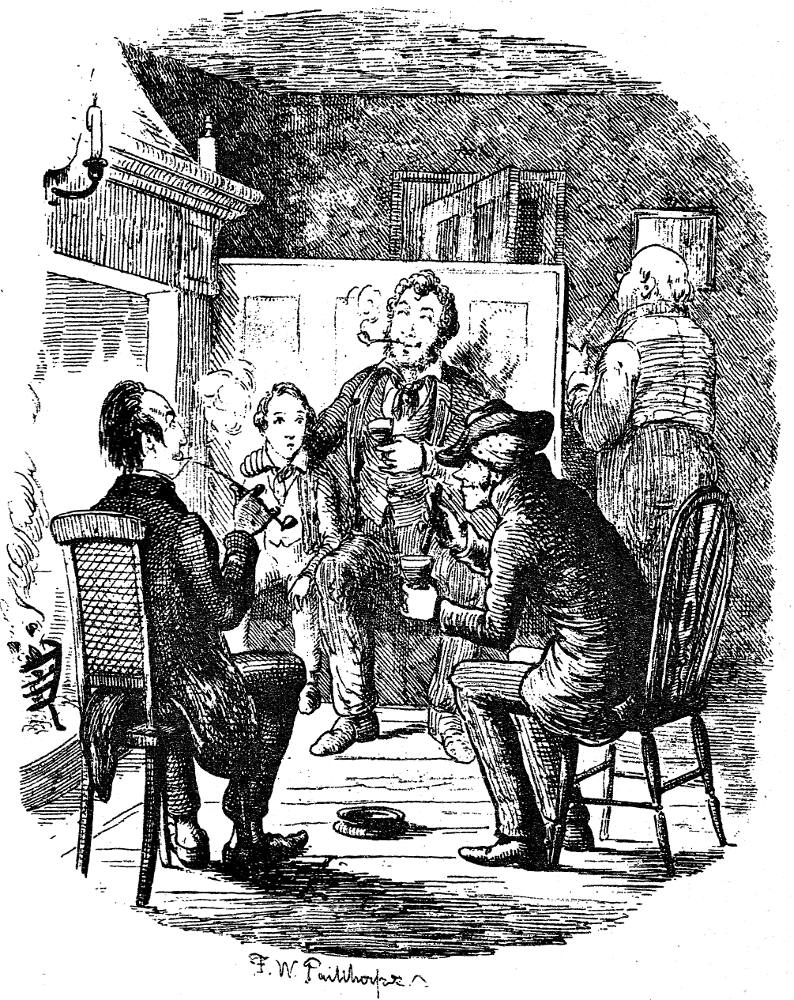 A stranger at the Jolly Bargemen (page 81) — fourth hand-coloured lithograph for Charles Dickens's Great  Expectations, first published as a black-and-white lithograph in the Robson and Kerslake edition (1885), Chapter XI. 4.5 x 3.7 inches (9.3 cm by 7.8 cm), vignetted, facing p. 86. [Click on the images to enlarge them.]
Passage Illustrated: Introducing Mr. Jaggers, London Criminal Attorney
Then, and not sooner, I became aware of a strange gentleman leaning over the back of the settle opposite me, looking on. There was an expression of contempt on his face, and he it the side of a great forefinger as he watched the group of faces.
"Well!" said the stranger to Mr. Wopsle, when the reading was done, "you have settled it all to your own satisfaction, I have no doubt?"
Everybody started and looked up, as if it were the murderer. He looked at everybody coldly and sarcastically."Guilty, of course?" said he. "Out with it. Come!"
"Sir," returned Mr. Wopsle, "without having the honour of your acquaintance, I do say Guilty." Upon this we all took courage to unite in a confirmatory murmur.
"I know you do," said the stranger; "I knew you would. I told you so. But now I'll ask you a question. Do you know, or do you not know, that the law of England supposes every man to be innocent, until he is proved — proved — to be guilty?"
"Sir," Mr. Wopsle began to reply, "as an Englishman myself, I —"
"Come!" said the stranger, biting his forefinger at him. "Don't evade the question. Either you know it, or you don't know it. Which is it to be?" He stood with his head on one side and himself on one side, in a bullying, interrogative manner, and he threw his forefinger at Mr. Wopsle, — as it were to mark him out — before biting it again.
"Now!" said he. "Do you know it, or don't you know it?"
"Certainly I know it," replied Mr. Wopsle.
"Certainly you know it. Then why didn't you say so at first? Now, I'll ask you another question," — taking possession of Mr. Wopsle, as if he had a right to him, — "Do  you know that none of these witnesses have yet been cross-examined?"
Mr. Wopsle was beginning, "I can only say —" when the stranger stopped him."What? You won't answer the question, yes or no? Now, I'll try you again." Throwing his finger at him again. "Attend to me. Are you aware, or are you not aware, that none of these witnesses have yet been cross-examined? Come, I only want one word from you. Yes, or no?" [Chapter XVIII, pp. 146-147]
Commentary: A Red Herring
To introduce Jaggers into the narrative-pictorial sequence, The Annotated Dickens provides the following caption, which is not actually in the Gadshill Edition: "He bit the side of a great forefinger as he watched the group" (Ch. 18). His arrival signals the great shift in Pip's social status, from apprentice blacksmith to the highest echelons of the middle class. However, Pip's associating Jaggers with the file here used to severe Magwitch's fetters should have pointed Pip in the correct direction as to the source of his great expectations — to Magwitch rather than the local eccentric heiress, Miss Havisham. The file and Jaggers' general secretiveness intensify the mystery surrounding Pip's new-found fortune.
An interesting detail which the editors of the Annotated Dickens, Philip Collins and Edward Guiliano, observe is that Joe goes to The Three Jolly Bargemen to enjoy his pipe of an evening — and both Furniss and Pailthorpe give prominence to his pipe, suggesting that they have scrupulously read the text (for Dickens has mentioned this point in Chapter 10) and reflected upon the meaning of the pipe. The problem is not simply that Mrs. Joe is a domestic dictator who forbids her husband to smoke in the house. Rather, by nineteenth-century convention, men (whether brothers, husbands, sons who are of age, or fathers) did not smoke indoors because of the offensive odour that would pervade draperies and furnishings. "In larger houses there might be a special male enclave, such as the billiards room, where men might smoke — sometimes wearing a smoking jacket and cap so that their usual clothes and their hair would not come to smell of tobacco-smoke" (Collins and Guiliano, Note 5, p. 877). Later in Chapter 18, once Pip has discussed his momentous news with Biddy, Joe leaves the parlour to smoke outside and reflect upon the change to all their lives: "He presently stood at the door immediately beneath me [for Pip is in his bedroom, upstairs, looking down] smoking his pipe" (159).
Relevant Illustrations of Jaggers from Other Editions (1867-1910)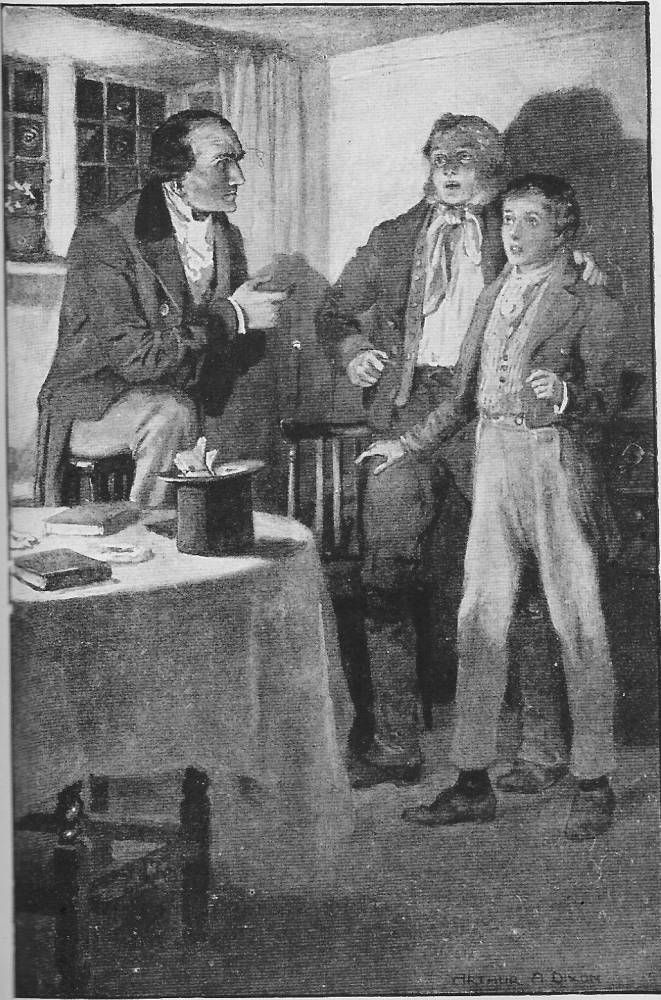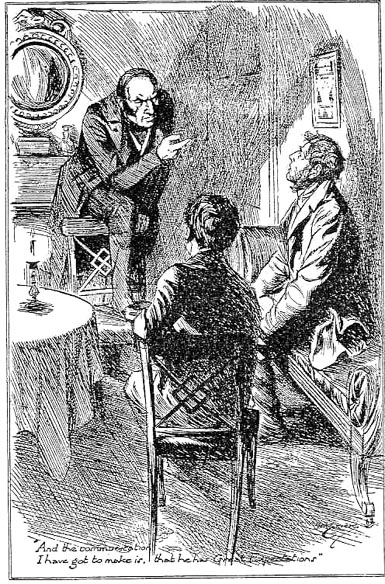 Left: Charles Green's introduction of the criminal attorney in a characteristic pose: He bit the side of a great forefinger, etc. (1898). Centre: A. A. Dixon in the Collins Pocket Edition focuses on the expressions of surprise on the faces of Joe and Pip in "He has Great Expectations" (1905). Right: Brock's version of Jaggers' imparting his momentous news to Joe and Pip: "And the communication I have got to make is, that he has Great Expectations" (1901).
Left: Sol Eytinge, Jr.'s portrait of the secretive criminal attorney, Jaggers in the Diamond Edition (1867). Right: Harry Furniss emphasizes Jaggers' verbal combativeness in At the Three Jolly Bargemen (1910).
Related Material
Other Artists' Illustrations for Dickens's
Great Expectations
Scanned images and text by Philip V. Allingham. [You may use these images without prior permission for any scholarly or educational purpose as long as you (1) credit the photographer and (2) link your document to this URL in a web document or cite the Victorian Web in a print one.]
Bibliography
Allingham, Philip V. "The Illustrations for Great Expectations in Harper's Weekly (1860-61) and in the Illustrated Library Edition (1862) — 'Reading by the Light of Illustration'." Dickens Studies Annual, Vol. 40 (2009): 113-169.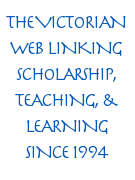 Dickens, Charles. Great Expectations. Illustrated by John McLenan. [The First American Edition]. Harper's Weekly: A Journal of Civilization, Vols. IV: 740 through V: 495 (24 November 1860-3 August 1861).
______. ("Boz."). Great Expectations. With thirty-four illustrations from original designs by John McLenan. Philadelphia: T. B. Peterson (by agreement with Harper & Bros., New York), 1861.
______. Great Expectations. Illustrated by Marcus Stone. The Illustrated Library Edition. London: Chapman and Hall, 1862. Rpt. in The Nonesuch Dickens, Great Expectations and Hard Times. London: Nonesuch, 1937; Overlook and Worth Presses, 2005.
_____. Great Expectations. Illustrated by Sol Eytinge, Junior. Diamond Edition. 14 vols. Boston: Ticknor & Fields, 1867. XIII.
______. Great Expectations. Volume 6 of the Household Edition. Illustrated by F. A. Fraser. London: Chapman and Hall, 1876.
______. Great Expectations. The Gadshill Edition. Illustrated by Charles Green. London: Chapman and Hall, 1898.
______. Great Expectations. The Grande Luxe Edition, ed. Richard Garnett. Illustrated by Clayton J. Clarke ('Kyd'). London: Merrill and Baker, 1900.
______. Great Expectations. "With 28 Original Plates by Harry Furniss." Volume 14 of the Charles Dickens Library Edition. London: Educational Book Co., 1910.
_____. Great Expectations. Illustrated by Frederic W. Pailthorpe with 17 hand-tinted water-colour lithographs. The Franklin Library. Franklin Center, Pennsylvania: 1979. Based on the Robson and Kerslake (London) edition, 1885.
_____. Great Expectations. Edited by Edward Guiliano and Philip Collins. The Annotated Dickens. 2 vols. New York: Clarkson N. Potter, 1988. II.
Harmon, William, and C. Hugh Holman. "Picaresque Novel." A Handbook to Literature. Upper Saddle River, NJ: Prentice Hall, 2000. Pp. 389-390.
Paroissien, David. The Companion to "Great Expectations." Westport, Conn.: Greenwood, 2000.
---
Created 26 February 2007 Last modified 22 October 2021