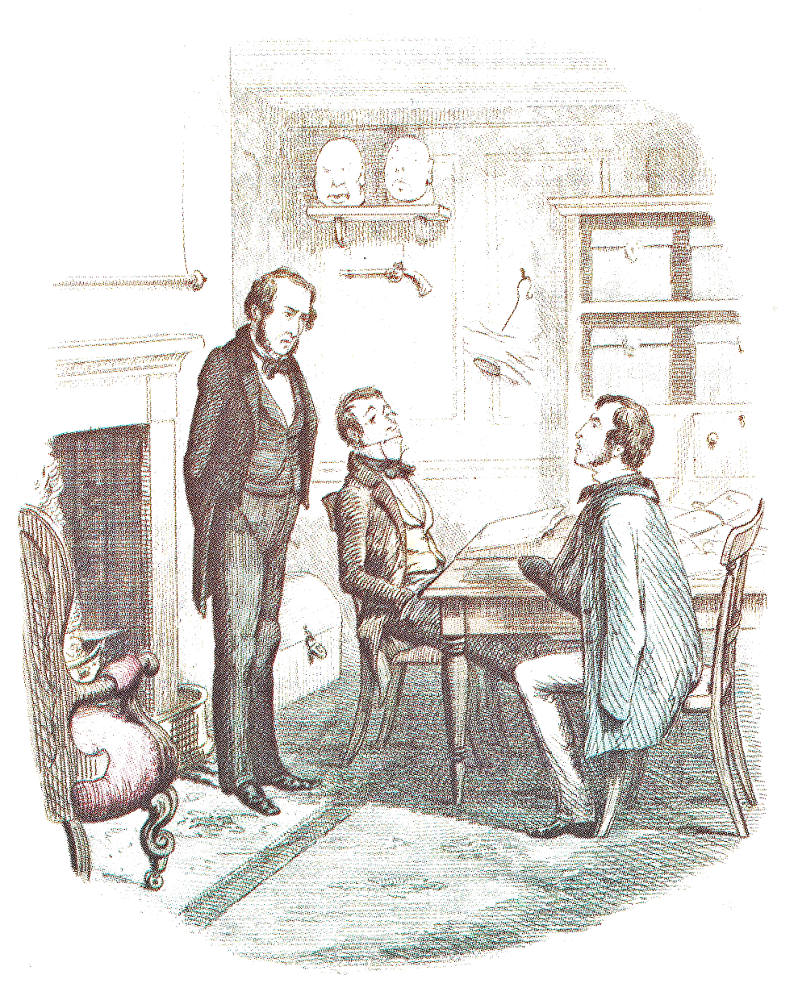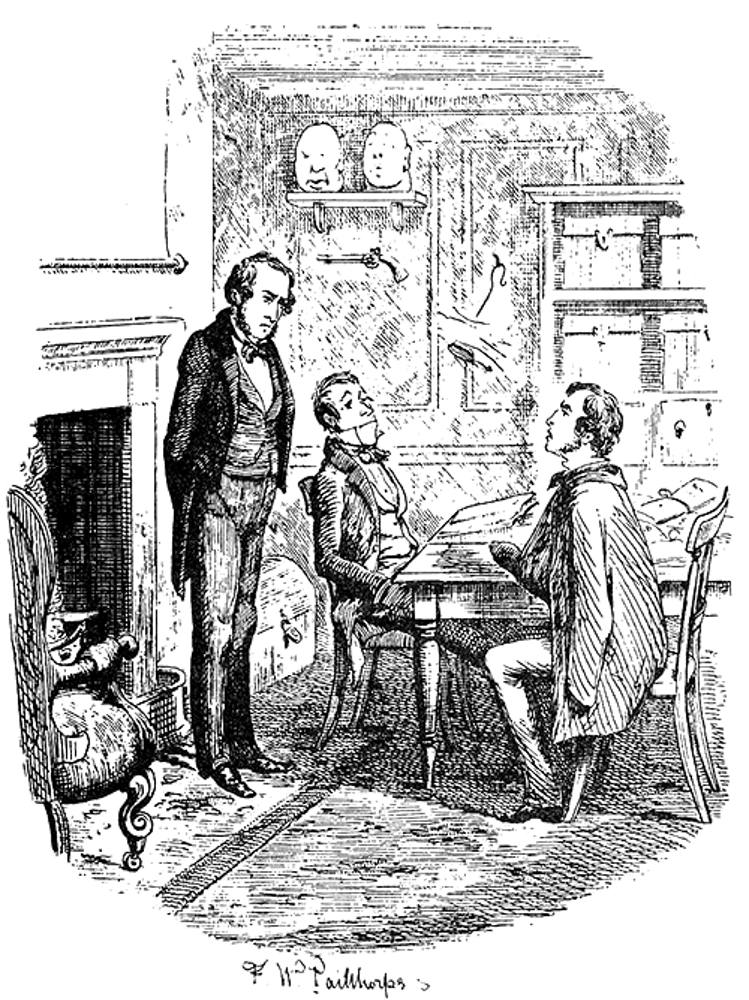 Confidential with Mr. Jaggers (page 443) — seventeenth illustration (1885) but fourteenth hand-coloured lithograph (1979 edition) for Charles Dickens's Great Expectations, first published as a black-and-white lithograph in the Robson and Kerslake edition, Chapter LI. 4.6 x 3.5 inches (9.8 cm by 8 cm), vignetted, facing p. 406. My appearance, with my arm bandaged, and my coat over my shoulders, favoured my object. [Click on the images to enlarge them.]
Passage Illustrated: As Close to a Confession as Jaggers will Go
"So! You know the young lady's father, Pip?" said Mr. Jaggers.
"Yes," I replied, "and his name is Provis — from New South Wales."
Even Mr. Jaggers started when I said those words. It was the slightest start that could escape a man, the most carefully repressed and the sooner checked, but he did start, though he made it a part of the action of taking out his pocket-handkerchief. How Wemmick received the announcement I am unable to say; for I was afraid to look at him just then, lest Mr. Jaggers's sharpness should detect that there had been some communication unknown to him between us.
"And on what evidence, Pip," asked Mr. Jaggers, very coolly, as he paused with his handkerchief half way to his nose, "does Provis make this claim?"
"He does not make it," said I, "and has never made it, and has no knowledge or belief that his daughter is in existence."
For once, the powerful pocket-handkerchief failed. My reply was so unexpected, that Mr. Jaggers put the handkerchief back into his pocket without completing the usual performance, folded his arms, and looked with stern attention at me, though with an immovable face. [Chapter LI, pp. 445-446]
Commentary: The Enigmatic Attorney "Puts the Case"
Significantly, even years after receiving the news of his "Great Expectations" from Jaggers at the Jolly Bargemen, Pip still thinks of his guardian as "Mr." Jaggers. Their relationship remains legally rather than personally defined, and Pip remains his ward and responsibility rather than his adopted son. And the inscrutable attorney, keeper of secrets, even now refuses a frank communication about Estella's origins; he merely "puts the case" in a series of hypotheticals about Miss Havisham, Molly and Abel Magwitch. He affirms nothing in this scene that is critical to the revelation of a major plot secret.
Parallel Illustrations for Mr. Jaggers from Other Editions (1861-1910)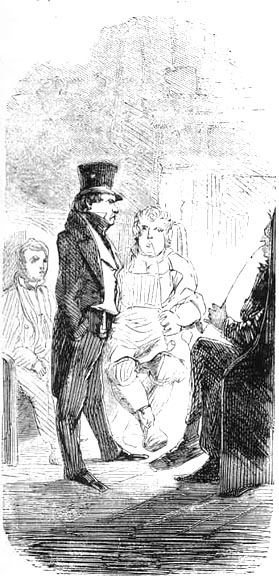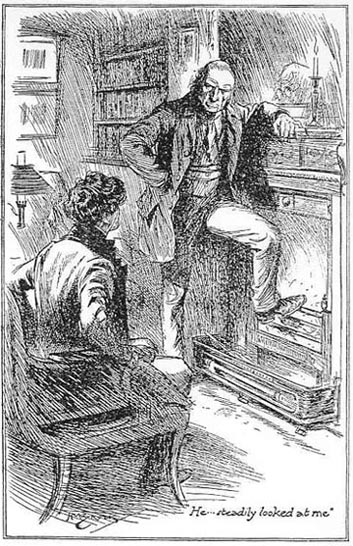 Left: Sol Eytinge, Jr.'s portrait with one of his dubious "clients" in the streets of Little Britain in the Diamond Edition: Jaggers (1867). John Mclenan's description of the circumstances of Jaggers' initial appearance in the narrative: Saturday night at the Three Jolly Bargemen (9 February 1861). Right of centre: Harry Furniss's depiction of Pip's confidential interview with his guardian about Estella: Pip in Mr. Jaggers's Office (1910 in the Charles Dickens Library Edition). Right: H. M. Brock's parallel representation of Jaggers as an uncompromising realist without a touch of sentiment "putting the case" regarding Estella's parentage: He . . . steadily looked at me (1901-3 in the Imperial Edition).
Related Material
Other Artists' Illustrations for Dickens's
Great Expectations
Scanned images and text by Philip V. Allingham and George P. Landow. [You may use these images without prior permission for any scholarly or educational purpose as long as you (1) credit the photographer and (2) link your document to this URL in a web document or cite the Victorian Web in a print one.]
Bibliography
Allingham, Philip V. "The Illustrations for Great Expectations in Harper's Weekly (1860-61) and in the Illustrated Library Edition (1862) — 'Reading by the Light of Illustration'." Dickens Studies Annual, Vol. 40 (2009): 113-169.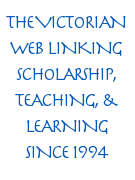 Dickens, Charles. Great Expectations. Illustrated by John McLenan. [The First American Edition]. Harper's Weekly: A Journal of Civilization, Vols. IV: 740 through V: 495 (24 November 1860-3 August 1861).
______. ("Boz."). Great Expectations. With thirty-four illustrations from original designs by John McLenan. Philadelphia: T. B. Peterson (by agreement with Harper & Bros., New York), 1861.
______. Great Expectations. Illustrated by Marcus Stone. The Illustrated Library Edition. London: Chapman and Hall, 1862. Rpt. in The Nonesuch Dickens, Great Expectations and Hard Times. London: Nonesuch, 1937; Overlook and Worth Presses, 2005.
______. Great Expectations. Illustrated by Sol Eytinge, Junior. Diamond Edition. 14 vols. Boston: Ticknor & Fields, 1867. XIII.
______. Great Expectations. Illustrated by F. A. Fraser. Volume 6 of the Household Edition. London: Chapman and Hall, 1876.
______. Great Expectations. Volume 6 of the Household Edition. Illustrated by F. A. Fraser. London: Chapman and Hall, 1876.
______. Great Expectations. The Gadshill Edition. Illustrated by Charles Green. London: Chapman and Hall, 1898.
______. Great Expectations. The Grande Luxe Edition, ed. Richard Garnett. Illustrated by Clayton J. Clarke ('Kyd'). London: Merrill and Baker, 1900.
______. Great Expectations. "With 28 Original Plates by Harry Furniss." Volume 14 of the Charles Dickens Library Edition. London: Educational Book Co., 1910.
Paroissien, David. The Companion to "Great Expectations." Westport, Conn.: Greenwood, 2000.
---
Created 26 February 2004 Last modified 21 October 2021