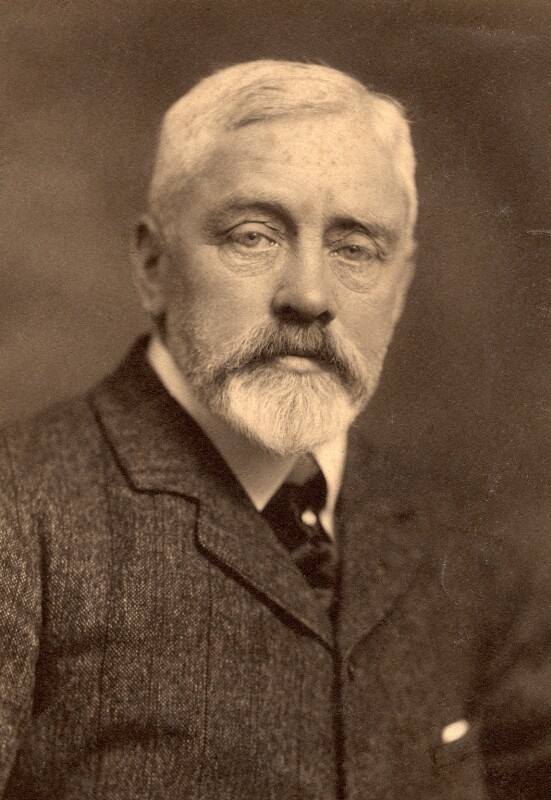 Alfred Parsons in 1919. [Click on this
and the following images for more information.]
Alfred William Parsons, R. A., was an English artist – illustrator, landscape painter, and garden designer. After a stint in the Post Office, young Parsons studied at the Kensington School of Art, and went on to exhibit at various galleries including the Grosvenor Gallery and the Royal Academy, where he exhibited every year from 1874 to the end of his life. Parsons, whose interest in "Englishness" paralleled the tastes of upper-class American émigrés, joined the notable artistic community in the village of Broadway in the Cotswolds (Worcestershire), where he formed friendships with the American artist Francis Davis Millet (who remained Parsons' closest friend until he drowned aboard the Titanic), and  Edwin Austin Abbey, with whom he collaborated in illustrating books. Through American contacts made while at the artists' colony he became an illustrator for both Harper's Weekly and Harper's New Monthly Magazine – and worked on several Hardy short stories and travel books.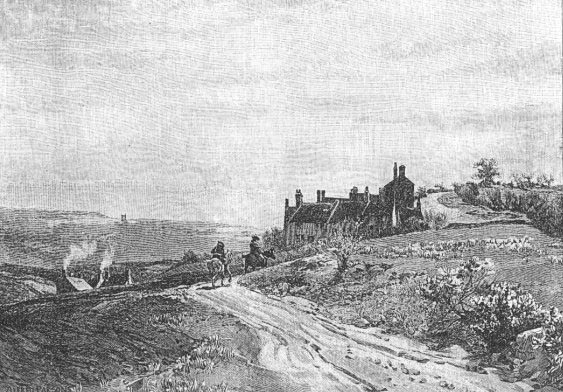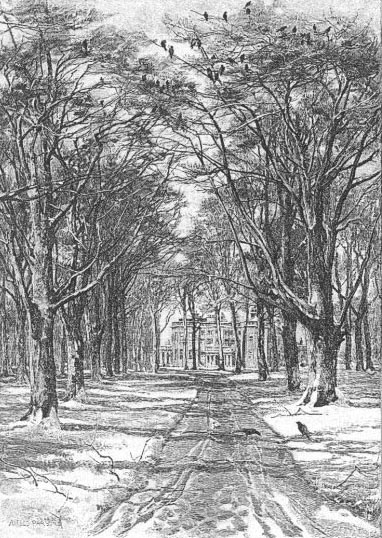 Parsons became well known for his English landscape paintings and fine botanical illustrations which brought him into contact with William Robinson, for whom he provided illustrations. In the preface of his popular and pioneering work, The Wild Garden, Robinson wrote,
The illustrations are, with a few slight exceptions, the work of Mr, Alfred Parsons, and the drawing and engraving have been several years in execution. They are alter nature, in places where the ideas expressed in' the first small edition of the hook had been carried out, or where accident, as in the ease of the beautiful group of Myrrh and white Harebells, had given rise to the combinations or aspects of vegetation sought. T ecannot too heartily acknowledge the skill and pains which Mr, Parsons devoted to the drawings, and to the success which he has attained in illustrating the motive of the book, and such good effects as have already been obtained where the idea has been intelligently carried out. [vi]
Parsons exhibited paintings from 1868 to 1919, and designed gardens in England, Scotland, and the United States. He won the Chantrey Bequest in 1887, and the published his only illustrated book Notes From Japan in 1896. Ten years later, he became the President of the Society of Painters in Watercolours. Among many other works, he illustrated Ellen Willmott's The Genus Rosa, and a number of other botanical works. Henry James wrote, of his depictions of the English garden,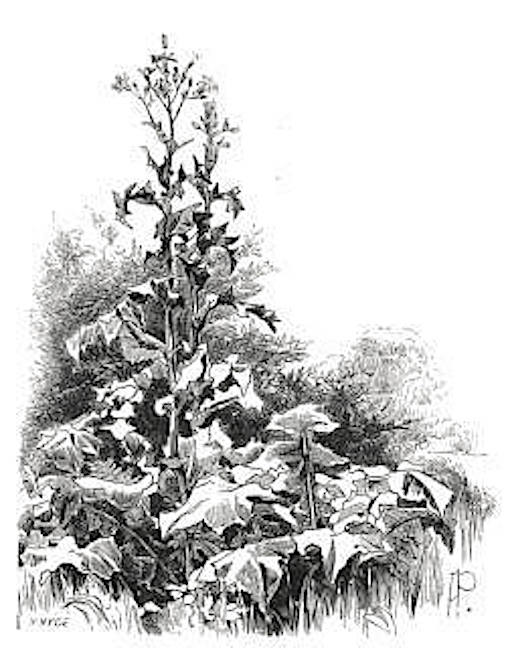 Mr. Parsons' pictures speak of many complicated things, but (in what they tell us of his subjects) they speak most of duration. Such happy nooks have grown slowly, such fortunate corners have had a history; and their fortune has been precisely that they have had time to have it comfortably, have not been obliged to try for character without it.
Character is their strong point and the most expensive of all ingredients. Mr. Parsons' portraiture seizes every shade of it, seizes it with unfailing sympathy. He is doubtless clever enough to paint rawness when he must, but he has an irrepressible sense of ripeness. Half the ripeness of England — half the religion, one might almost say — is in its gardens; they are truly pious foundations. It is doubtless because there are so many of them that the country seems so finished, and the sort of care they demand is an intenser deliberation, which passes into the national temper. One must have lived in other lands to observe fully how large a proportion of this one is walled in for growing flowers. The English love of flowers is inveterate; it is the most, unanimous protest against the grayness of some of the conditions, and it should receive justice from those who accuse the race of taking its pleasure too sadly. A good garden is an organized revel, and there is no country in which there are so many.
To the end of his life Parsons was an avid gardener, and for his last six years tended his roses at Luggershill, Broadway, Worcestershire. [vi]
Links to related material
Some notable books illustrated by Parsons
Abbey, Edwin Austin. Old Songs, with Drawings  (Harper & Bros., 1889).
Dobson, Austin. The Quiet life: Certain verses by various hands (New York: Harper & Brothers, 1890).
Millet, Francis Davis. The Danube from the Black Forest to the Black Sea (New York: Harper & Brothers, 1893).
Parsons, Alfred. Notes in Japan (Harper & Bros. 1895).
Quiller-Couch, Arthur Thomas. The Warwickshire Avon (Harper & Bros. 1892).
Robinson, William. The Wild Garden (London: John Murray, 1883).
Wordsworth, William. A Selection from the Sonnets of William Wordsworth with numerous Illustrations by Alfred Parsons (Harper & Bros., 1890).
Wordsworth, William. Wordsworth (Longmans, Green & Co., 1897).
Bibliography
Brady, Kristin. The Short Stories of Thomas Hardy: Tales of Past and Present. London & Basingstoke: Macmillan, 1984.
Hardy, Thomas. Life's Little Ironies: A Set of Tales with Some Colloquial Sketches Entitled "A Few Crusted Characters." [March 1891] London: Osgood, McIlvaine, 1894. 219-301.
Hardy Thomas. Wessex Folk (subsequently renamed A Few Crusted Characters) in Harper's New Monthly Magazine 81 (March-May 1891): 594, 701, 703, 891, 894; 82 (June 1891): 123.
James, Henry. "Our artists in Europe." Harper's Magazine, 79 (June 1889).
Ray, Martin. Chapter 25, "A Few Crusted Characters." Thomas Hardy: A Textual Study of the Short Stories. Aldershot: Ashgate, 1997. 228-258.
---
Created 5 April 2001

Last modified (quotation and two images added by JB) 19 June 2022