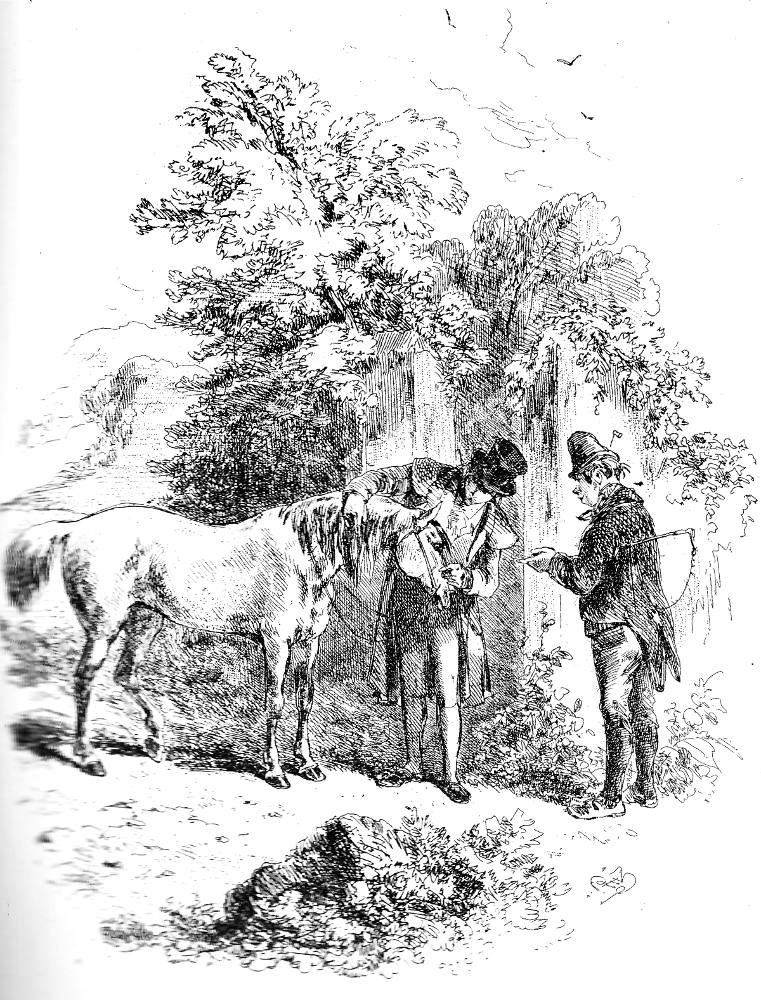 Corrigan parts with an Old Friend
Phiz
Dalziel
February 1849
Steel-engraving, dark plate, facing p. 336.
11.8 cm high by 9.2 cm wide (4 and 7/16 by 3 and 7/16 inches), framed.
Twenty-third illustration for Roland Cashel, published serially by Chapman and Hall (1848-49).
Scanned image and text by Philip V. Allingham.
[You may use these images without prior permission for any scholarly or educational purpose as long as you (1) credit the photographer and (2) link your document to this URL in a web document or cite the Victorian Web in a print one.]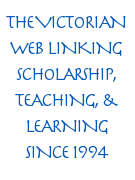 Passage Illustrated: Old Mat Corrigan finds himself pinched financially
. . . it is, therefore, with less regret we turn from the great house, in all the pomp of its splendor, to the humble cottage where Mr. Corrigan dwelt with his grand-daughter.
In wide contrast to the magnificence and profusion of the costly household, where each seemed bent on giving way to every caprice that extravagance could suggest, was the simple quietude of that unpretending family. The efforts by which Corrigan had overcome his difficulties not only cost him all the little capital he possessed in the world, but had also necessitated a mode of living more restricted than he had ever known before. The little luxuries that his station, as well as his age and long use, had made necessaries — the refinements that adorn even the very simplest lives, — had all to be, one by one, surrendered. Some of these he gave up manfully, others cost him deeply; and when the day came that he had to take leave of his old gray pony — the faithful companion of so many a lonely ramble, the creature he had reared and petted like a dog, — the struggle was almost too much for him.
He walked along beside the man who led the beast to the gate, telling him —
"To be sure and seek out some one who would treat her kindly. "Some there are would do so for my sake; but she deserves it better for her own. — Yes, Nora, I'm speaking of you," said he, caressing her, as she laid her nose over his arm. "I'm sure I never thought we'd have to part."
"She's good as goold this minit," said the man; "an' it'll go hard but I'll get six pounds for her, any way." [Chapter XXXIX, "More Kennyfeck Intriguing," 336]
Commentary
For the aristocratic Mat Corrigan, formerly of the French King's Guards, parting with his beloved mare is like losing a member of the family as well as acknowledging loss of social status. His Nora is a class-marker; "poor Mary's harp must go next." Even with such further personal austerities, Matthew Corrigan cannot long continue as the lease-holder at Tubber-beg. Thus, his friend and advisor, Dr. Tiernay, suggests that he sell his interest for an annuity. The old man considers a lifetime allowance for his grand-daughter, which might afford them a comfortable living across the Channel, in a seaside Flanders village.
Lever says little about the "man" who has come to effect the sale of the elderly mare, Matt Corrgan's companion these many years in retirement, merely characterizing him by his Irish accent. Phiz, therefore, develops both the old, grey mare and the dealer, giving him a typical hat and a whip. Phiz contrasts him with the distinguished figure of the owner, in a great coat and formidable beaver of a previous period of fashion. He reduces in scale both the "humble cottage" and the mare to emphasize the figures.
Bibliography
Lever, Charles. Roland Cashel. With 39 illustrations and engraved title-vignette by Phiz. London: Chapman & Hall, 1850.
Lever, Charles. Roland Cashel. Illustrated by Phiz [Hablot Knight Browne]. Novels and Romances of Charles Lever. Vols. I and II. In two volumes. Boston: Little, Brown, 1907. Project Gutenberg. Last Updated: 19 August 2010.
Steig, Michael. Chapter Seven: "Phiz the Illustrator: An Overview and a Summing Up." Dickens and Phiz. Bloomington: Indiana U. P., 1978. Pp. 298-316.
---

Victorian
Web

Illustra-
tion

Phiz

Roland
Cashel

Next
Created 3 January 2023