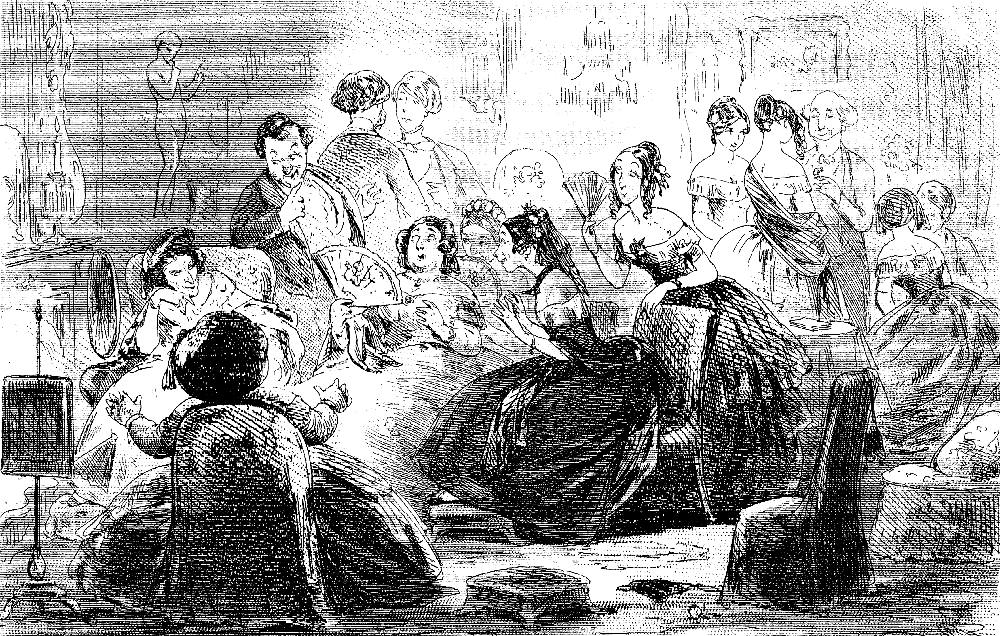 A Little Bit of Scandal by Phiz (Hablot Knight Browne), April 1849. Steel-engraving. 8.8 cm high by 12.4 cm wide (3 ¼ by 5 ⅛ inches), framed, full-page dark plate for Roland Cashel, Chapter XLVI, "Scandal, and General Ill-humour," facing p. 386. [Click on the image to enlarge it.]
Passage Illustrated: Roland's Treatment of Olivia Kennyfeck Criticized
"I pity the elder girl," said Lady Janet; "she had a far better tone about her than the rest."
"And that dear, kind old creature, the aunt. It is said that but for her care this would have happened long ago," said Mrs. Malone.
"She was, to my thinking, the best of them," echoed the blonde lady; "so discreet, so quiet, and so unobtrusive."
"What could come of their pretension?" said a colonel's widow, with a very large nose and a very small pension; "they attempted a style of living quite unsuited to them! The house always full of young men, too."
"You wouldn't have had them invite old ones, madam," said Lady Janet, with the air of rebuke the wife of a commander-in-chief can assume to the colonel's relict.
"It's a very sad affair, indeed," summed up Mrs. White, who, if she hadn't quarrelled with Mr. Howie, would have given him the whole narrative for the "Satanist."
"What a house to be sure! There's Lady Kilgoff on one side —"
"What of her, my Lady?" said the blonde.
"You didn't hear of Lord Kilgoff overtaking her to-day in the wood with Sir Harvey Upton? — hush! or he'll hear us. The poor old man — you know his state of mind — snatched the whip from the coachman, and struck Sir Harvey across the face. They say there's a great welt over the cheek!"
Mrs. White immediately arose, and, under pretence of looking for a book, made a circuit of the room in that part where Sir Harvey Upton was lounging, with his head on his hand.
"Quite true," said she, returning to the party. "It is so painful, he can't keep his hand from the spot."
"Has any one discovered who the strange-looking man was that was received by Mr. Cashel this morning in his own study?" asked the blonde. "My maid said he was for all the world like a sheriff's officer. It seems, too, he was very violent in his language; and but for Mr. Kennyfeck, he would not have left the house."
"Too true, I fear, ma'am," said Mrs. Malone; "my husband, the Thief," — this was Mrs. Malone's mode of abbreviating and pronouncing the words Chief Justice, — "told me it was impothible for Mr. Cashel to continue his extravaganth much longer."
"It's shameful — it's disgraceful," said Lady Janet; "the kitchen is a scene of waste and recklessness, such as no fortune could stand." [Chapter XLVI, "Scandal, and General Ill-humour," pp. 387-388]
Commentary: Cashel Continues to be a Subject for Reproof
Roland's house guests are beginning to talk, and his conduct with the ladies is becoming the subject of scandalous gossip. The gossip at dinner begins in earnest when the Kennyfecks and Lady Kilgoff fail to come down from their rooms, and the carriage despatched to Tubber-beg for Miss Leicester returns without her. Nine guests in total fail to come down for dinner. And those present are out of sorts with each other from various trifling causes. Immediately after a tense dinner, the guests assemble in the drawing-room, and Cashel departs to inquire after Corrigan's health.
Phiz arranges the drawing-room's occupants according to Lever's description, so that the sharp-faced woman in front of the fireplace must be Lady Janet. We may reasonably assume that the woman immediately opposite her is Mrs. White, and that the "select circle" in the centre includes Mrs. Malone, "a large old lady with blonde false hair," and Sir Andrew (standing immediately behind Lady Janet). The source of information about Olivia Kennyfeck's indisposition appears to be Lady Janet's maid, Stubbs. The general consensus is that Cashel has treated Olivia Kennyfeck so very badly that she has required medical attention.
Scanned image and text by Philip V. Allingham. [You may use this image without prior permission for any scholarly or educational purpose as long as you (1) credit the person who scanned the image and (2) link your document to this URL in a web document or cite the Victorian Web in a print one.]
Bibliography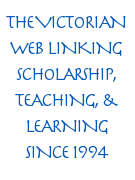 Lever, Charles. Roland Cashel. With 39 illustrations and engraved title-vignette by Phiz. London: Chapman & Hall, 1850.
Lever, Charles. Roland Cashel. Illustrated by Phiz [Hablot Knight Browne]. Novels and Romances of Charles Lever. Vols. I and II. In two volumes. Boston: Little, Brown, 1907. Project Gutenberg. Last Updated: 19 August 2010.
Steig, Michael. Chapter Seven: "Phiz the Illustrator: An Overview and a Summing Up." Dickens and Phiz. Bloomington: Indiana U. P., 1978. Pp. 298-316.
---
Created 9 November 2022 Last updated 5 January 2023