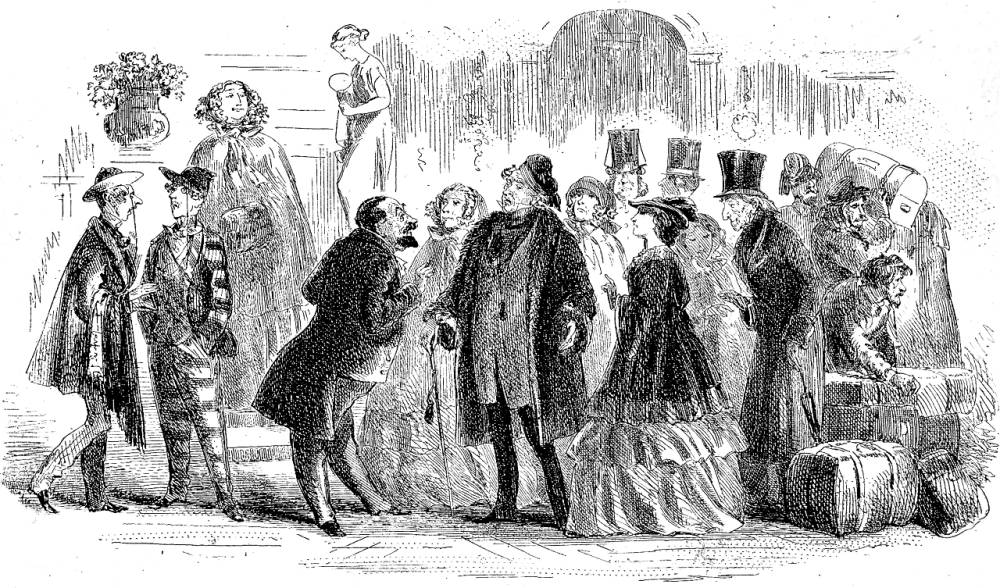 The Family Dignity is Affronted by Phiz (Hablot K. Browne) from Dickens's Little Dorrit, Book the Second, "Riches," Chapter 3, "On the Road," (Part 11: October, 1856), facing p. 394. 10.5 cm by 18 cm, vignetted. [Click on the image to enlarge it.]
Image scan and text by Philip V. Allingham. [You may use this image without prior permission for any scholarly or educational purpose as long as you (1) credit the person who scanned the image and (2) link your document to this URL in a web document or cite the Victorian Web in a print one.]
Passage Realised
So jealous was [William Dorrit] of [Miss Fanny's] being respected, that, on this very journey down from the Great Saint Bernard, he took sudden and violent umbrage at the footman's being remiss to hold her stirrup, though standing near when she dismounted; and unspeakably astonished the whole retinue by charging at him on a hard-headed mule, riding him into a corner, and threatening to trample him to death.
They were a goodly company, and the Innkeepers all but worshipped them. Wherever they went, their importance preceded them in the person of the courier riding before, to see that the rooms of state were ready. He was the herald of the family procession. The great travelling-carriage came next: containing, inside, Mr. Dorrit, Miss Dorrit, Miss Amy Dorrit, and Mrs. General; outside, some of the retainers, and (in fine weather) Edward Dorrit, Esquire, for whom the box was reserved. Then came the chariot containing Frederick Dorrit, Esquire, and an empty place occupied by Edward Dorrit, Esquire, in wet weather. Then came the fourgon with the rest of the retainers, the heavy baggage, and as much as it could carry of the mud and dust which the other vehicles left behind.
. . . . Nothing could exceed Mr Dorrit's indignation, as he turned at the foot of the staircase on hearing these apologies. He felt that the family dignity was struck at by an assassin's hand. He had a sense of his dignity, which was of the most exquisite nature. He could detect a design upon it when nobody else had any perception of the fact. His life was made an agony by the number of fine scalpels that he felt to be incessantly engaged in dissecting his dignity.
"Is it possible, sir," said Mr. Dorrit, reddening excessively, "that you have — ha — had the audacity to place one of my rooms at the disposition of any other person?" — Book the Second, "Riches," Chapter 3, "On the Road," p. 393-394.
Commentary
William Dorrit is put out by the innkeeper's giving the wealthy banker's wife, Mrs. Merdle, and her foppish son, Edmund Sparker, preferential treatment at the Great Saint Barnard crossing of the Alps into Italy. His grievance with the partiality shown to the other English travellers is exacerbated by Mrs. Merdle's cutting him socially, after his family's having been made much of by previous publicans on their route from France into Italy. "The great travelling-carriage" of the Dorrits here is reminiscent of that cumbersome vehicle in which Charles Dickens transported his family from London to Genoa in 1844. The Phiz illustration, unlike the paralel Mahoney illustration in the Household Edition, does not attempt to convey the majestic Alpine scenery. Perhaps Dickens expressly vetoed any such picturesque effect:
Browne's greatest problem was that by now Dickens usurped his very function. The author had always written unusually pictorial prose. In Little Dorrit his writing became so graphically suggestive yet selective that it needed little visual help. [Cohen 114]
Although, as Valerie Browne Lester points out, the Phiz illustrations in Little Dorrit are often superfluous because of the descriptive power of the prose, Phiz's realisation of William Dorrit's continuing arrogance and self-importance marks a significant moment in the novel as this is the first illustration in the second book, "Riches." Wealth, as Phiz points out, has done nothing to improve either William or his daughter Fanny; their sudden wealth has merely served to magnify their petulance. Only Amy remains untouched by the unexpected windfall that has enabled the Dorrits to undertake the Grand Tour, complete with couriers and trains of pack-mules. On the other hand, Mahoney's illustration (below) underscores Blandois' conception of himself as a cunning wolf stalking the English "sheep" he intends to fleece, reintroducing the criminal mastermind in the narrative pictorial sequence.
In Part 11 (October 1856) Dickens reintroduces Rigaud, the murderer of his wife from the opening number in the prison cell at Marseilles, watching the English travellers make their descent into Italy from the convent at the Great Saint Barnard. Amy, noting his careful observation of the travellers' progress, feels quite uncomfortable. At the inn at Martigny (the capital of the French-speaking district in the canton of Valais in Switzerland), William Dorrit is mightily offended because the management has given away the suite he had reserved and has assigned it to Mrs. Merdle, a middle-aged aristocrat who has married a financier. Although Mrs. Merdle refuses to acknowledge her fellow travellers (because, of course, she knows of their less-than-aristocratic origins, despite their recently having inherited a fortune), as her carriage pulls away from the hotel, her son by her first marriage, Edmund Sparkler, peers at Amy and Fanny from the back window. Even though Rigaud does not appear at the inn at Martigny, in Part 12 (November 1856), Dickens further integrates Rigaud into the plot by having Little Dorrit discover him posing for the painter Henry Gowan in his studio (Book 2, Chapter 6).
Rigaud Blandois in the Household Edition, 1873: Book 2, Chapter 3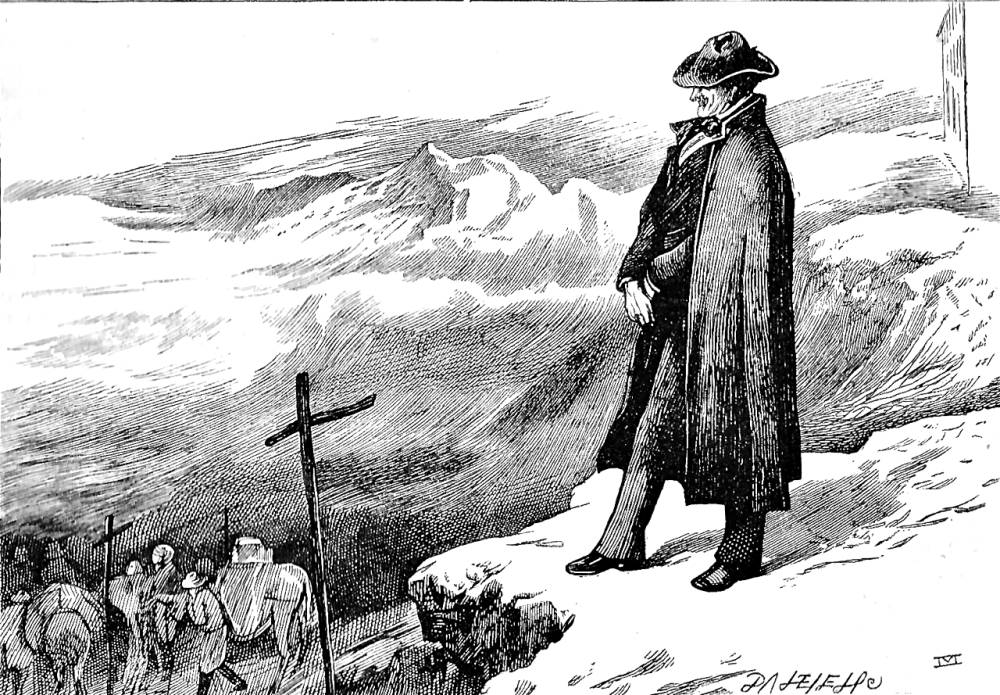 James Mahoney's 1873 composite wood-engraving for Book 2, Chapter 3, in which Rigaud stalks the English travellers from a distance as they descend from the Great Saint Barnard, Always standing on one jutting point looking down after them. [Click on the image to enlarge it.]
References
Bentley, Nicolas, Michael Slater, and Nina Burgis. The Dickens Index. New York and Oxford: Oxford U. P., 1990.
Cohen, Jane Rabb. Charles Dickens and His Original Illustrators. Columbus: Ohio State U. P., 1980.
Davis, Paul. Charles Dickens A to Z: The Essential Reference to His Life and Work. New York: Facts On File, 1998.
Dickens, Charles. Little Dorrit. Illustrated by Hablot Knight Browne ["Phiz"]. The Works of Charles Dickens. The Authentic Edition. 22 vols. London: Chapman and Hall, 1901 [rpt. of the 1867 edition]. Vol. 12.
Dickens, Charles. Little Dorrit. Frontispieces by Felix Octavius Carr Darley and Sir John Gilbert. The Household Edition. 55 vols. New York: Sheldon & Co., 1863. 4 vols.
Dickens, Charles. Little Dorrit. Illustrated by Sol Eytinge, Jr. The Diamond Edition. Boston: Ticknor & Fields, 1867. 14 vols.
Dickens, Charles. Little Dorrit. Illustrated by James Mahoney [58 composite wood-block engravings]. The Works of Charles Dickens. The Household Edition. London: Chapman and Hall, 1873.
Dickens, Charles. Little Dorrit. Illustrated by Harry Furniss [29 composite lithographs]. The Works of Charles Dickens. The Charles Dickens Library Edition. London: Educational Book, 1910. Vol. 12.
Hammerton, J. A. "Chapter 19: Little Dorrit." The Dickens Picture-Book. The Charles Dickens Library Edition. London: Educational Book, 1910. Vol. 17. Pp. 398-427.
Kitton, Frederic George. Dickens and His Illustrators: Cruikshank, Seymour, Buss, "Phiz," Cattermole, Leech, Doyle, Stanfield, Maclise, Tenniel, Frank Stone, Landseer, Palmer, Topham, Marcus Stone, and Luke Fildes. Amsterdam: S. Emmering, 1972. Re-print of the London 1899 edition.
Lester, Valerie Browne. Phiz: The Man Who Drew Dickens. London: Chatto and Windus, 2004.
"Little Dorrit — Fifty-eight Illustrations by James Mahoney." Scenes and Characters from the Works of Charles Dickens, Being Eight Hundred and Sixty-six Drawings by Fred Barnard, Gordon Thomson, Hablot Knight Browne (Phiz), J. McL. Ralston, J. Mahoney, H. French, Charles Green, E. G. Dalziel, A. B. Frost, F. A. Fraser, and Sir Luke Fildes. London: Chapman and Hall, 1907.
Muir, Percy. Victorian Illustrated Books. London: B. T. Batsford, 1971.
Schlicke, Paul, ed. The Oxford Reader's Companion to Dickens. Oxford and New York: Oxford U. P., 1999.
Steig, Michael. Dickens and Phiz. Bloomington: Indiana University Press, 1978.
Vann, J. Don. Victorian Novels in Serial. New York: Modern Language Association, 1985.
---
Last modified 12 May 2016