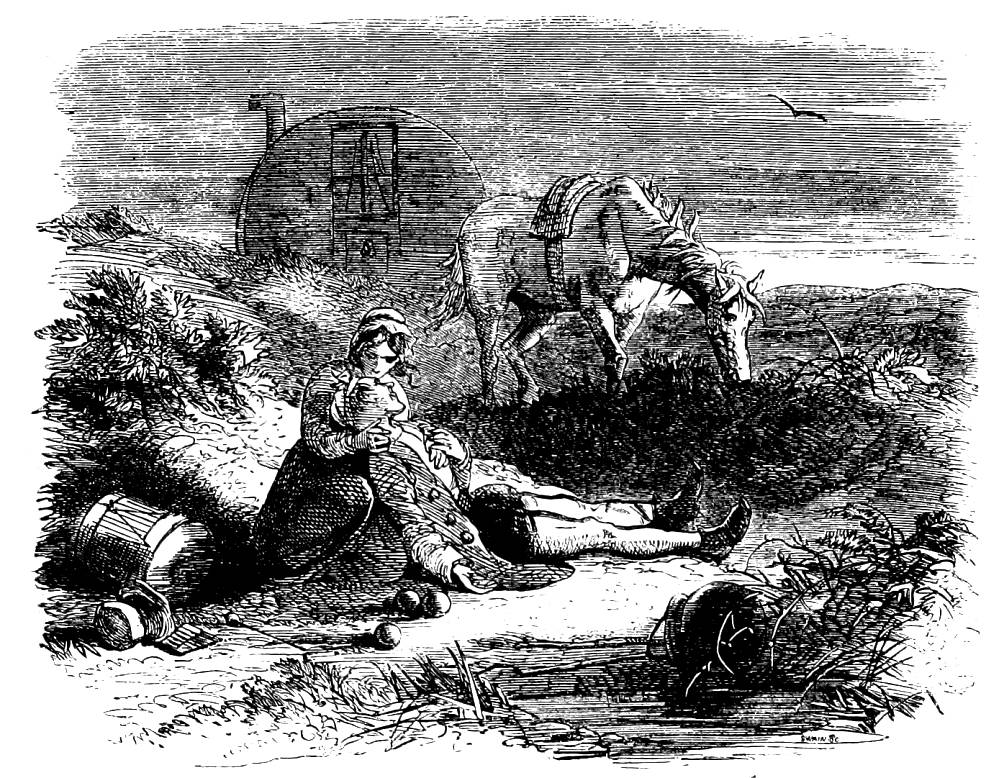 George Meredith's "Juggling Jerry" by Hablot Knight Browne An illustration in the Memorial Edition, Vol. XXV (Poems, Vol. II), facing p. 240, but originally accompanying the poem in the magazine Once a Week, 3 September 1859. Meredith was a great walker, and in the heathland and woods all around his present home, Copsham Cottage near Esher, Surrey (to which he moved in the autumn of 1859), he met many itinerants. He enjoyed talking to them, and had enormous sympathy for them. Some of these encounters inspired the "Roadside" poems of his second volume of poetry, Modern Love and Poems of the English Roadside, with Poems and Ballads, published in 1862 (see Sassoon 43).
"Juggling Jerry" has had a hard life, and is dying in his wife's arms. But with his last breaths he rails against those who sneer at his honest life's work. "Haven't you juggled a vast amount?" he challenges them, implying a different and culpable sleight of hand in the world of affairs (stanza V). On the other hand, juggling also provides him with a way of envisaging God, as one who "outjuggles all" (stanza 1), and is now waiting to catch him in his hands. Thus, while distinguishing himself from corrupt politicians and so forth, he aligns himself with the energy and skill of his creator, and puts his faith in him as well.
This poem was much admired by Meredith's contemporaries. The poet James Thomson, for instance, saw the "Roadside Philosophers" in general as being "as genial as harvest sunshine" (84). Later critics like John Lucas have tended to find these poems superficial: "they lack both psychological insight and social attentiveness" (Lucas 17). Neither seem to have fully appreciated Meredith's intuitive feeling for and belief in the common man.
Related material
Image download and text by Jacqueline Banerjee. You may use the image without prior permission for any scholarly or educational purpose as long as you (1) credit the person who scanned the image and (2) link your document to this URL in a web document or cite it in a print one.
References
Lucas, John. "Meredith as Poet." Meredith Now: Some Critical Essays. London: Routledge & Kegan Paul, 1971. 14-33. Print.
Meredith, George. Poems, Vol. II. Memorial Edition, Vol. XXV. New York, Scribner's, 1910. Internet Archive. Web. 5 May 2013.
Sassoon, Siegfried.Meredith. London: Arrow, 1959. Print.
Thomson, James. "James Thomson on The Ordeal of Richard Feverel." George Meredith: Some Early Appreciations. London: Chapman & Hall, 1909. 71-86. Internet Archive. Web. 5 May 2013.
---
Last modified 5 May 2013