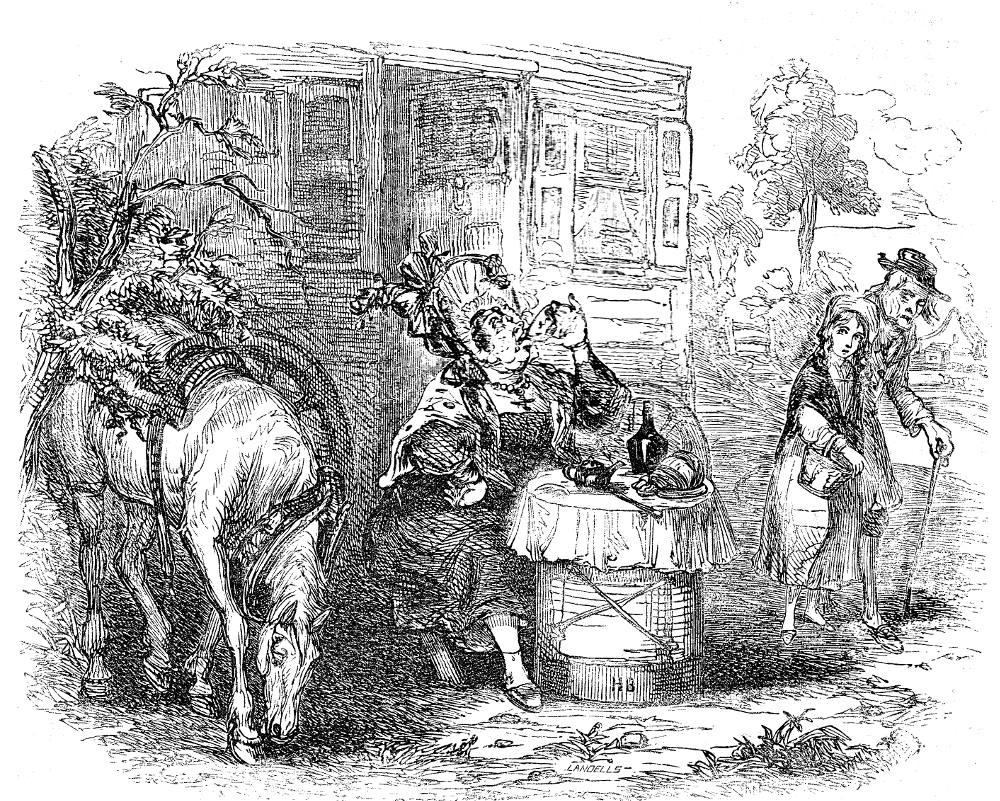 The Lady of the Caravan by Hablot Knight Browne (Phiz). Wood engraving, 3 ½ x 4 ½ inches (9 x 11.6 cm). — Part Fifteen, Chapter 26, The Old Curiosity Shop. Date of original serial publication: 15 August 1840. Master Humphrey's Clock, no. 18, 237. [Click on images to enlarge them.]
Context of the Illustration: The Flamboyant Mrs. Jarley
It was not a shabby, dingy, dusty cart, but a smart little house upon wheels, with white dimity curtains festooning the windows, and window-shutters of green picked out with panels of a staring red, in which happily-contrasted colours the whole concern shone brilliant. Neither was it a poor caravan drawn by a single donkey or emaciated horse, for a pair of horses in pretty good condition were released from the shafts and grazing on the frouzy grass. Neither was it a gipsy caravan, for at the open door (graced with a bright brass knocker) sat a Christian lady, stout and comfortable to look upon, who wore a large bonnet trembling with bows. And that it was not an unprovided or destitute caravan was clear from this lady's occupation, which was the very pleasant and refreshing one of taking tea. The tea-things, including a bottle of rather suspicious character and a cold knuckle of ham, were set forth upon a drum, covered with a white napkin; and there, as if at the most convenient round-table in all the world, sat this roving lady, taking her tea and enjoying the prospect.
It happened that at that moment the lady of the caravan had her cup (which, that everything about her might be of a stout and comfortable kind, was a breakfast cup) to her lips, and that having her eyes lifted to the sky in her enjoyment of the full flavour of the tea, not unmingled possibly with just the slightest dash or gleam of something out of the suspicious bottle — but this is mere speculation and not distinct matter of history — it happened that being thus agreeably engaged, she did not see the travellers when they first came up. It was not until she was in the act of getting down the cup, and drawing a long breath after the exertion of causing its contents to disappear, that the lady of the caravan beheld an old man and a young child walking slowly by, and glancing at her proceedings with eyes of modest but hungry admiration. [Chapter XXVI, 236-37]
A Dickens Original
Dickens describes the proprietress of the travelling waxworks exhibition as "comfortable to look upon," but perhaps somewhat bibulous. In her effigies if not in her person Dickens seems to be satirizing Madame Tussaud's celebrated London waxworks exhibit, although from the eighteenth century such exhibitions had been common enough in the metropolis. Although he foregrounds and centrally positions Mrs. Jarley to make her without doubt the dominant figure of the composition, Phiz gives prominence to both the brandy bottle and the substantial white horse tethered beside the house-on-wheels. Instead of placing his initials in a corner, Phiz gives himself pride-of-place by inserting "HB" on the base of Mrs. Jarley's promotional drum. Nell and her grandfather look askance at the flamboyant, middle-aged theatrical entrepreneur in the over-sized hat, as if unsure as to whether they should interrupt her mid-gulp.
Relevant illustration by Other Artists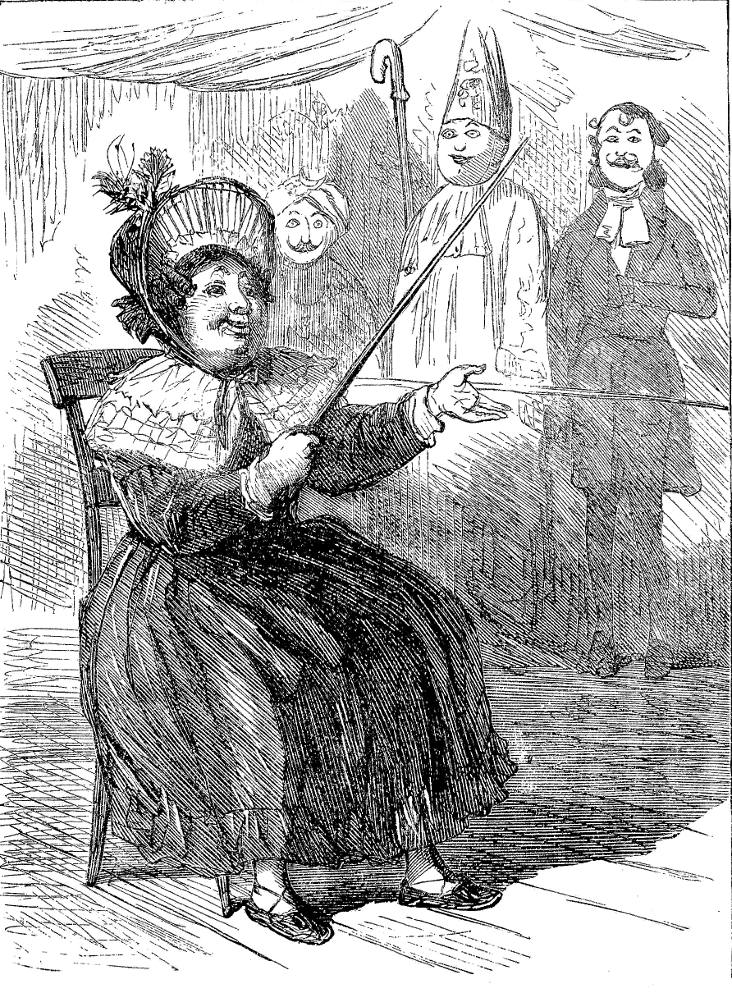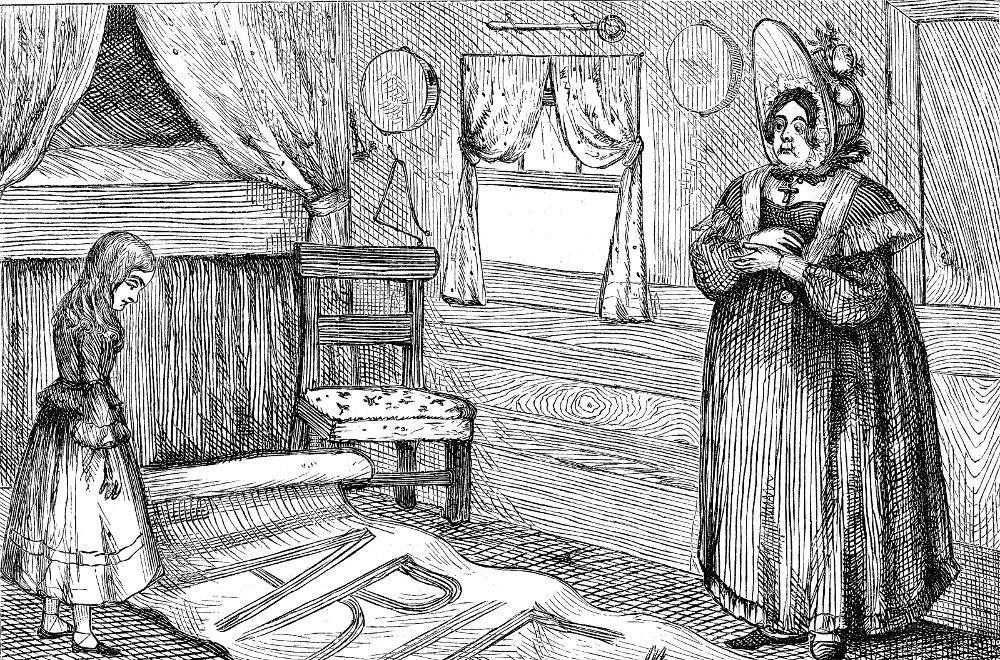 Left: Sol Eytinge, Jr.'s portrait of the kindly "educational entertainer" (as she thinks of herself), Mrs. Jarley (1867). Right: Thomas Worth's American Household Edition illustration focuses on the proprietress, but fails to make her either interesting or animated: "That's me. I am Mrs. Jarley." (1872).
Related Resources Including Other Illustrated Editions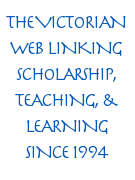 Relevant Illustrations from the 1861 and 1888 editions by Darley
Scanned image and text by Philip V. Allingham. [You may use this image without prior permission for any scholarly or educational purpose as long as you (1) credit the person who scanned the image and (2) link your document to this URL in a web document or cite the Victorian Web in a print one.]
Bibliography
Dickens, Charles. The Old Curiosity Shop in Master Humphrey's Clock. Illustrated by Phiz, George Cattermole, Samuel Williams, and Daniel Maclise. 3 vols. London: Chapman and Hall, 1840.
_____. The Old Curiosity Shop. Illustrated by Sol Eytinge, Jr. The Diamond Edition. 14 vols. Boston: Ticknor & Fields, 1867. XII.
_____. The Old Curiosity Shop. Illustrated by Thomas Worth. The Household Edition. New York: Harper & Bros., 1872. I.
---
Last modified 12 November 2020