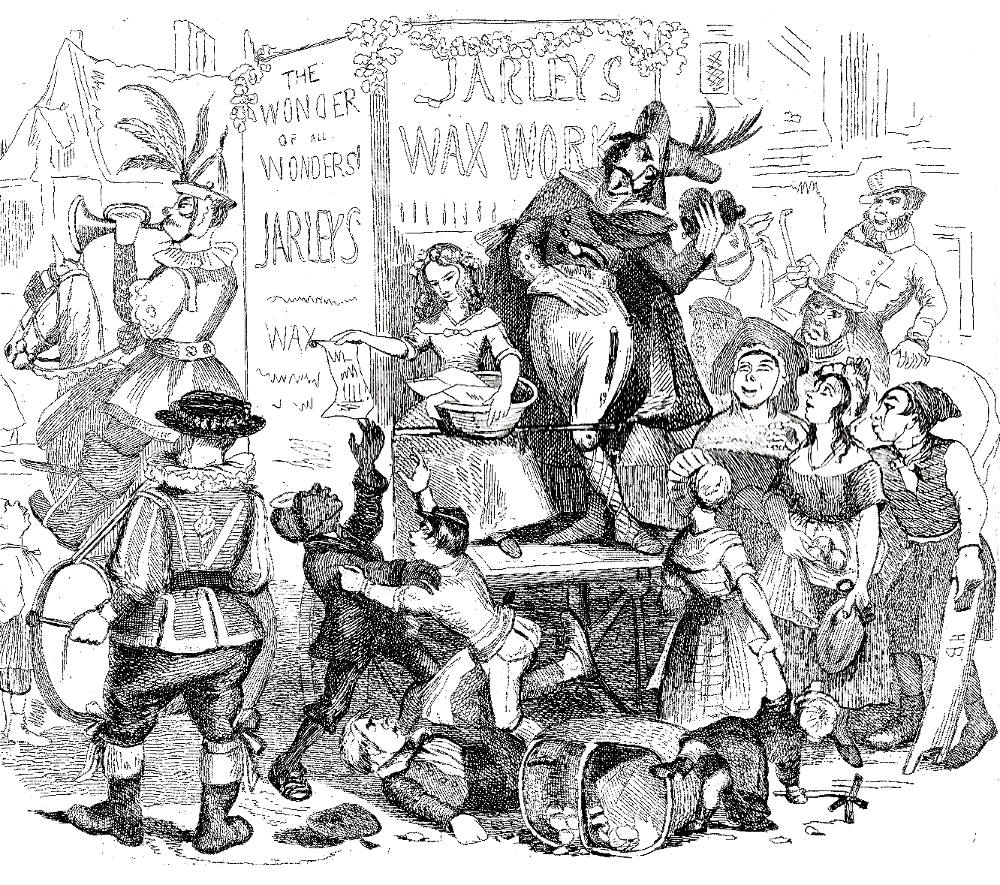 Producing a Sensation by Hablot Knight Browne (Phiz). Wood engraving, 3 ¾ x 4 ½ inches (9.6 x 11.4 cm). — Part Sixteen, Chapter 28, The Old Curiosity Shop. Date of original serial publication: 22 August 1840. Master Humphrey's Clock, Part 19, 253. [Click on images to enlarge them.]
Context of the Illustration: Nell helps advertise Mrs. Jarley's exhibition
Unquestionably Mrs. Jarley had an inventive genius. In the midst of the various devices for attracting visitors to the exhibition, little Nell was not forgotten. The light cart in which the Brigand usually made his perambulations being gaily dressed with flags and streamers, and the Brigand placed therein, contemplating the miniature of his beloved as usual, Nell was accommodated with a seat beside him, decorated with artificial flowers, and in this state and ceremony rode slowly through the town every morning, dispersing handbills from a basket, to the sound of drum and trumpet. The beauty of the child, coupled with her gentle and timid bearing, produced quite a sensation in the little country place. The Brigand, heretofore a source of exclusive interest in the streets, became a mere secondary consideration, and to be important only as a part of the show of which she was the chief attraction. [Chapter XXIX, 253]
Commentary
Dickens and his chief illustrator continue to demonstrate how those whom Nell and her grandfather encounter on the highroad seek to exploit her appealing vulnerability and engaging beauty. In a room full of distorted shapes designed to entertain a gullible public Nell is the only natural form, distinguished by her diminutive size and her workaday clothing as she points towards the figure in the exaggerated farthingale at the back. The overblown Mrs. Jarley has hired the articulate, literate London child to spell her off as the guide to the travelling waxworks exhibit. In her effigies if not in her person Dickens seems to be satirizing Madame Tussaud's celebrated London waxworks exhibit, although from the eighteenth century such exhibitions had been common enough in the metropolis. As with Jerry and his troupe of performing dogs earlier at The Jolly Sandboys Inn, Dickens here is exposing the seamier side of the early Victorian entertainment industry. As Dickens suggests he should, Phiz has depicted her as "stout and comfortable to look upon," a raconteur who takes great pride in her family of wax dummies. Although she treats Nell and her grandfather with kindness and consideration, Phiz renders her something of a caricature in an oversized bonnet which hides her face entirely.
Relevant illustrations from the Household Edition volumes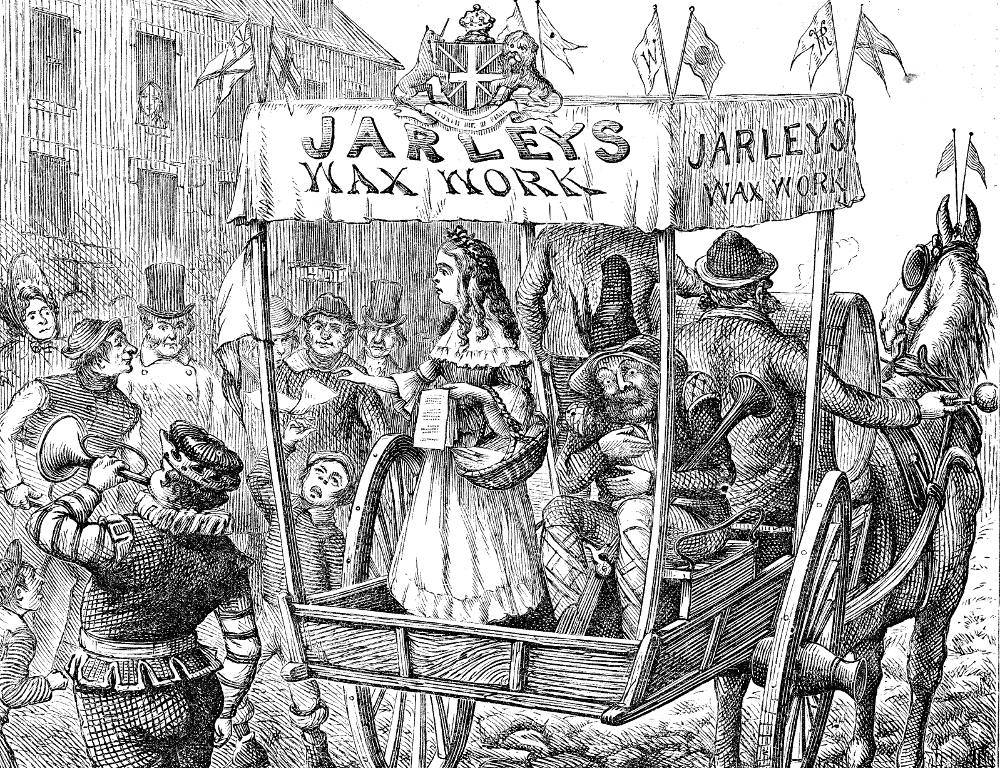 Left: Harry Furniss's study of Nell and her overblown employer, the florid waxworks exhibiter who resembles her own effigies as a distorted rather than a natural figure in Mrs. Jarley's Waxworks (1910). Right: Thomas Worth apparently based his illustration of the promotional parade in Dispensing handbills to the sound of drum and trumpet (1872) directly on Phiz's.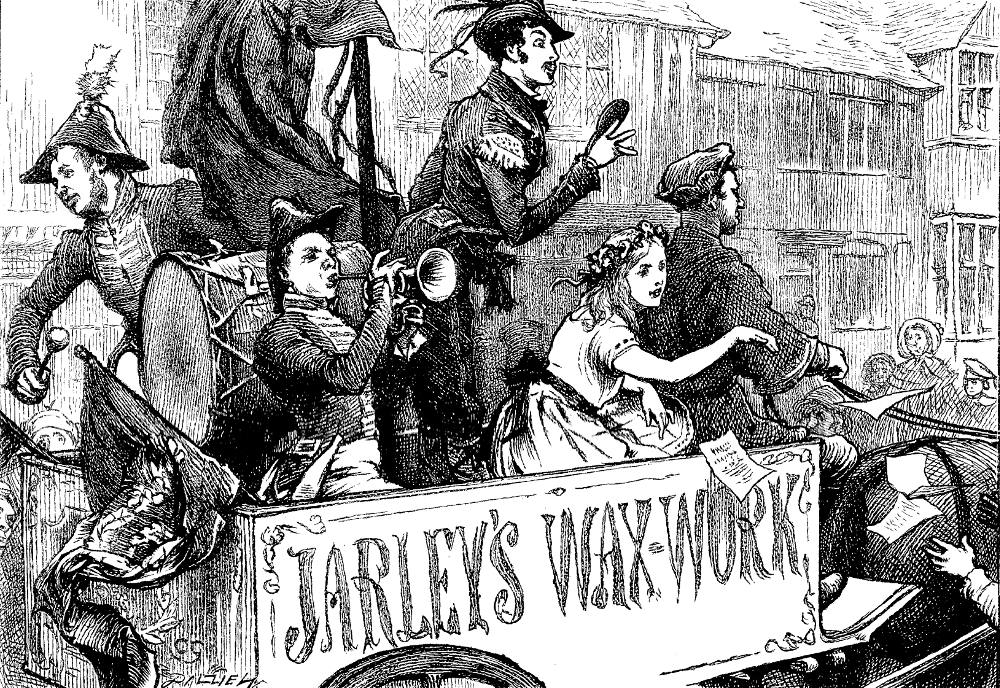 Charles Green's highly realistic British Household Edition illustration focuses on a detached and wistful Nell in And in this state and ceremony rode slowly through the town every evening (1876).
Relevant Illustrations from the 1861 and 1888 editions by Darley
Related Resources Including Other Illustrated Editions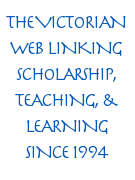 Scanned image and text by Philip V. Allingham. [You may use this image without prior permission for any scholarly or educational purpose as long as you (1) credit the person who scanned the image and (2) link your document to this URL in a web document or cite the Victorian Web in a print one.]
Bibliography
Dickens, Charles. The Old Curiosity Shop in Master Humphrey's Clock. Illustrated by Phiz, George Cattermole, Samuel Williams, and Daniel Maclise. 3 vols. London: Chapman and Hall, 1841; rpt., Bradbury and Evans, 1849.
_____. The Old Curiosity Shop. Illustrated by Sol Eytinge, Jr. The Diamond Edition. 14 vols. Boston: Ticknor & Fields, 1867. XII.
_____. The Old Curiosity Shop. Illustrated by Charles Green. The Household Edition. 22 vols. London: Chapman and Hall, 1876. XII.
_____. The Old Curiosity Shop. Illustrated by Harry Furniss. The Charles Dickens Library Edition. London: Educational Book, 1910. V.
_____. The Old Curiosity Shop. Illustrated by Thomas Worth. The Household Edition. New York: Harper & Bros., 1872. I.
---
Created 10 May 2020

Last modified 12 November 2020