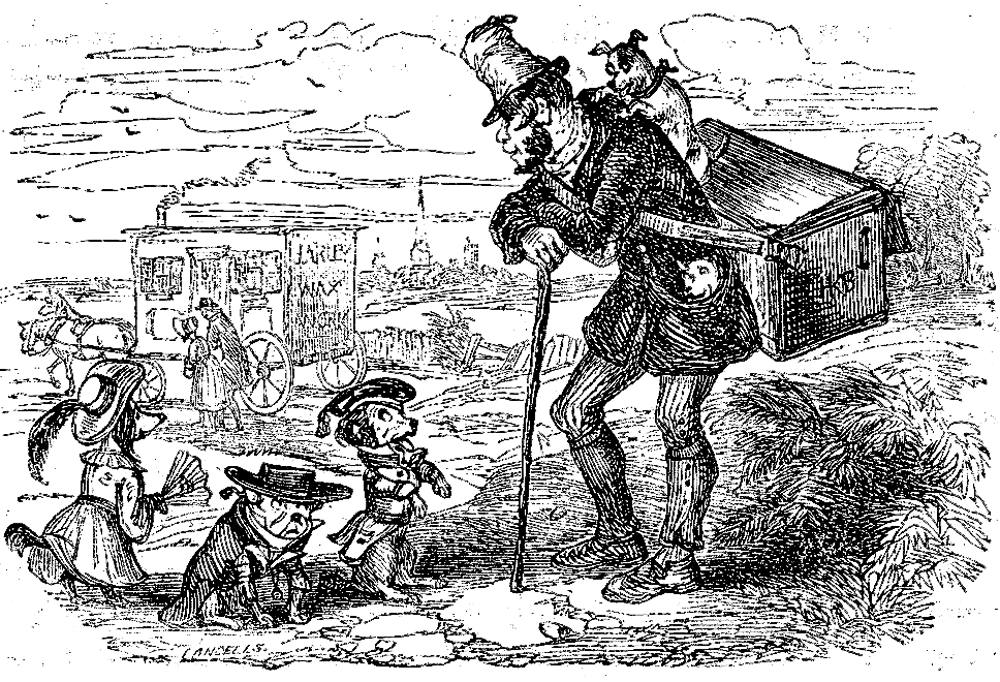 Jerry's Dancing Dogs by Hablot Knight Browne (Phiz). Wood engraving, 2 ¼ x 3 ½ inches (6 x 9 cm). — Tailpiece for Chapter the Thirty-seventh, The Old Curiosity Shop, Part Twenty-one. Date of original serial publication: 26 September 1840 in Master Humphrey's Clock, Part 24, 306.
Context of the Illustration: The Single Gentleman discovers a Possible Lead
"The old man and his grandchild who travelled with you — where are they? It will be worth your while to speak out, I assure you; much better worth your while than you believe. They left you, you say — at those races, as I understand. They have been traced to that place, and there lost sight of. Have you no clue, can you suggest no clue, to their recovery?" . . . .
"Good Heaven!" said the single gentleman, pacing up and down the room, "have I found these men at last, only to discover that they can give me no information or assistance! It would have been better to have lived on, in hope, from day to day, and never to have lighted on them, than to have my expectations scattered thus."
"Stay a minute," said Short. "A man of the name of Jerry — you know Jerry, Thomas?". . . .
"A man of the name of Jerry, sir," said Short, turning from his selfish colleague to their new acquaintance, "wot keeps a company of dancing dogs, told me, in a accidental sort of way, that he had seen the old gentleman in connexion with a travelling wax-work, unbeknown to him. As they'd given us the slip, and nothing had come of it, and this was down in the country that he'd been seen, I took no measures about it, and asked no questions — But I can, if you like." [Chapter the Thirty-seventh, 306]
The Single Gentleman learns about Gerry and his Dancing Dogs
Dickens now casts the enigmatic Single Gentleman in the role of would-be detective as he tries to locate and rescue his older brother and his grand-niece from itinerant penury. The reader already realizes that Gerry, the impressario of the troupe of dancing dogs, will have little useful information to help the Single Gentleman search for the wayfarers. Phiz, however, tantalizes the reader by including in the tailpiece for Volume One of Master Humphrey's Clock Mrs. Jarley's waxworks caravan as it approaches a country town. The embedded image seems to imply that through Gerry the detective will learn about their present whereabouts from Mrs. Jarley. The Punch-and-Judy men, then, point the sun-burnt detective from overseas towards the itinerant dog-trainer, who, in turn, will steer the search towards Mrs. Jarley. Although the figures of Nell and Grandfather Trent are walking beside the caravan, by now have gone into the economically depressed, disease-ridden Black Country. A crowning touch that draws readers' attentions toward the real identity of "Phiz" are the initials "HB" on Gerry's dog-kennel.
The Relevant Household Edition Illustration (1876)
Charles Green's depiction of the dog-trainer and his troupe at The Jolly Sand Boys: "Now, gentlemen," said Jerry, looking at them attentively. "The dog who's name's called, eats" (Ch. XIX)
Related Resources Including Other Illustrated Editions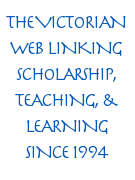 Scanned image, colour correction, sizing, caption, and commentary by Philip V. Allingham. [You may use this image without prior permission for any scholarly or educational purpose, as long as you (1) credit the person who scanned the image, and (2) link your document to this URL in a web document or cite the Victorian Web in a print one.]
Bibliography
Dickens, Charles. The Old Curiosity Shop in Master Humphrey's Clock. Illustrated by Phiz, George Cattermole, Samuel Williams, and Daniel Maclise. 3 vols. London: Chapman and Hall, 1840.
---
Last modified 18 October 2020