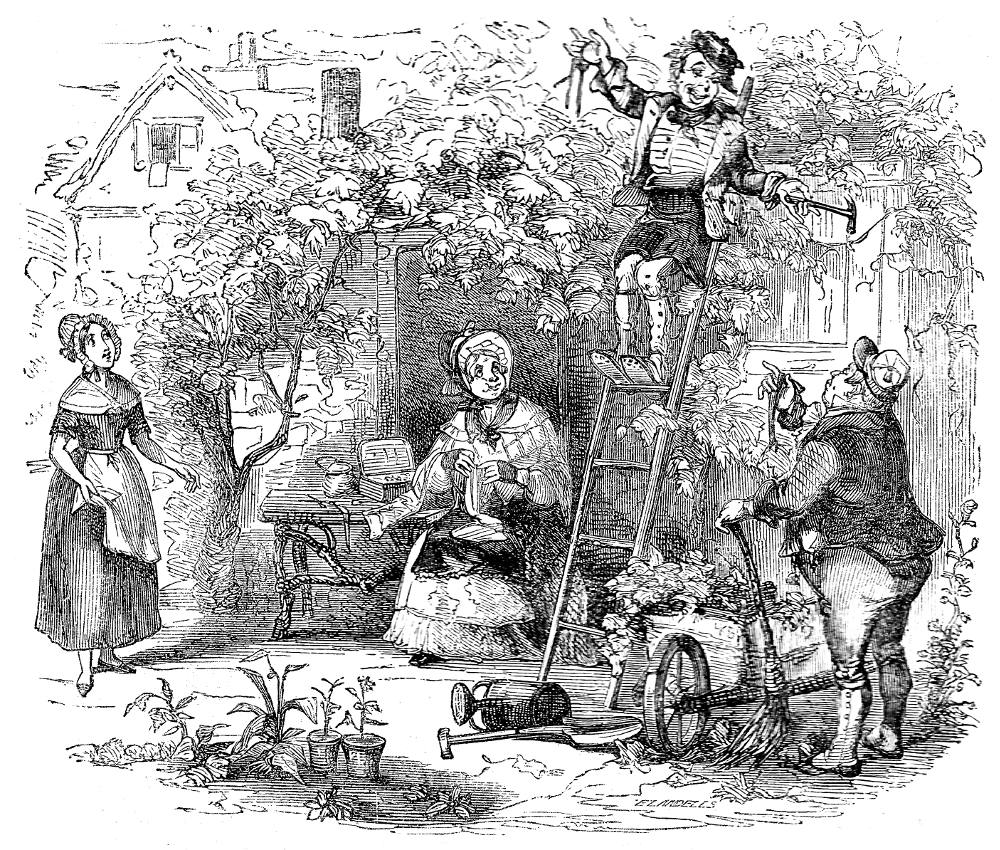 Mr. Garland and Kit by Hablot Knight Browne (Phiz). Wood engraving, 3 ¾ x 4 ½ inches (9.8 cm by 11.3 cm). — Chapter 40, The Old Curiosity Shop. [For passage illustrated see below.] Date of original serial publication of Part 23: 10 October 1840 in Master Humphrey's Clock, Part 26, Vol. 2: 15.
Passage Illustrated: Barbara and Kit in the Garlands' Garden
"He has no right to think that I'd be led away to go to him, sir," said Kit, turning round again after half a minute's hammering. "Does he think I'm a fool?"
"He may, perhaps, Christopher, if you refuse his offer," said Mr. Garland gravely.
"Then let him, sir," retorted Kit; "what do I care, sir, what he thinks? why should I care for his thinking, sir, when I know that I should be a fool, and worse than a fool, sir, to leave the kindest master and mistress that ever was or can be, who took me out of the streets a very poor and hungry lad indeed — poorer and hungrier perhaps than even you think for, sir — to go to him or anybody? If Miss Nell was to come back, ma'am," added Kit, turning suddenly to his mistress, "why that would be another thing, and perhaps if she wanted me, I might ask you now and then to let me work for her when all was done at home. But when she comes back, I see now that she'll be rich as old master always said she would, and being a rich young lady, what could she want of me? No, no," added Kit, shaking his head sorrowfully, "she'll never want me any more, and bless her, I hope she never may, though I should like to see her too!"
Here Kit drove a nail into the wall, very hard — much harder than was necessary — and having done so, faced about again. [Vol. 2, Chapter XL, 15-16]
THe Single Gentleman makes an Offer that Kit shouldn't Refuse
This was not the least pleasant of Kit's employments. On a fine day they were quite a family party; the old lady sitting hard by with her work-basket on a little table; the old gentleman digging, or pruning, or clipping about with a large pair of shears, or helping Kit in some way or other with great assiduity; and Whisker looking on from his paddock in placid contemplation of them all. To-day they were to trim the grape-vine, so Kit mounted half-way up a short ladder, and began to snip and hammer away, while the old gentleman, with a great interest in his proceedings, handed up the nails and shreds of cloth as he wanted them. The old lady and Whisker looked on as usual. [Vol. 2, Chapter XL, 14]
Dickens, however, is not much interested in Kit's gardening skills, but focuses the dialogue on the Single Gentleman's recent offer to employ Kit to help him prosecute his search for the Trents.
Related Resources Including Other Illustrated Editions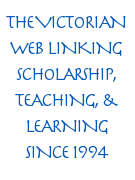 Scanned image and text by Philip V. Allingham. [You may use this image without prior permission for any scholarly or educational purpose as long as you (1) credit the person who scanned the image and (2) link your document to this URL in a web document or cite the Victorian Web in a print one.]
Bibliography
Dickens, Charles. The Old Curiosity Shop in Master Humphrey's Clock. Illustrated by Phiz, George Cattermole, Samuel Williams, and Daniel Maclise. 3 vols. London: Chapman and Hall, 1840.
---
Created 16 November 2007

Last modified 14 October 2020