Watching the Furnace Fire by Hablot Knight Browne (Phiz). Wood engraving, 3 ⅛ x 4 ½ inches (8.2 cm by 11.5 cm). — Chapter 44, The Old Curiosity Shop. Date of original serial publication of Part 25: 24 October 1840 in Master Humphrey's Clock, Part 28, Vol. 2: 41.
Context of the Illustration: Befriended by a Creature of the Blast Furnace
It was yet night when she awoke, nor did she know how long, or for how  short a time, she had slept. But she found herself protected, both from any cold air that  might find its way into the building, and from the scorching heat, by some of the workmen's clothes; and glancing at their friend saw that he sat in exactly the same attitude, looking with a fixed earnestness of attention towards the fire, and keeping so very still that he did not even seem to breathe. She lay in the state between sleeping and waking, looking so long at his motionless figure that at length she almost feared he had died as he sat there; and softly rising and drawing close to him, ventured to whisper in his ear.
He moved, and glancing from her to the place she had lately occupied, as if to assure  himself that it was really the child so near him, looked inquiringly into her face.
"I feared you were ill," she said. "The other men are all in motion, and you are so very quiet."
"They leave me to myself," he replied. "They know my humour. They laugh at me, but  don't harm me in it. See yonder there — that's my friend."
"The fire?" said the child.
"It has been alive as long as I have," the man made answer. "We talk and think together all night long."
The child glanced quickly at him in her surprise, but he had turned his eyes in their former direction, and was musing as before. [Chapter the Forty-fourth, 40-41]
Nell is befriended by a Child of the Industrial Revolution
Nell, although greatly fatigued by their journey, Nell treats solicitously, and even tenderly, this hairy, young industrial labourer who has suddenly appeared to offer her and her grandfather refuge for the night. Dickens does not identify the young man by name but merely by his role as "their conductor" and "their friend" (40). Phiz shows us that, at this advanced point in the narrative, Nell is no longer a child. He renders the heat emanating from the furnace as if it were a wind of light, and in general provides a physical setting that is consistent with Dickens's description of the blackened industrial building, although Phiz does not depict any of the demonic metal-workers:
It needed a strong confidence in this assurance to induce them to enter, and what they saw inside did not diminish their apprehension and alarm. In a large and lofty building, supported by pillars of iron, with great black apertures in the upper walls, open to the external air; echoing to the roof with the beating of hammers and roar of furnaces, mingled with the hissing of red-hot metal plunged in water, and a hundred strange unearthly noises never heard elsewhere; in this gloomy place, moving like demons among the flame and smoke, dimly and fitfully seen, flushed and tormented by the burning fires, and wielding great weapons, a faulty blow from any one of which must have crushed some workman's skull, a number of men laboured like giants. Others, reposing upon heaps of coals or ashes, with their faces turned to the black vault above, slept or rested from their toil. Others again, opening the white-hot furnace-doors, cast fuel on the flames, which came rushing and roaring forth to meet it, and licked it up like oil. Others drew forth, with clashing noise, upon the ground, great sheets of glowing steel, emitting an insupportable heat, and a dull deep light like that which reddens in the eyes of savage beasts. [40]
Phiz follows Dickens's description, placing the keeper of the furnace near the mouth of the blast-furnace, on a stool rather than on a mat. He rests his chin upon his hands, thinking about his childhood in this very place. Nell has, as their conductor has suggested, hung up her outer-clothes to dry (right). Phiz does not include the ashes upon which Nell and her grandfather sleep, but he has added a large shovel with which their conductor feeds coal into the furnace, although no heaps of coal are indicated. Otherwise, Phiz renders the scene in the furnace-room as purgatorial. Once again, Nell learns from the people whom they encounter on their travels, but her grandfather sleeps soundly through her interview. Curiously, neither Green in the Household Edition (1876) nor Furniss in the Charles Dickens Library Edition (1910) attempted to illustrated the nightmarish scene in the furnace-room, but both later illustrators had much shorter programs to complete, and necessarily had to be more selective.
The Relevant Household Edition Illustration (1872)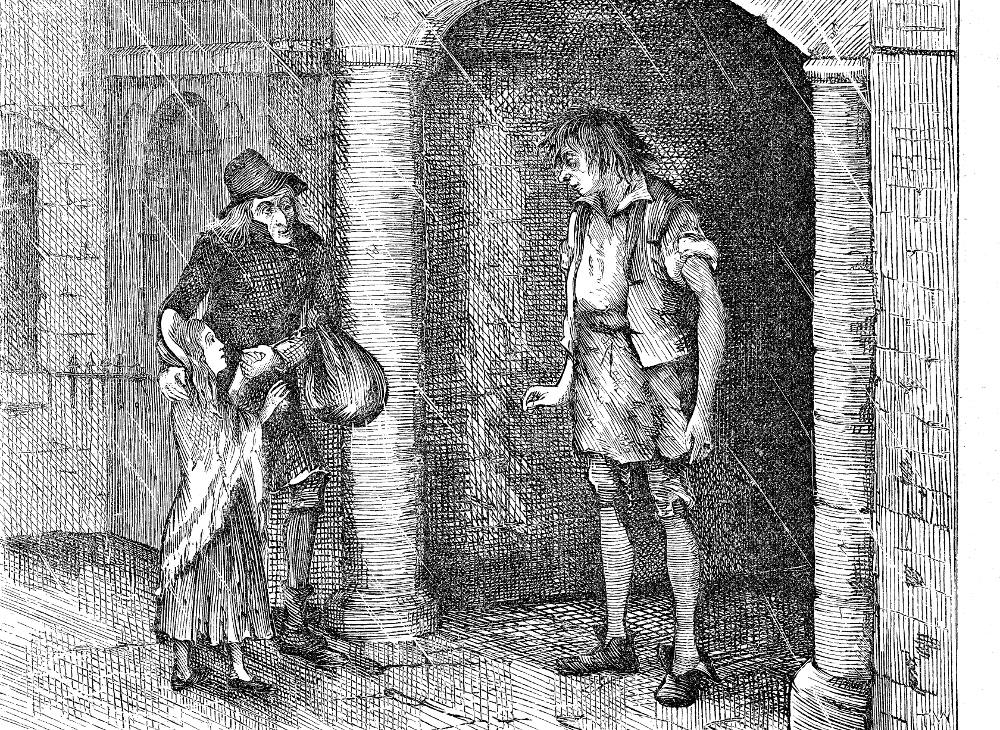 Thomas Worth's American Household Edition dark plate depicting Nell's encountering the young factory-hand who maintains the furnace: A black figure came suddenly out of the dark recess.
Related Resources Including Other Illustrated Editions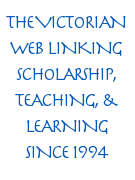 Scanned image and text by Philip V. Allingham. [You may use this image without prior permission for any scholarly or educational purpose as long as you (1) credit the person who scanned the image and (2) link your document to this URL in a web document or cite the Victorian Web in a print one.]
Bibliography
Dickens, Charles. The Old Curiosity Shop in Master Humphrey's Clock. Illustrated by Phiz, George Cattermole, Samuel Williams, and Daniel Maclise. 3 vols. London: Chapman and Hall, 1840.
---
Last modified 23 October 2020