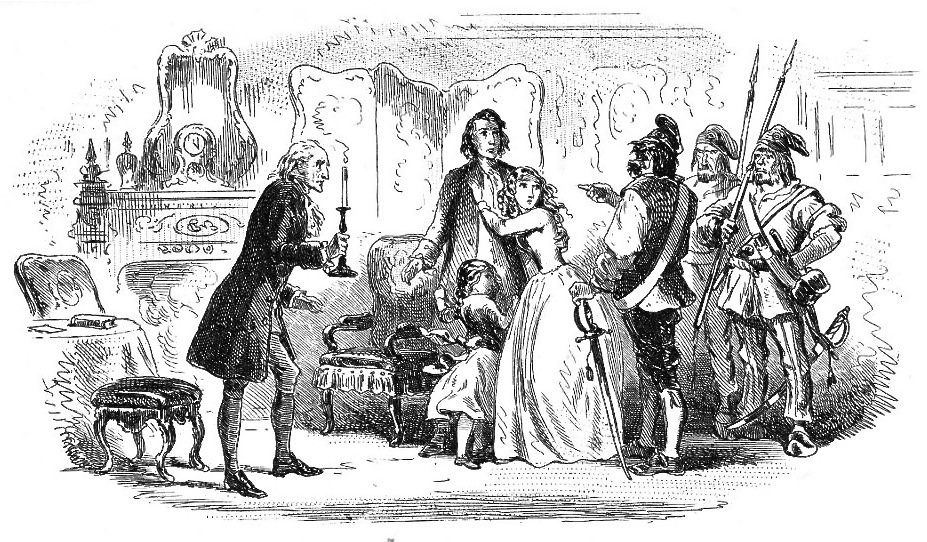 The Knock at the Door by Phiz (Hablot K. Browne). 3 ¾ x 6 ¾ inches (9.8 cm high by 17 cm wide), vignetted. Twelfth serial illustration for Dickens's A Tale of Two Cities. Book III, Chapter vii. All the Year Round 8 October 1859 in the weekly instalments; published in November 1859 in the monthly numbers. [Click on image to enlarge it.]
Passage Illustrated: Charles Darnay Re-arrested
"I thought, my father," said Lucie, excusing herself, with a pale face and in a faltering voice, "that I heard strange feet upon the stairs."
"My love, the staircase is as still as Death."
As he said the word, a blow was struck upon the door.
"Oh father, father. What can this be! Hide Charles. Save him!"
"My child," said the Doctor, rising, and laying his hand upon her shoulder, "I have saved him. What weakness is this, my dear! Let me go to the door."
He took the lamp in his hand, crossed the two intervening outer rooms, and opened it. A rude clattering of feet over the floor, and four rough men in red caps, armed with sabres and pistols, entered the room.
"The Citizen Evrémonde, called Darnay," said the first.
"Who seeks him?" answered Darnay.
"I seek him. We seek him. I know you, Evrémonde; I saw you before the Tribunal to-day. You are again the prisoner of the Republic."
The four surrounded him, where he stood with his wife and child clinging to him.
"Tell me how and why am I again a prisoner?"
"It is enough that you return straight to the Conciergerie, and will know to-morrow. You are summoned for to-morrow."
Doctor Manette, whom this visitation had so turned into stone, that he stood with the lamp in his hand, as if he were a statue made to hold it, moved after these words were spoken, put the lamp down, and confronting the speaker, and taking him, not ungently, by the loose front of his red woollen shirt, said:
"You know him, you have said. Do you know me?"
"Yes, I know you, Citizen Doctor." [Book III, "The Track of the Storm," Chapter vii, "A Knock at the Door"]
Related Materials
[Image scan and text by Philip V. Allingham. Formatting and image correction by George P. Landow. You may use this image without prior permission for any scholarly or educational purpose as long as you (1) credit the person who scanned the image and (2) link your document to this URL in a web document or cite the Victorian Web in a print one.]
Bibliography
Allingham, Philip V. "'Charles Dickens's A Tale of Two Cities (1859) Illustrated: A Critical Reassessment of Hablot Knight Browne's Accompanying Plates." Dickens Studies Annual 33 (2003): 109-158.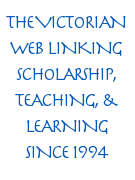 Browne, Edgar. Phiz and Dickens As They Appeared to Edgar Browne. London: James Nisbet, 1913.
Cayzer, Elizabeth. "Dickens and His Late Illustrators. A Change in Style: Phiz and A Tale of Two Cities." Dickensian 86, 3 (Autumn, 1990): 130-141.
Cohen, Jane R. "Part Two. Dickens and His Principal Illustrator. Ch. 4. Hablot Browne." Charles Dickens and His Original Illustrators. Columbus: University of Ohio Press, 1980. 61-124.
Dickens, Charles. The Letters of Charles Dickens. Vol. 9 (1859-61), ed. Madeline House, Graham Storey, and Kathleen Tillotson. Oxford: Clarendon, 1999.
________. (1859). A Tale of Two Cities, ed. Andrew Sanders. World's Classics. Oxford: Oxford University Press, 1980.
________. A Tale of Two Cities (1859), ed. George Woodcock. Illustrated by Phiz (Hablot Knight Browne). Harmondsworth: Penguin, 1970.
Hammerton, J. A. The Dickens Picture-Book. The Charles Dickens Edition of the Works of Charles Dickens. London: Educational Book, 1910.
Vann, J. Don. Chapter 4. "Charles Dickens (1812-70): A Tale of Two Cities in All the Year Round, 30 April—26 November 1859." Victorian Novels in Serial. New York: Modern Language Association, 1985. 71-72.
---
Created 12 November 2007

Last modified 9 February 2021