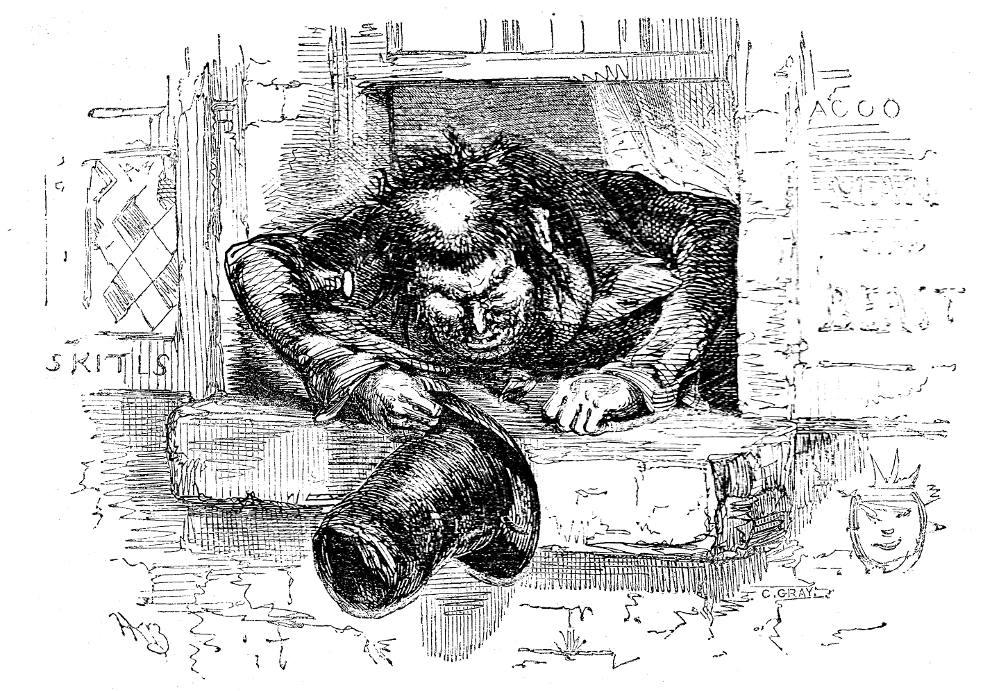 Quilp's Grotesque Politeness — fifty-eighth illustration for the novel in Master Humphrey's Clock, Part 36. 3 ¼ x 4 ½ inches (8.9 cm high x 11.4 cm wide). Charles Dickens's The Old Curiosity Shop, Part 33 (London: Chapman & Hall, 19 December 1840), Chapter 60, 135.
Passage Illustrated: The Sooty Face of Quilp Triumphant
Absorbed in these painful ruminations, thinking with a drooping heart of his mother and little Jacob, feeling as though even the consciousness of innocence would be insufficient to support him in the presence of his friends if they believed him guilty, and sinking in hope and courage more and more as they drew nearer to the notary's, poor Kit was looking earnestly out of the window, observant of nothing, — when all at once, as though it had been conjured up by magic, he became aware of the face of Quilp.
And what a leer there was upon the face! It was from the open window of a tavern that it looked out; and the dwarf had so spread himself over it, with his elbows on the window-sill and his head resting on both his hands, that what between this attitude and his being swoln with suppressed laughter, he looked puffed and bloated into twice his usual breadth. Mr Brass, on recognising him, immediately stopped the coach. As it came to a halt directly opposite to where he stood, the dwarf pulled off his hat, and saluted the party with a hideous and grotesque politeness.
"Aha!" he cried. "Where now, Brass? where now? Sally with you too? Sweet Sally! And Dick? Pleasant Dick! And Kit! Honest Kit!"
"He's extremely cheerful!" said Brass to the coachman. "Very much so! Ah, sir — a sad business! Never believe in honesty any more, sir."
"Why not?" returned the dwarf. "Why not, you rogue of a lawyer, why not?"
"Bank-note lost in our office sir," said Brass, shaking his head. "Found in his hat sir — he previously left alone there — no mistake at all sir — chain of evidence complete — not a link wanting."
"What!" cried the dwarf, leaning half his body out of window. "Kit a thief! Kit a thief! Ha ha ha! Why, he's an uglier-looking thief than can be seen anywhere for a penny. Eh, Kit — eh? Ha ha ha! Have you taken Kit into custody before he had time and opportunity to beat me! Eh, Kit, eh?" And with that, he burst into a yell of laughter, manifestly to the great terror of the coachman, and pointed to a dyer's pole hard by, where a dangling suit of clothes bore some resemblance to a man upon a gibbet. [Chapter the Fortieth, 135-36]
Quilp's Moment of Triumph over Kit
The Brasses have sprung Quilp's trap, and ordered Dick Swiveller to search Kit's clothing. Just when it appears Kit is innocent of the accusation, Dick finds the missing bank-note in the band of Kit's hat, and, at Brass's request, goes to fetch the constable. But Phiz has moved us ahead to Quilp's moment of triumph, when, as the hackney-carriage carrying the boy nears the notary's office, Quilp, leaning his head out of the tavern window, spots Kit. Phiz has embedded his own editorial comment on the nature of Dickens's physically and morally warped villain in his moment of elation: "Man or Beast" (on the circus poster plastered upon the wall immediately beside the window of the public-house). To Quilp the exercise in delivering up the virtuous Kit Nubbles to Australian penal transportation has been more entertaining than "Skittles" (the entertainment that the tavern advertises to the left of the malignant, demoniacal suborner of the legal system). Although the prefatory scene in the text involves Sampson and Sally Brass, an arresting constable, Dick Swiveller, and, of course, the hapless Kit, Phiz has focussed on Quilp's calling out derisively to the boy as he is being taken by carriage to magistrate's court for arraignment, and a charge stiff enough to warrant transportation, if proven in court.
The Ogre at the Window — Simultaneously "Man and Beast"
Jane Rabb Cohen in "Part Two: Dickens and His Principal Illustrator" of Charles Dickens and His Original Illustrators has elaborated on Phiz's making Quilp look hideous and unnatural by emphasizing his deformity, and that this strategy he has derived directly from Dickens's increasingly frequent descriptions of
Quilp's innate malformations over his external ones. Similarly, Browne's early portrayals of the dwarf stressed his physical ugliness in the old Nickleby manner (VI, 467) . . . whereas later he captured Quilp's real deformity — his moral hideousness — more subtly, by increasing the brutality of his face and figure. By the time he depicted the villain leering out of the tavern window, the words he placed on the wall to the right of the sill — MAN BEAST — seemed equally applicable to him (LX, 477) . . . Taken together, Browne's portrayals of Quilp — nearly one-quarter of all the illustrations in The Old Curiosity Shop — forcefully heighten Dickens's Victorian re-creation of a fairy-tale monster. So thoroughly did Browne allow his imagination to be dominated by Quilp that the face of Kit, hugging his pony after his release from prison, oddly, and perhaps accidentally, resembled that of his deceased enemy (LXVIII, 549). Cattermole was unable to enter the spirit of the villain so fully, and his characterization of Quilp is unsuitably tame (IX, 72) . . . . .
The subtle brilliance of Browne's later portrayals of Quilp, especially his widely praised death scene (LXVII, 544), may have surprised admirers of his comic work. Indeed, the artist now began to display in a positive way the versatility that would enable him to keep pace with Dickens for so long. The author took notice. [75]
Adina Ciugureanu (2015) has noted the similarities between John Flaxman's design of Satan's devouring Judas and Browne's design of Quilp at the public-house window, jeering at Kit. "Quilp . . . , in the illustration to chapter 60, leans from the window in a posture very much like Flaxman's Satan resting on his arms" (119). Although Quilp is a dwarf, she notes, Phiz makes his shaggy villain look gigantic by exaggerating the size of his head and hands. Moreover, she contends, he exemplifies three deadly sins (greed, envy, and lust), and the illustrator underscores his role as fairy-tale monster by "inscriptions on the window pane, or wall (119). Like Flaxman's Satan, she arguers, Quilp here is "an incarnation of evil," whom Phiz depicts through this framed portrait "as a grotesque monster, an ogre, with bored, sad eyes" (119-120). She might have noted that, whenever Quilp appears in a scene with Nell, Dickens describes her she as light, delicate, and innocent, whereas he makes Quilp dark, animalistic, and (as in this illustration) leering. The effect of the illustration is to place Quilp in a frame, as if he is sitting for a portrait; Phiz's bills editorialize on the picture, instructing the reader how to interpret Quilp's actions at this point as resulting from a diseased, obsessive nature.
Relevant Illustrations from the Household Edition (1876) and Player's (1910)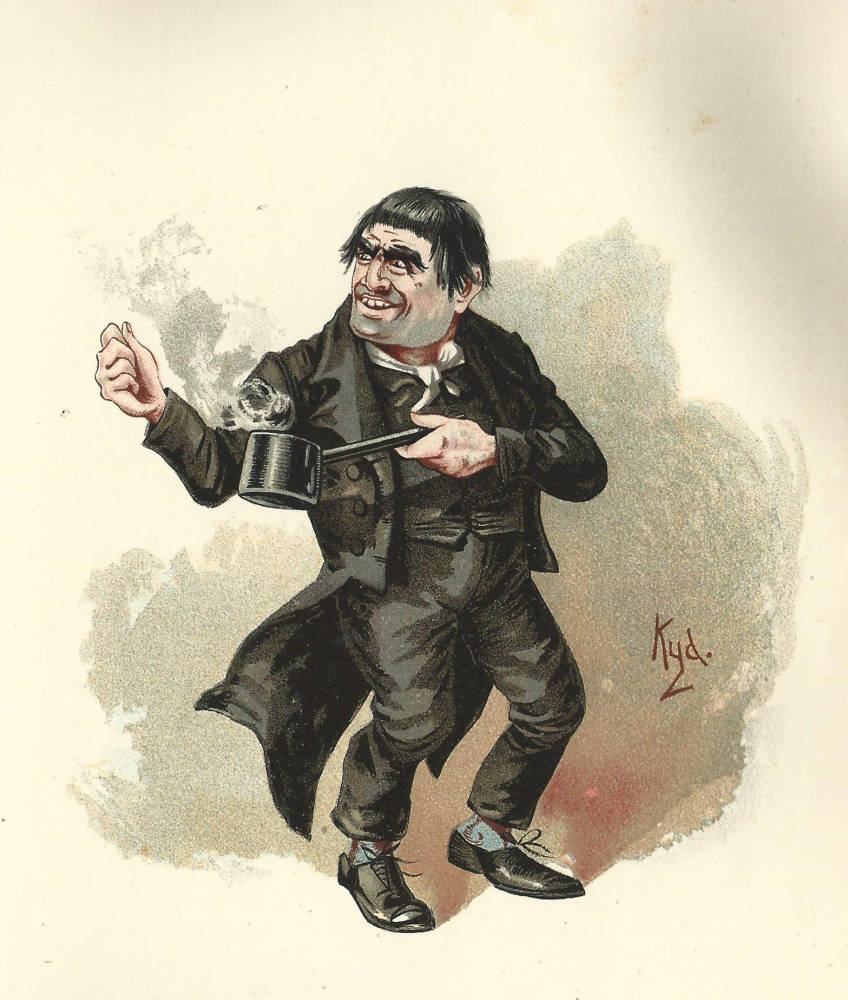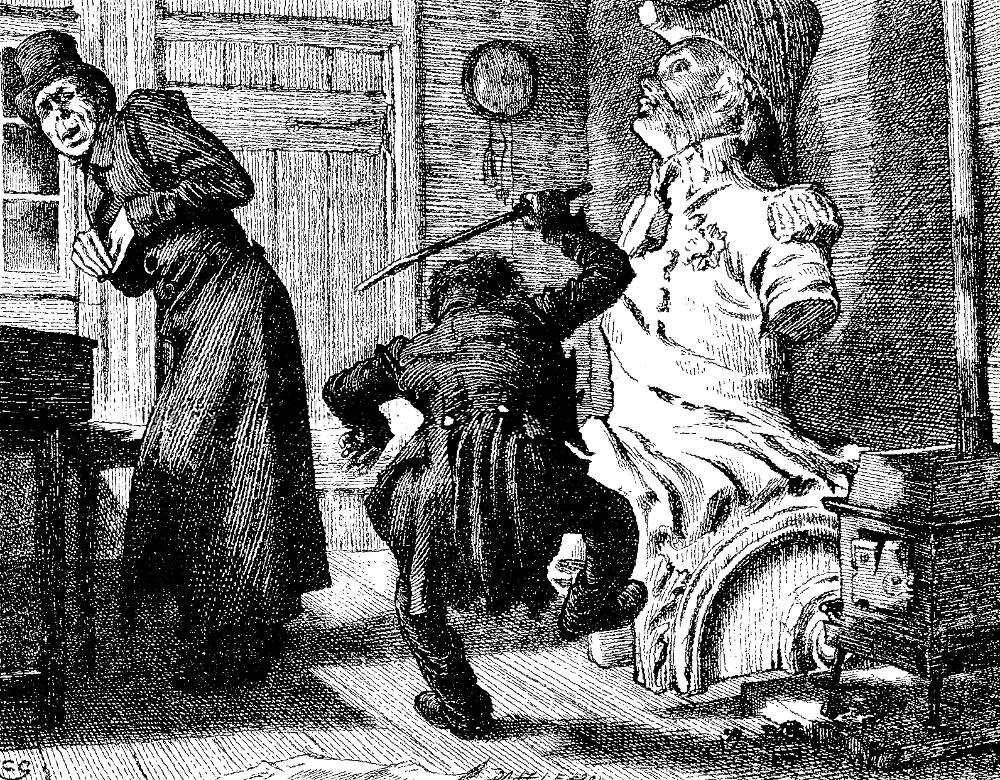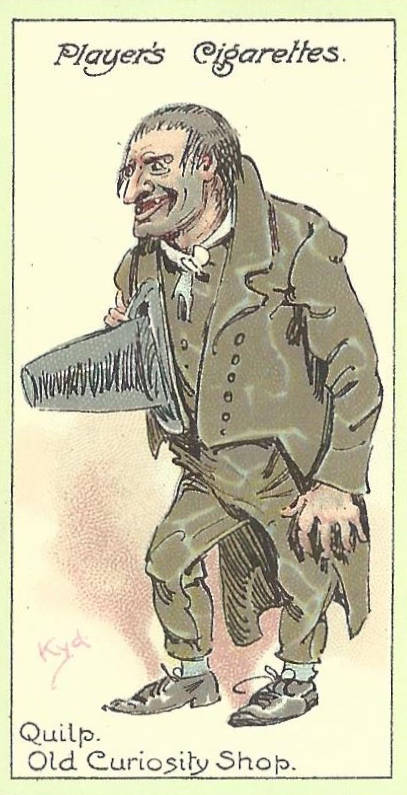 Left and Right: Two of Kyd's studies of the the evil dwarf for Player's Cigarette Cards (1910). Middle: Charles Green's illustration of Quilp assaulting the figurehead: "Is it like Kit — is it his picture, his image, his very self?" (1876).
Related Resources Including Other Illustrated Editions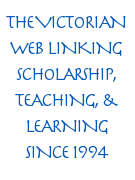 Scanned image and text by Philip V. Allingham. [You may use this image without prior permission for any scholarly or educational purpose as long as you (1) credit the person who scanned the image and (2) link your document to this URL in a web document or cite the Victorian Web in a print one.]
Bibliography
Bentley, Nicolas, Michael Slater, and Nina Burgis. The Dickens Index. New York and Oxford: Oxford U. , 1990.
Dickens, Charles. The Old Curiosity Shop in Master Humphrey's Clock. Illustrated by Phiz, George Cattermole, Samuel Williams, and Daniel Maclise. 3 vols. London: Chapman and Hall, 1840.
_____. The Old Curiosity Shop. Illustrated by Charles Green. The Household Edition. London: Chapman and Hall, 1876.
---
Last modified 8 November 2020