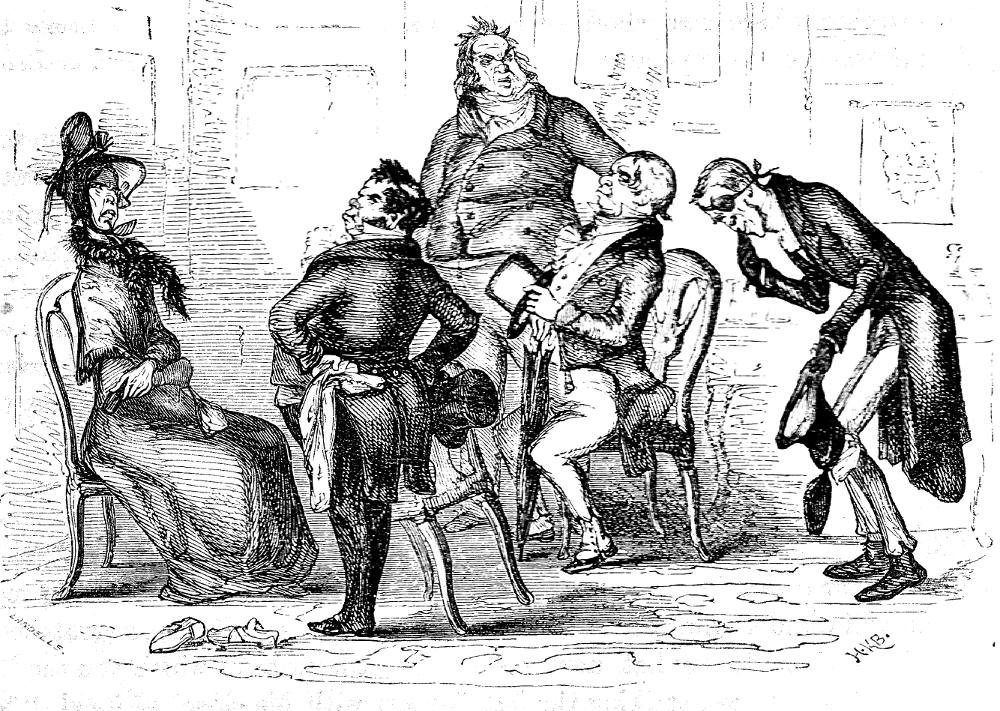 Mr. Brass Unexpectedly Appears — Phiz's sixtieth illustration for the novel in Master Humphrey's Clock, Part 39. 3 ⅛ x 4 ½ inches (7.6 cm high x 11.3 cm wide). Charles Dickens's The Old Curiosity Shop, Part 36 (London: Chapman & Hall, 9 January 1841), Chapter 66, Vol. 2, 175. Click on image to enlarge it.
Context of the Illustration: The Scramble to Confess
With a smile upon her face, and looking at each of the three by turns, Miss Brass took two or three more pinches of snuff, and having by this time very little left, travelled round and round the box with her forefinger and thumb, scraping up another. Having disposed of this likewise and put the box carefully in her pocket, she said, —
"I am to accept or reject at once, am I?"
"Yes," said Mr. Witherden.
The charming creature was opening her lips to speak in reply, when the door was hastily opened too, and the head of Sampson Brass was thrust into the room.
"Excuse me," said the gentleman hastily. "Wait a bit!"
"Sarah," said Brass, "hold your tongue if you please, and let me speak. Gentlemen, if I could express the pleasure it gives me to see three such men in a happy unity of feeling and concord of sentiment, I think you would hardly believe me. But though I am unfortunate — nay, gentlemen, criminal, if we are to use harsh expressions in a company like this — still, I have my feelings like other men. I have heard of a poet, who remarked that feelings were the common lot of all. If he could have been a pig, gentlemen, and have uttered that sentiment, he would still have been immortal."
"If you're not an idiot," said Miss Brass harshly, "hold your peace."
"Sarah, my dear," returned her brother, "thank you. But I know what I am about, my love, and will take the liberty of expressing myself accordingly. Mr Witherden, Sir, your handkerchief is hanging out of your pocket — would you allow me to —,
As Mr. Brass advanced to remedy this accident, the Notary shrunk from him with an air of disgust. Brass, who over and above his usual prepossessing qualities, had a scratched face, a green shade over one eye, and a hat grievously crushed, stopped short, and looked round with a pitiful smile. [Chapter LXVI, 175-76]
Commentary
Harry Furniss renders this somewhat theatrical "examination" scene as a horizontally oriented plate in order to accommodate Sally and her interrogators: the youngest of the three gentlemen must be Abel Garland, centre; the oldest, bearded interrogator is the Single Gentleman, leaving the notary, Mr. Witherden, nearest the door. The illustrator shows Sally taking the last of her snuff, a gesture by which she is (presumably) trying to buy herself time before responding to the demand that she explain her role in manufacturing the trumped-up charges against Kit Nubbles."I am to accept or reject at once, am I?" No sooner has she attempted to ascertain whether she can avoid answering at this very moment when her pusillanimous brother interrupts the proceedings.
Relevant illustrations from The Charles Dickens Library Edition and Caricatures by Spy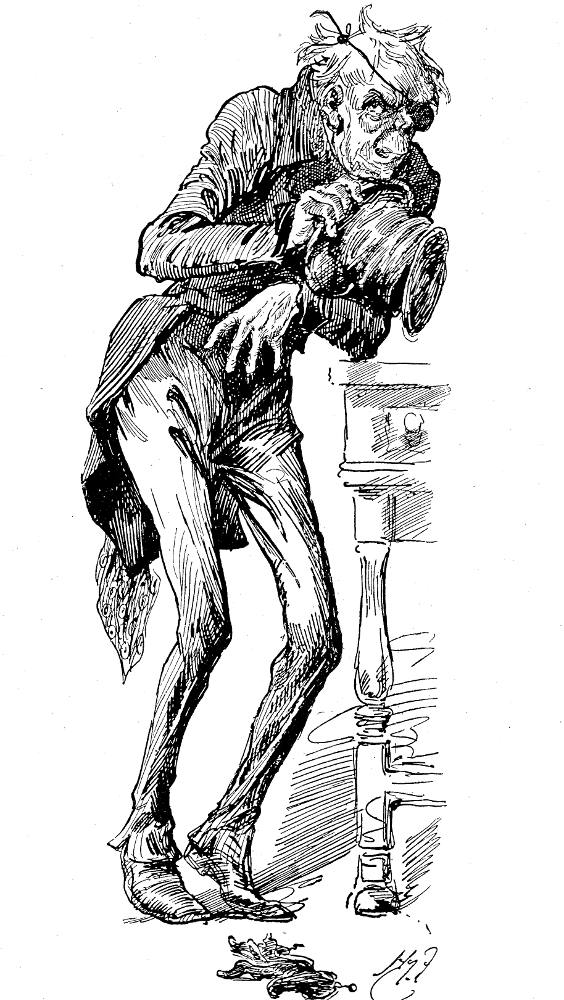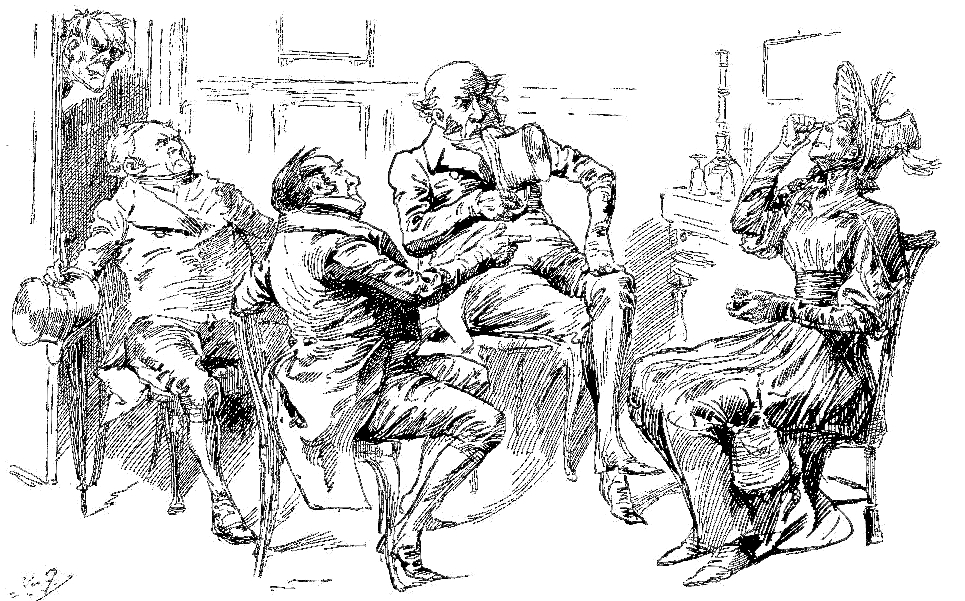 Left: Furniss's portrait of the slippery attorney who has recently endured a beating from his primary client: The Fallen Brass from The Charles Dickens Library Edition (1910). Right: Furniss's rendering of Sally Brass's interrogation by the friends of the unjustly incarcerated Kit Nubbles: Sally Brass under Examination (1910).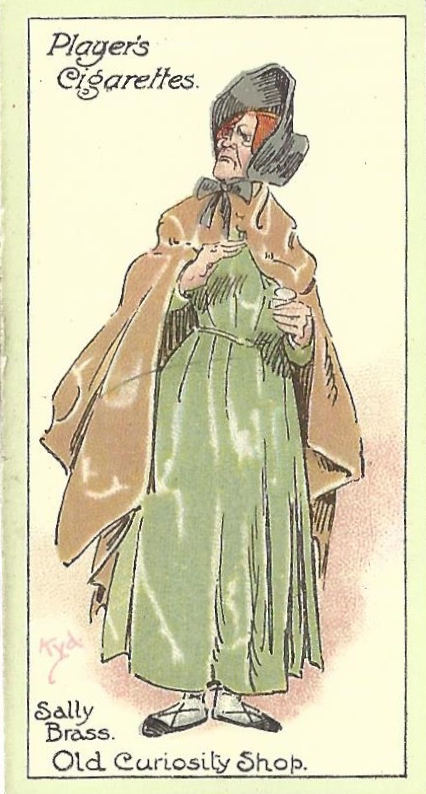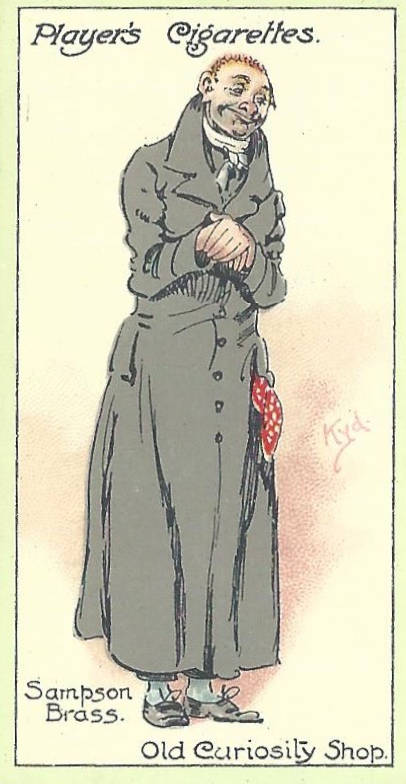 Kyd's Player's Cigarette Cards No. 29 & 30, Sampson Brass (1910).
Related Resources Including Other Illustrated Editions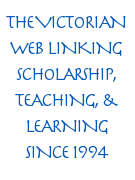 Scanned images and texts by Philip V. Allingham. [You may use this image without prior permission for any scholarly or educational purpose as long as you (1) credit the person who scanned the image and (2) link your document to this URL in a web document or cite the Victorian Web in a print one.]
Bibliography
Dickens, Charles. The Old Curiosity Shop in Master Humphrey's Clock. Illustrated by Phiz, George Cattermole, Samuel Williams, and Daniel Maclise. 3 vols. London: Chapman and Hall, 1840.
---
Last modified 11 November 2020