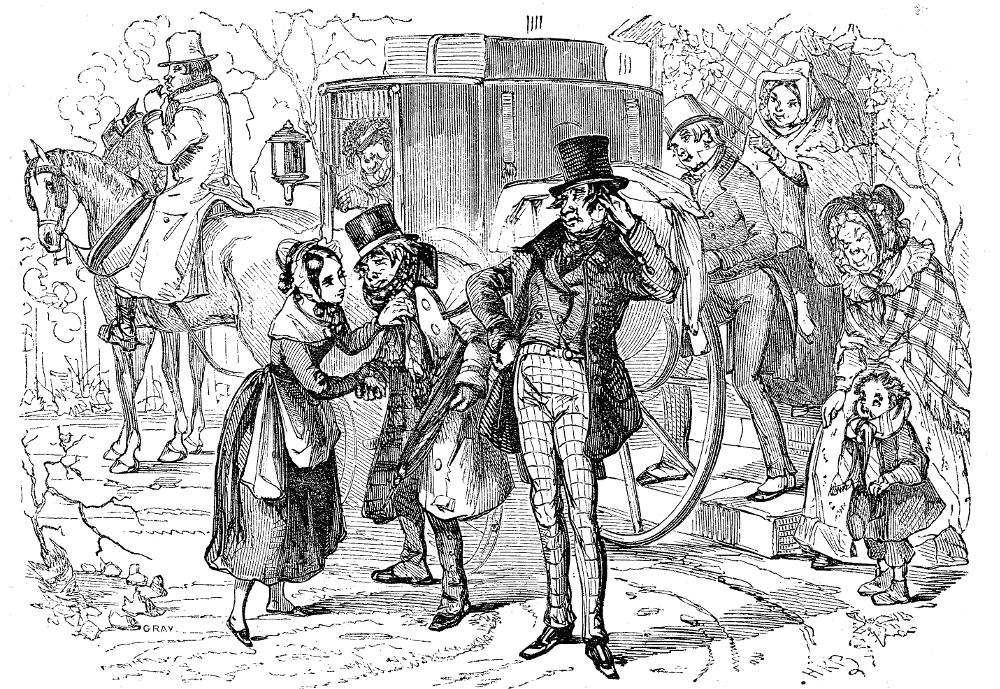 Farewell to the Travellers — Phiz's sixty-first illustration for the novel in Master Humphrey's Clock, Part 40. 3 ¼ x 4 ½ inches (9.3 cm high x 11.6 cm wide). Charles Dickens's The Old Curiosity Shop, Part 37 (London: Chapman & Hall, 16 January 1841), Chapter 69, Vol. 2, 196. [Click on images to enlarge them.]
Context of the Illustration: The Journey Westward Begins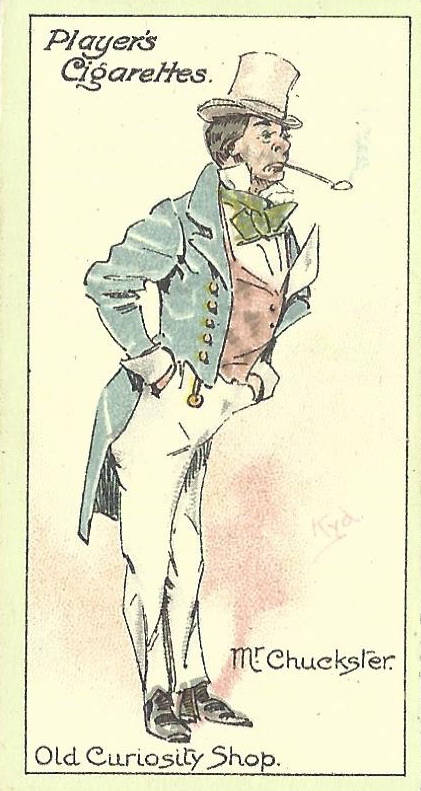 Kyd's Player's Cigarette Card No. 12, Mr. Chuckster (1910).
Barbara was the subject of Mr. Chuckster's commendations; and as she was lingering near the carriage (all being now ready for its departure), that gentleman was suddenly seized with a strong interest in the proceedings, which impelled him to swagger down the garden, and take up his position at a convenient ogling distance. Having had great experience of the sex, and being perfectly acquainted with all those little artifices which find the readiest road to their hearts, Mr. Chuckster, on taking his ground, planted one hand on his hip, and with the other adjusted his flowing hair. This is a favourite attitude in the polite circles, and, accompanied with a graceful whistling, has been known to do immense execution.
Such, however, is the difference between town and country, that nobody took the smallest notice of this insinuating figure; the wretches being wholly engaged in bidding the travellers farewell, in kissing hands to each other, waving handkerchiefs, and the like tame and vulgar practices. For now the single gentleman and Mr. Garland were in the carriage, and the post-boy was in the saddle, and Kit, well wrapped and muffled up, was in the rumble behind; and Mrs. Garland was there, and Mr. Abel was there, and Kit's mother was there, and little Jacob was there, and Barbara's mother was visible in remote perspective, nursing the ever-wakeful baby; and all were nodding, beckoning, curtseying, or crying out, "Good bye!" with all the energy they could express. [Chapter the Sixty-ninth, 195-96]
Commentary
The illustration creates a sense of expectation (a false sense, as it turns out) that the Single Gentleman will find both his niece and his older brother alive at the end of the lengthy winter journey. Later editions focus on the nemesis visited upon Quilp, who, lost in the dense London fog, tumbles off his own wharf on the Surrey side and drowns within minutes. Dickens uses the Phiz illustration of the travellers' departure from London to shift attention back to the search for the Trents, and away from the London-based plotlines involving the Brasses, Dick Swiveller, and Kit Nubbles.
Related Resources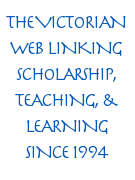 Scanned image and text by Philip V. Allingham. [You may use this image without prior permission for any scholarly or educational purpose as long as you (1) credit the person who scanned the image and (2) link your document to this URL in a web document or cite the Victorian Web in a print one.]
Bibliography
Dickens, Charles. The Old Curiosity Shop in Master Humphrey's Clock. Illustrated by Phiz, George Cattermole, Samuel Williams, and Daniel Maclise. 3 vols. London: Chapman and Hall, 1841.
---
Last modified 11 November 2020