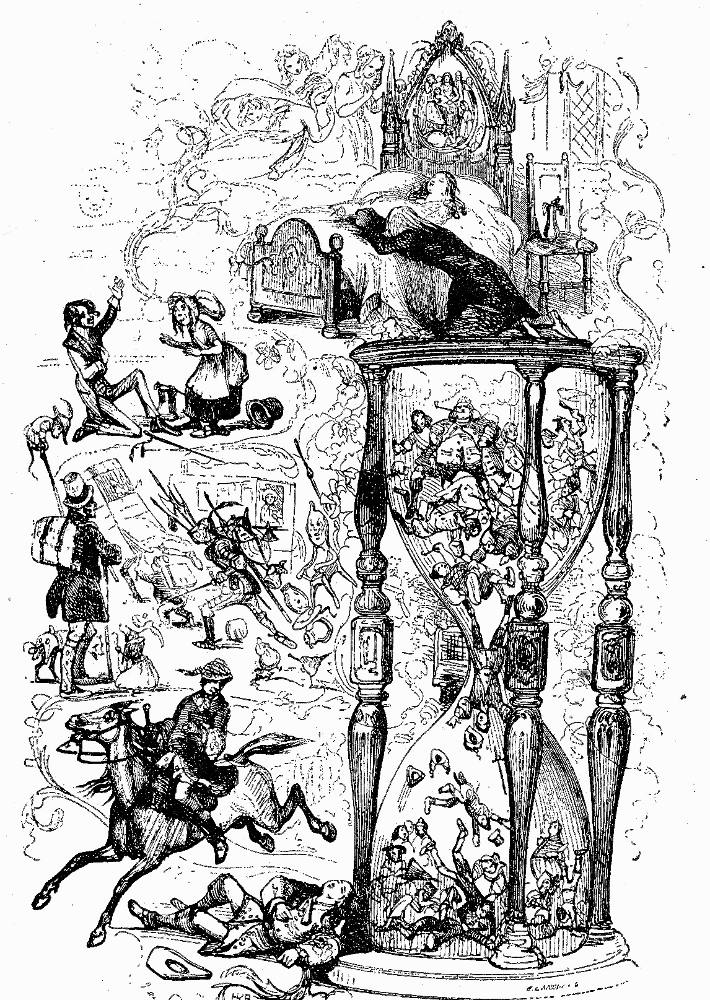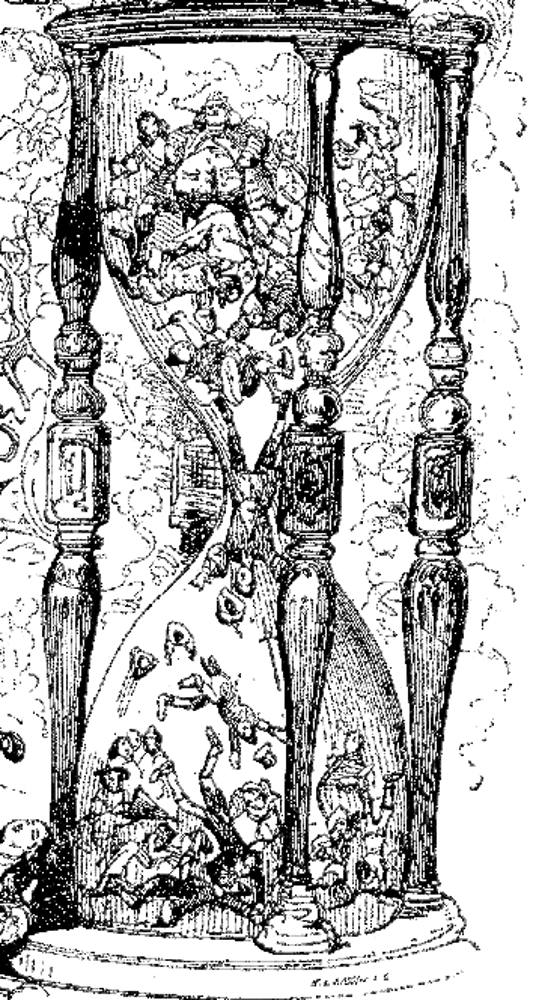 Frontispiece, Volume Two, with detail of the hourglass motif. Phiz (Hablot K. Browne). Wood engraving, 7 ⅝ x 4 ¾ inches (19.4 cm high by 12 cm wide), vignetted. Dickens's Master Humphrey's Clock. Vol. II. 3 October 1840. [Click on the images to enlarge them.]
Commentary
As Michael Steig notes, in this second frontispiece Phiz gives free reign to his sentimental and religious interpretations of The Old Curiosity Shop. He incorporates Jerry and his dancing dogs, the death of Little Nell, and Dick Swiveller and The Marchioness, but (curiously) omits Daniel Quilp and the Brasses:
Browne was perfectly capable of his own religiosity and sentimentality, as we can see from the angels in his frontispiece to the second volume of Master Humphrey's Clock. For Browne absorbed many influences besides that of caricature, including Christian iconography, German Romantic art, and the influence of some of his contemporaries among British painters, such as Maclise. [56]
Phiz has incorporated within the hour-glass motif (which he has taken from Cattermole's monthly wrapper design) figures from both The Old Curiosity Shop, which concluded in the 6 February 1841 number, and Barnaby Rudge, which began serialisation on 13 February 1841. The reader would immediately have recognized Gerry and his troupe of performing dogs (left), Dick Swiveller and the Marchioness (upper left), and a reprise of Cattermole's At Rest (upper left, with Grandfather Trent prostrate at the bedside), but gradually would also have been able to identify characters such as Jos Willet from the second novel in the weekly magazine. Phiz must have known early on about Old Rudge's assault on Edward Chester since he prominently positions this large-scale vignette at the bottom left.
Details from the second frontispiece for
Master Humphrey's Clock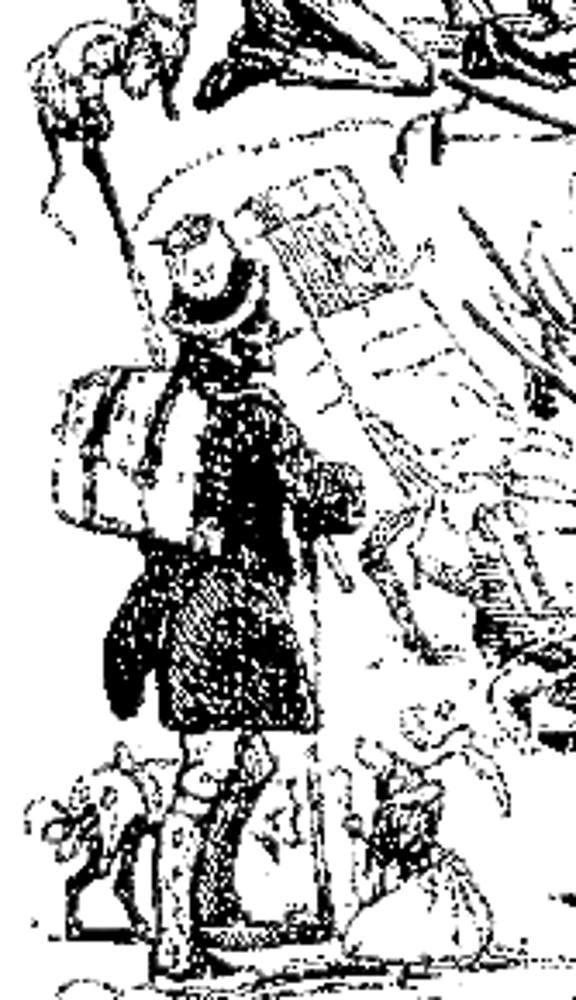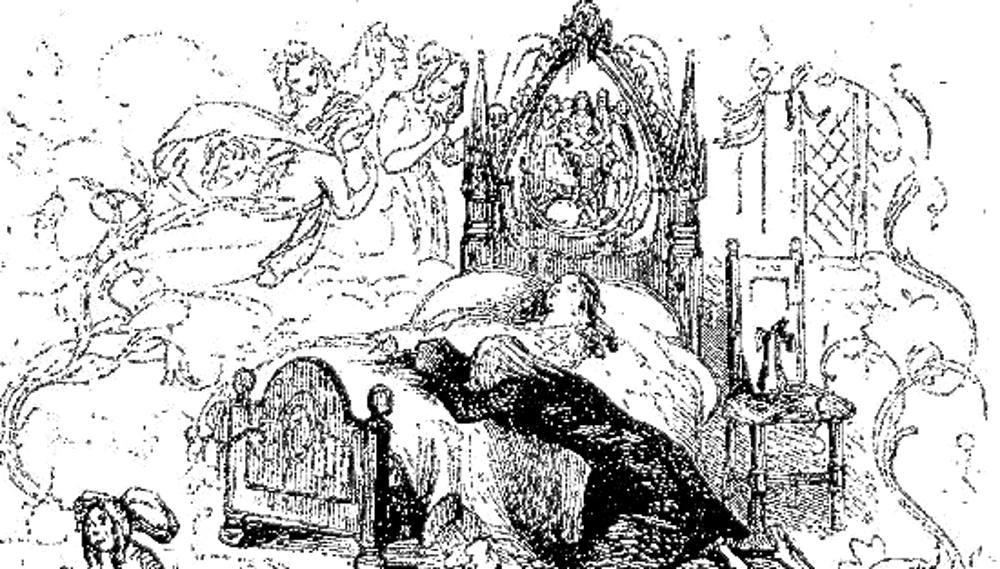 Left: Phiz has based this thumbnail on his own scene that serves as the tailpiece for the first volume, Jerry's Dancing Dogs, in Part 21 (24 September 1840) in Master Humphrey's Clock. Right: Phiz's version of Cattermole's At Rest in Chapter LXXI (Part 39: 30 January 1841).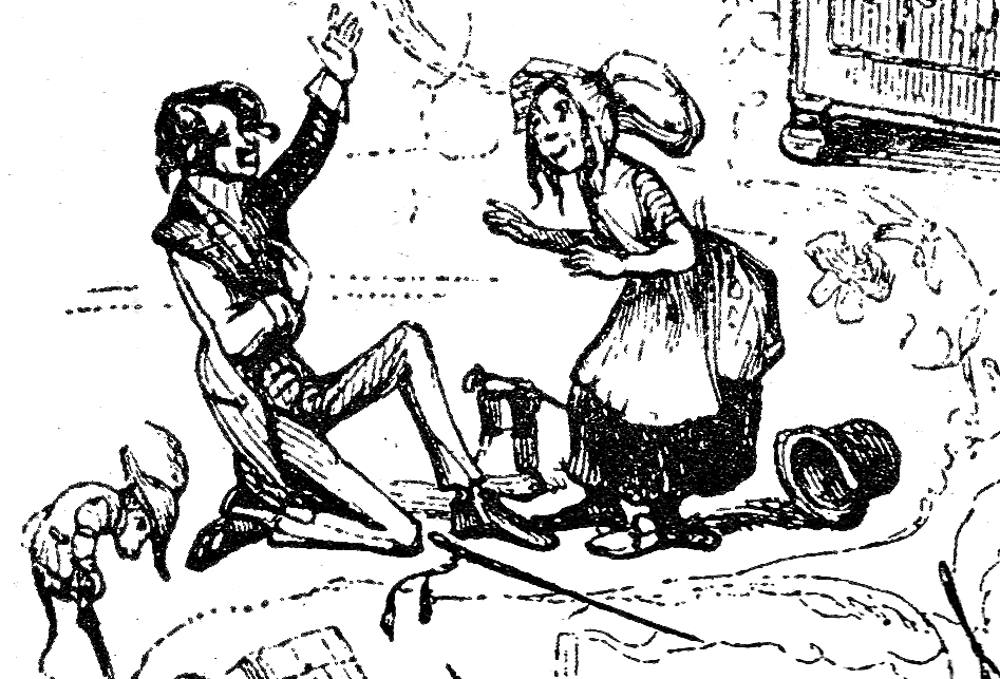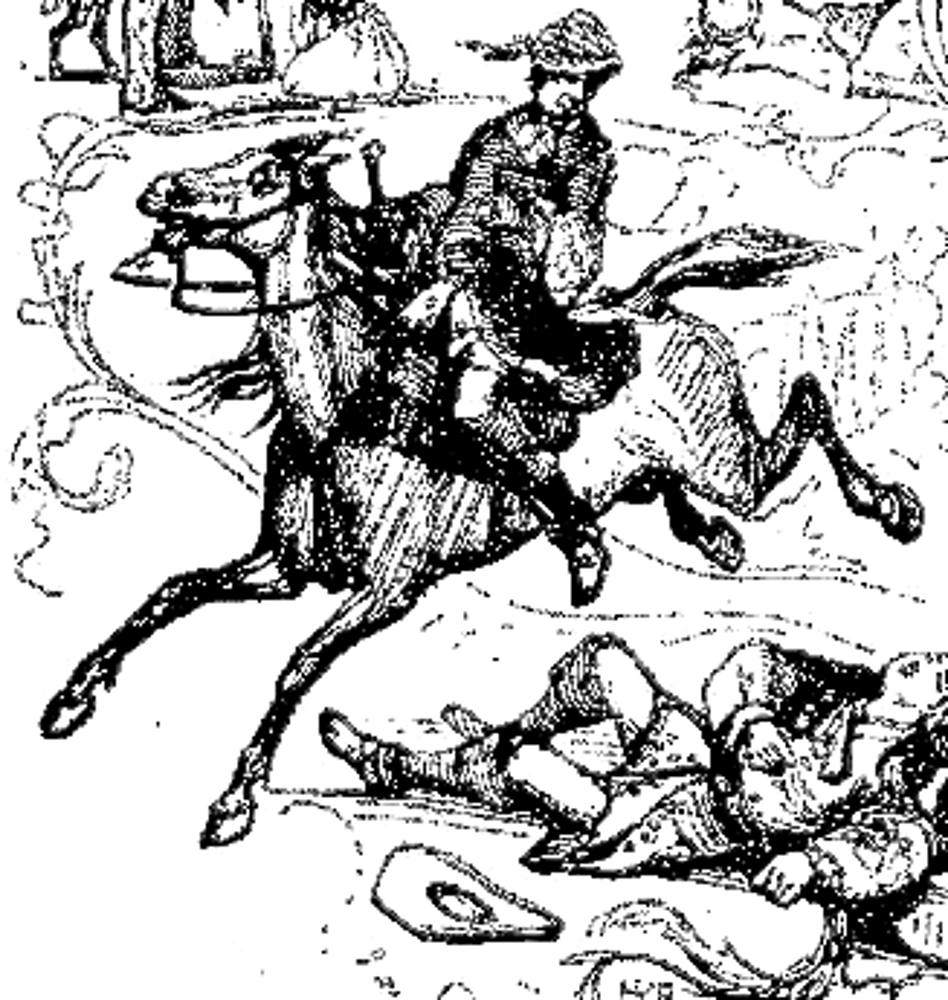 Left: This comic scene involving the Marchioness and Dick Swiveller depicts a moment that Dickens does not dramatise, Dick Swiveller proposes marriage to The Marchioness, but reflects their images in such scenes as TheMarchioness playing Cards, Chapter LVII, for Part 34 of Master Humphrey's Clock (5 December 1840). Right: Phiz's detailed design implies that he knew about the opening action of Dickens's second novel in the miscellany, for he integrated this anticipated scene of Edward Chester's assault even as he reflected on incidents in the first novel. This vignette significantly anticipates the action of the next novel, foreshadowing Old Rudge's assault on young Chester in the opening chapters of Barnaby Rudge (20 February 1841).
Bibliographical Note on the "Three Volumes in Two"
The composition of the 1849 two-volume edition is somewhat confusing since the page numbering and frontispieces indicate that there are three volumes, not two.
Master Humphrey's Clock. Illustrated by George Cattermole and Hablot Browne. First Edition. Hardcover. Chapman and Hall, 1841. Half-leather with marbled boards, gilt tooling and raised bands on spine. Three volumes published as two. Vol. 1: The Old Curiosity Shop (MDCCCXL), pp. iii-306. Vol. II (in the first bound volume): The Old Curiosity Shop, pp. 1-228. Bound as a second volume: Barnaby Rudge, pp. iv-306. Numbering then begins again as the start of Vol. III at Chapter the Thirteenth, pp. 1-426.
Scanned images and texts by Philip V. Allingham. [You may use this image without prior permission for any scholarly or educational purpose, as long as you (1) credit the person who scanned the image, and (2) link your document to this URL in a web document or cite the Victorian Web in a print one.]
Related Resources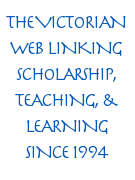 Bibliography
Dickens, Charles. The Old Curiosity Shop in Master Humphrey's Clock. Illustrated by Phiz, George Cattermole, Samuel Williams, and Daniel Maclise. 3 vols. London: Chapman and Hall, 1841. II./p>
Steig, Michael. Chapter 3. "From Caricature to Progress: Master Humphrey's Clock to Martin Chuzzlewit." Dickens and Phiz. Bloomington & London: Indiana U. P., 1978. 53-85.
---

Victorian
Web

Illustration

Phiz

Old Curi-
sity Shop

Next
Last modified 16 November 2020