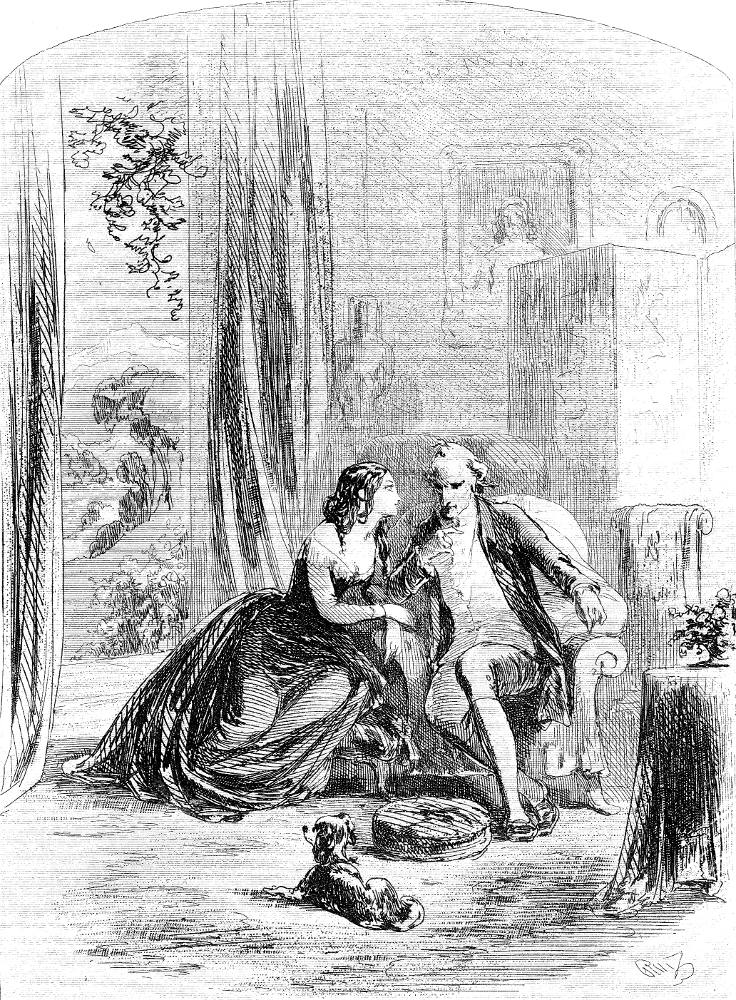 An Evening Scene
Phiz
Dalziel
November 1848
Steel-engraving, dark plate, facing p. 220.
12 cm high by 8.8 cm wide (4 ¾ by 3 and 7/16 inches), framed.
Fifteenth illustration for Roland Cashel, published serially by Chapman and Hall (1848-49).
Scanned image and text by Philip V. Allingham.
[You may use these images without prior permission for any scholarly or educational purpose as long as you (1) credit the photographer and (2) link your document to this URL in a web document or cite the Victorian Web in a print one.]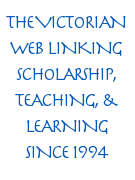 Passage Illustrated: Another Confidential Scene between Corrigan and Mary Leicester
In a large and well furnished drawing-room, where a single lamp was shining, sat an old man in an easy-chair, his features, his attitude, and his whole bearing indicating the traces of recent illness. Beside him, on a low stool almost at his feet, was a young girl of singular beauty, — the plastic grace of her figure, the easy motion of the head, as from time to time she raised it to throw upwards a look of affectionate reverence, and the long, loose masses of her hair, which, accidentally unfastened, fell on either shoulder, making rather one of those ideals which a Raphael can conceive than a mere creature of every-day existence. Although late autumn, the windows lay open to the ground, for, as yet, no touch of coming winter had visited this secluded and favored spot. In the still quiet of the night, her voice, for she alone spoke, could be heard; at first, the mere murmur of the accents reached Linton's ears, but even from them he could gather the tone of cheering and encouragement in which she spoke. At length he heard her say, in a voice of almost tremulous enthusiasm, "It was so like you, dear papa, not to tell this Mr. Cashel that you had yourself a claim, and, as many think, a rightful one, to this same estate, and thus not trouble the stream of his munificence."
"Nay, child, it had been as impolitic as unworthy to do so," said the old man; "he who stoops to receive a favour should detract nothing from the generous sentiment of the granter."
"For my part, I would tell him," said she, eagerly, "that his noble conduct has forever barred my prosecuting such a claim, and that if, to-morrow, the fairest proofs of my right should reach me, I'd throw them in the fire." [Chapter XXIII, "Linton visits his Estate," 220]
Commentary: Linton overhears the Grandfather and Grand-daughter at Tubber-beg
Although Lever specifically develops the dialogue at Corrigan's small estate of Tubber-beg from the perspective of the unseen eavesdropper, Phiz leaves the French-doors to the porch beyond clear. Linton must be just out of sight if he is positioned to listen to this conversation between old Corrigan and his grand-daughter, Mary Leicester, about the title to the elegantly maintained cottage and surrounding gardens. The scene reiterates the possible existence of century-old documents that may well return the Cashel estates to Corrigan, whose family claim to the property was originally set aside in the early eighteenth century. This missing and now suddenly found deed, duly signed and sealed, is the subject of a subsequent illustration, The Discovery, in Chapter Thirty.
Bibliography
Lever, Charles. Roland Cashel. With 39 illustrations and engraved title-vignette by Phiz. London: Chapman & Hall, 1850.
Lever, Charles. Roland Cashel. Illustrated by Phiz [Hablot Knight Browne]. Novels and Romances of Charles Lever. Vols. I and II. In two volumes. Boston: Little, Brown, 1907. Project Gutenberg. Last Updated: 19 August 2010.
Steig, Michael. Chapter One, "Illustration, Collaboration, and Iconography." Dickens and Phiz. Bloomington: Indiana U. P., 1978. Pp. 1-23.
---

Victorian
Web

Illustra-
tion

Phiz

Roland
Cashel

Next
Created 29 December 2022