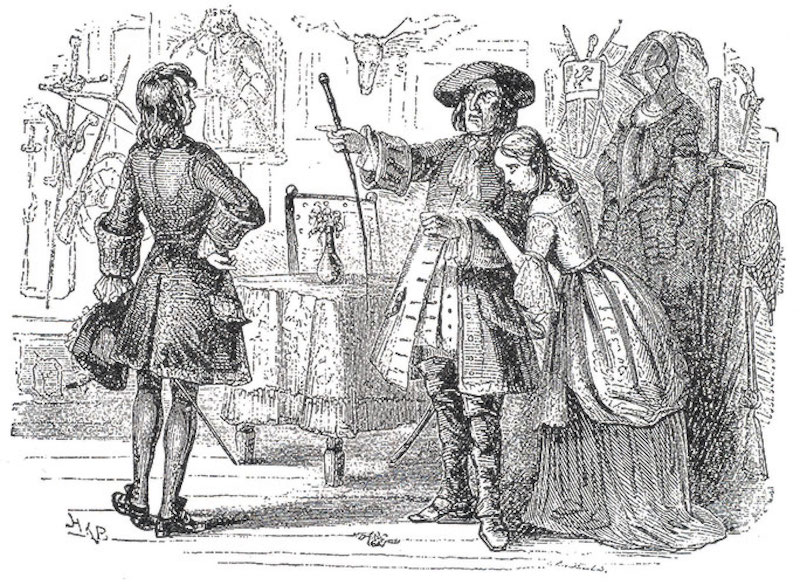 Mr. Haredale Interrupts the Lovers — Headpiece for Chap. XIV; eleventh regular plate by Hablot Knight Browne (Phiz). 3 April 1841 (instalment 8). Wood engraving, 3 ¾ x 4 ½ inches (5.7 cm high by x 11.7 cm wide), vignetted. This fifteenth illustration also marks the opening of the third monthly number of Dickens's Barnaby Rudge in Volume Three of Master Humphrey's Clock (originally Part 51). The 1849 Bradbury and Evans two-volume edition: head of 10. Running Head: "Master Humphrey's Clock" (11). [Click on the images to enlarge them.]
Context of the Illustration: Mr. Haredale interrupts the Lovers' Interview
Almost at the same instant a heavy hand was laid upon her arm, Edward felt himself thrust away, and Mr. Haredale stood between them.
He regarded the young man sternly without removing his hat; with one hand clasped his niece, and with the other, in which he held his riding-whip, motioned him towards the door. The young man drew himself up, and returned his gaze.
"This is well done of you, sir, to corrupt my servants, and enter my house unbidden and in secret, like a thief!" said Mr Haredale. "Leave it, sir, and return no more."
"Miss Haredale's presence," returned the young man, "and your relationship to her, give you a licence which, if you are a brave man, you will not abuse. You have compelled me to this course, and the fault is yours — not mine."
"It is neither generous, nor honourable, nor the act of a true man to play the spy," said Edward. "Your words imply dishonour, and I reject them with the scorn they merit."
"You will find" said Mr. Haredale, calmly, "your trusty go-between in waiting at the gate by which you entered. I have played no spy's part, sir. I chanced to see you pass the gate, and followed. You might have heard me knocking for admission, had you been less swift of foot, or lingered in the garden. Please to withdraw. Your presence here is offensive to me and distressful to my niece." As he said these words, he passed his arm about the waist of the terrified and weeping girl, and drew her closer to him; and though the habitual severity of his manner was scarcely changed, there was yet apparent in the action an air of kindness and sympathy for her distress.
"Mr. Haredale," said Edward, "your arm encircles her on whom I have set my every hope and thought, and to purchase one minute's happiness for whom I would gladly lay down my life; this house is the casket that holds the precious jewel of my existence. Your niece has plighted her faith to me, and I have plighted mine to her. What have I done that you should hold me in this light esteem, and give me these discourteous words?"
"You have done that, sir," answered Mr. Haredale, "which must be undone. You have tied a lover's-knot here which must be cut asunder. Take good heed of what I say. Must. I cancel the bond between ye. I reject you, and all of your kith and kin — all the false, hollow, heartless stock."
"High words, sir," said Edward, scornfully. [Chapter the Fourteenth, Vol. III, 10-11]
Commentary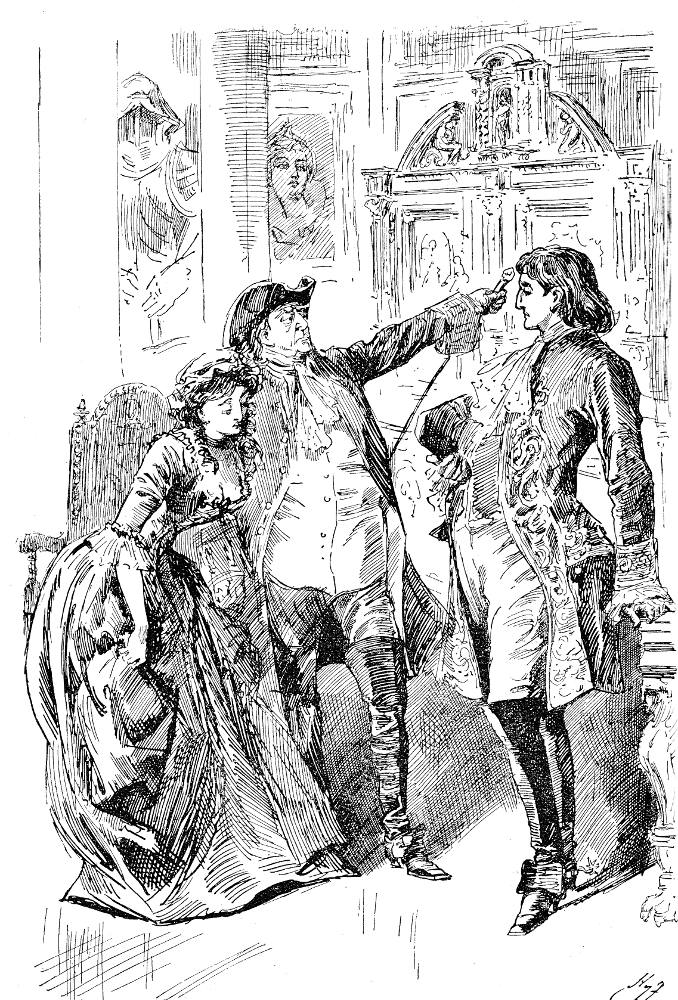 Harry Furniss's version of the guardian's confronting the lover: Mr. Harefield dismisses Edward (1910).
Phiz has utilized Dickens's description of the setting, the long gallery of the Haredale mansion, in considerable deyail: "an old and gloomy hall, whose walls were ornamented with rusty suits of armour, antlers, weapons of the chase, and suchlike garniture" (10), so that the reader encounters Dickens's description and Phiz's realisation of it almost simultaneously. Indeed, throughout the interview the reader has his or her eye constantly on the illustration. A funereal suit of fifteenth-century armour (right) seems to suggest that Haredale is supporting the honour of his house and ancestors as he gestures with his riding-crop, symbol of his aristocratic authority. Nothing daunted by the command to quit the premises, young Edward Chester hauntily places his hand on his hip in defiance. The weapons behind him may imply that this confrontation may go beyond mere words. Emma clings to her uncle for support, "terrified and weeping," but is not entirely the "weak and trusting girl" that her uncle believes her to be. In this Romeo-and-Juliet dispute between the two aristocratic houses Mr. Haredale has underestimated his niece — and Phiz's description of her submissiveness here is somewhat misleading.
Related Material including Other Illustrated Editions of
Barnaby Rudge
Scanned image and text by Philip V. Allingham. [You may use this image without prior permission for any scholarly or educational purpose as long as you (1) credit the person who scanned the image and (2) link your document to this URL in a web document or cite the Victorian Web in a print one.]
Bibliography
Dickens, Charles. Barnaby Rudge. Illustrated by Hablot K. Browne ('Phiz') and George Cattermole. London: Chapman and Hall, 1841; rpt., Bradbury & Evans, 1849.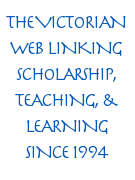 ________. Barnaby Rudge. Illustrated by Harry Furniss. The Charles Dickens Library Edition. London: Educational Book Company, 1910. VI.
Hammerton, J. A. "Ch. XIV. Barnaby Rudge." The Dickens Picture-Book. The Charles Dickens Library Edition, illustrated by Harry Furniss. London: Educational Book Co., 1910. 213-55.
Vann, J. Don. "Charles Dickens. Barnaby Rudge in Master Humphrey's Clock, 13 February-27 November 1841." New York: MLA, 1985. 65-66.
---
Created 5 July 2002

Last modified 3 December 2020