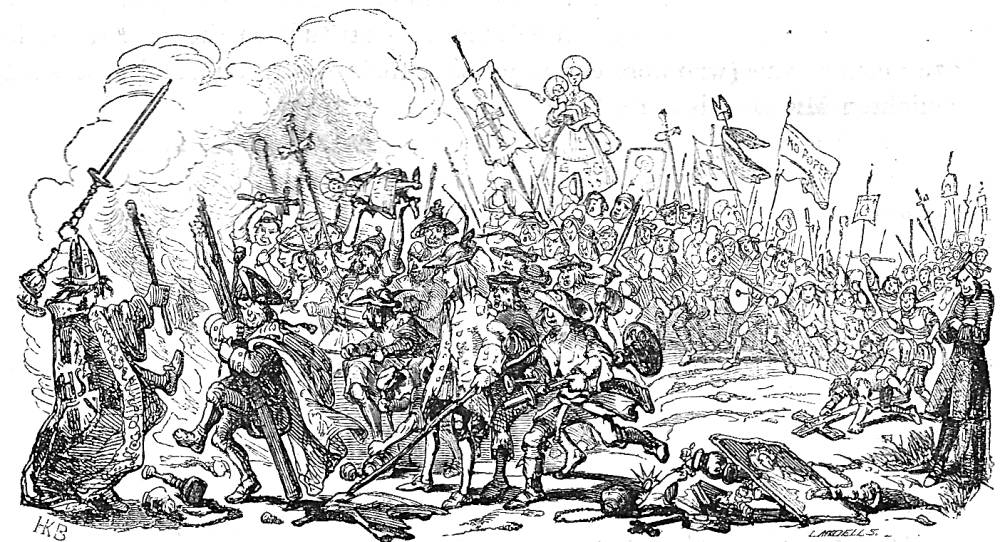 The Rioters and Their Spoils from instalment 27 (14 August 1841), and published by Bradbury and Evans in volume form in 1849. 2 ½ x 4 ½ inches (6 cm high by 11.6 cm wide), vignetted, from instalment 70 in Master Humphrey's Clock; composite woodblock engraving dropped into text: forty-ninth illustration in the series for Dickens's Barnaby Rudge, Chapter the Fifty-second, 240. [Click on images to enlarge them.]
Passage Illustrated: The Gordon Riots of 1780
Beginning with the private houses so occupied, they broke open the doors and windows; and while they destroyed the furniture and left but the bare walls, made a sharp search for tools and engines of destruction, such as hammers, pokers, axes, saws, and such like instruments. Many of the rioters made belts of cord, of handkerchiefs, or any material they found at hand, and wore these weapons as openly as pioneers upon a field-day. There was not the least disguise or concealment—indeed, on this night, very little excitement or hurry. From the chapels, they tore down and took away the very altars, benches, pulpits, pews, and flooring; from the dwelling-houses, the very wainscoting and stairs. This Sunday evening's recreation they pursued like mere workmen who had a certain task to do, and did it. Fifty resolute men might have turned them at any moment; a single company of soldiers could have scattered them like dust; but no man interposed, no authority restrained them, and, except by the terrified persons who fled from their approach, they were as little heeded as if they were pursuing their lawful occupations with the utmost sobriety and good conduct.
In the same manner, they marched to the place of rendezvous agreed upon, made great fires in the fields, and reserving the most valuable of their spoils, burnt the rest. Priestly garments, images of saints, rich stuffs and ornaments, altar-furniture and household goods, were cast into the flames, and shed a glare on the whole country round; but they danced and howled, and roared about these fires till they were tired, and were never for an instant checked.
As the main body filed off from this scene of action, and passed down Welbeck Street, they came upon Gashford, who had been a witness of their proceedings, and was walking stealthily along the pavement. [Chapter LII, 239-40]
Commentary: The Vulgus Mobile Pillages Catholic Chapels in the Metropolis
Phiz uses the generalised scene of mob violence, playfulness, and wide-scale vandalism to introduce Gashford's scheme to punish Geoffrey Haredale for his vocal opposition to Lord George Gordon, and to intimidate him and any other witnesses who might come forward to offer testimony in court against the rioters. Mob scenes seem to have had a special attraction for Phiz, perhaps because he seems to have been fascinated by the singular psychology of a mob in which an emotion blows through all the figures like a prevailing wind, which is the wind of history. Among the story's principal characters we note Gashford, studying the situation from the right-hand margin, and the central figures of Barnaby with the Gordon standard, and, immediately behind him, Ned Dennis, the hangman. Phiz incorporates a considerable amount of Catholic paraphernalia, including vestments and crucifixes, looted from the city's Catholic chapeks.
Several other examples of how Phiz in working for Dickens and other novelists conveyed a sense of mob solidarity, uniform reaction by a disparate group include such Tale of Two Cities illustrations as The Likeness (July 1859) and The Sea Rises (October 1859) and Dunn addressing the Mob in Charles Lever's Davenport Dunn (May 1858). Phiz composed a similar kind of scene, with Steerforth as a rebel leader in Steerforth and Mr. Mell (July 1849).
Relevant Illustration from the 1874 Household Edition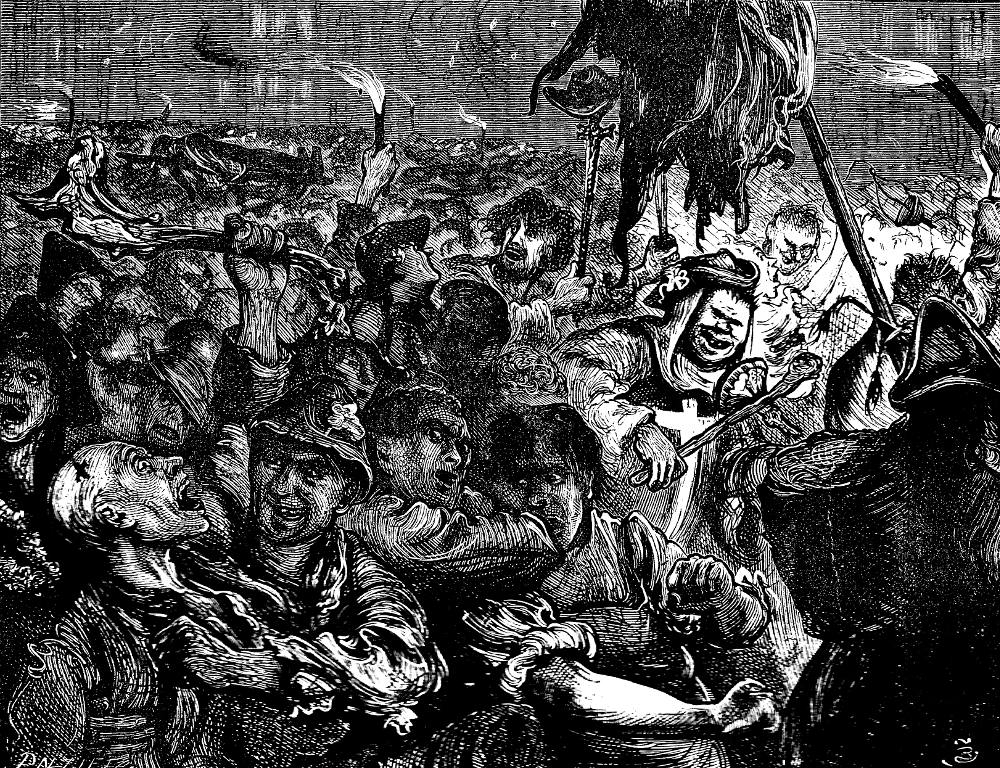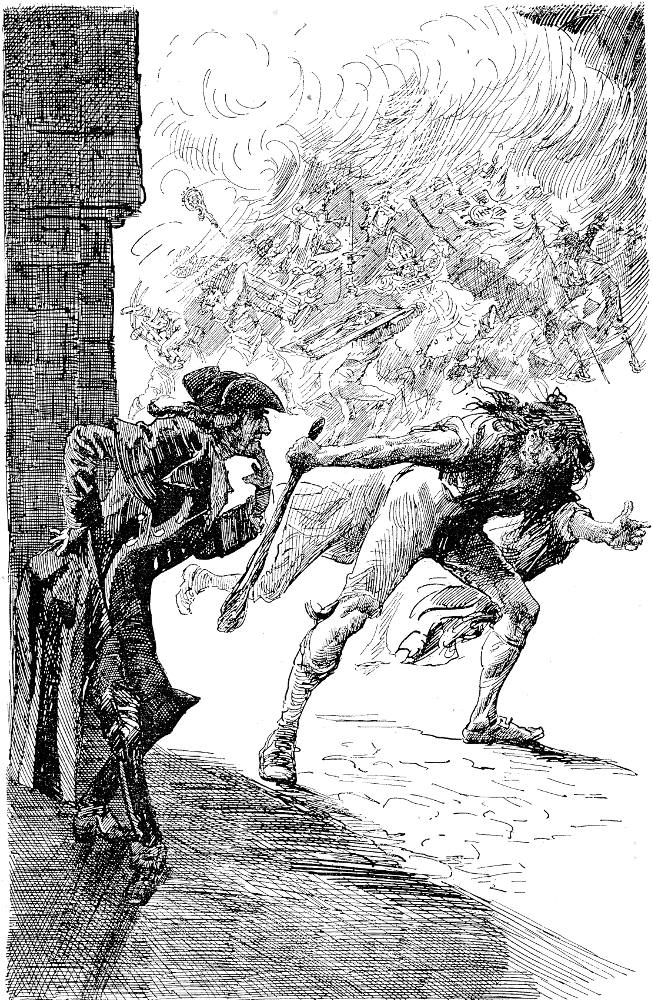 Left: Barnard describes the action of the mob in a dark plate: It flitted onward, and was gone (Chapter LI). Right: Harry Furniss's depiction of Gashford instructing Hugh to destroy The Warren: Gashford's Advice to Hugh (1910).
Related Material including Other Illustrated Editions of
Barnaby Rudge
Scanned image and text by Philip V. Allingham. [You may use this image without prior permission for any scholarly or educational purpose as long as you (1) credit the person who scanned the image and (2) link your document to this URL in a web document or cite the Victorian Web in a print one.]
Bibliography
Dickens, Charles. Barnaby Rudge. Illustrated by Hablot K. Browne ('Phiz') and George Cattermole. London: Chapman and Hall, 1841; rpt., Bradbury & Evans, 1849.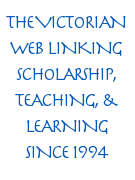 ________. Barnaby Rudge — A Tale of the Riots of 'Eighty. Illustrated by Fred Barnard. The Household Edition. 22 vols. London: Chapman and Hall, 1874. VII.
Hammerton, J. A. "Ch. XIV. Barnaby Rudge." The Dickens Picture-Book. The Charles Dickens Library Edition, illustrated by Harry Furniss. London: Educational Book Co., 1910. 213-55.
Vann, J. Don. "Charles Dickens. Barnaby Rudge in Master Humphrey's Clock, 13 February-27 November 1841." New York: MLA, 1985. 65-66.
---
Created 29 March 2019

Last modified 17 December 2020