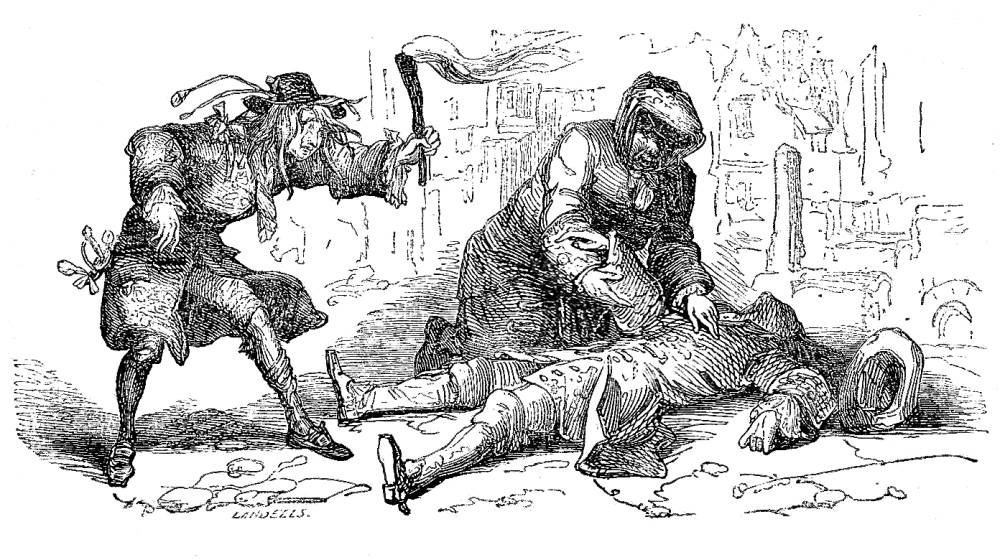 Succouring the Wounded — fourth illustration for the novel, tailpiece for Chap. III, by Hablot Knight Browne (Phiz). 27 February 1841 (instalment 3). 2 ¼ x 4 ½ inches (5.8 cm by 11.5 cm), vignetted, from instalment 46 in Master Humphrey's Clock, and published in Dickens's Barnaby Rudge in the 1849 Bradbury and Evans two-volume edition: 252. Running head: "Master Humphrey's Clock" (252). [Click on the images to enlarge them.]
Context of the Illustration: A Body found in the Street
"Oh!" said the old man, bending over the body and looking round as he spoke into Barnaby's pale face, strangely lighted up by something that was NOT intellect. "The robber made off that way, did he? Well, well, never mind that just now. Hold your torch this way — a little farther off — so. Now stand quiet, while I try to see what harm is done."
With these words, he applied himself to a closer examination of the prostrate form, while Barnaby, holding the torch as he had been directed, looked on in silence, fascinated by interest or curiosity, but repelled nevertheless by some strong and secret horror which convulsed him in every nerve.
As he stood, at that moment, half shrinking back and half bending forward, both his face and figure were full in the strong glare of the link, and as distinctly revealed as though it had been broad day. He was about three-and-twenty years old, and though rather spare, of a fair height and strong make. His hair, of which he had a great profusion, was red, and hanging in disorder about his face and shoulders, gave to his restless looks an expression quite unearthly — enhanced by the paleness of his complexion, and the glassy lustre of his large protruding eyes. Startling as his aspect was, the features were good, and there was something even plaintive in his wan and haggard aspect. But, the absence of the soul is far more terrible in a living man than in a dead one; and in this unfortunate being its noblest powers were wanting. [Chapter the Third, 251]
Relevant Illustrations from the Household and Charles Dickens Library Editions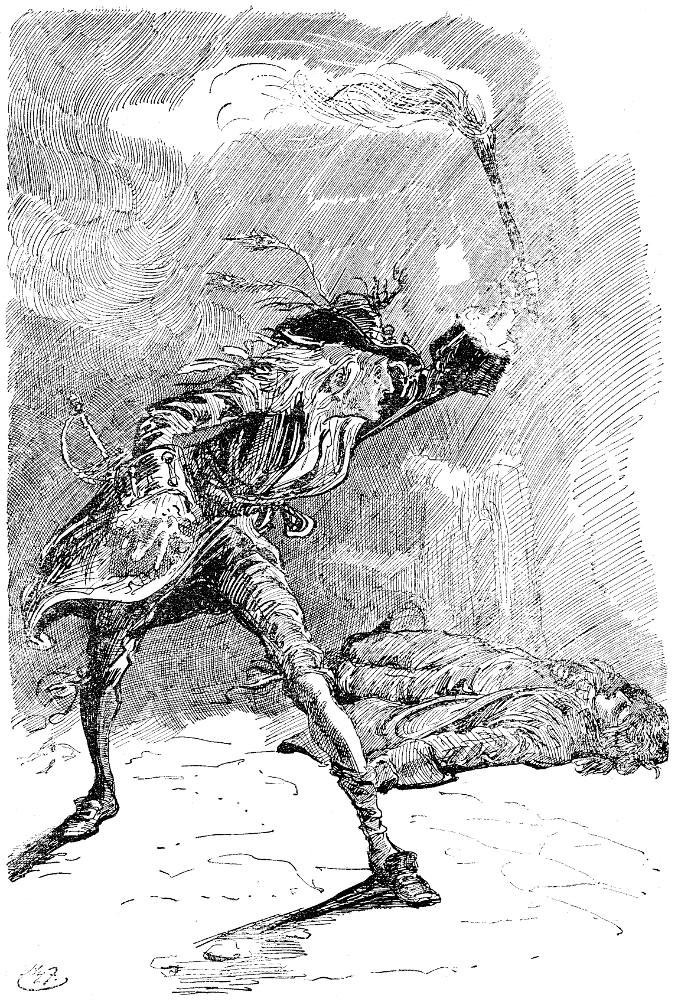 Left: Fred Barnard's melodramatic revision of the same scene focuses on the torch-bearer rather than the victim: "I can't touch him!" cried the idiot, falling back, and shuddering as with a strong spasm; "He's bloody!" (1874). Right: Harry Furniss's version of the same scene foregrounds the torch-bearer and minimizes the victim: Barnaby finds Edward (1910).
Related Material including Other Illustrated Editions of
Barnaby Rudge
Scanned image and text by Philip V. Allingham. [You may use this image without prior permission for any scholarly or educational purpose as long as you (1) credit the person who scanned the image, and (2) link your document to this URL in a web document or cite the Victorian Web in a print one.]
Bibliography
Dickens, Charles. Barnaby Rudge in Master Humphrey's Clock. Illustrated by Phiz and George Cattermole. 3 vols. London: Chapman and Hall, 1841; rpt., Bradbury and Evans, 1849.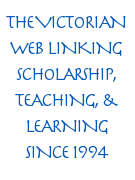 _______. Barnaby Rudge. Illustrated by A. H. Buckland. London and Glasgow: Collins Clear-type Press. 1900.
_______. Barnaby Rudge. Illustrated by Harry Furniss. The Charles Dickens Library Edition. Ed. J. A. Hammerton. 18 vols. London: Educational Book Company, 1910. VI.
Hammerton, J. A. "Ch. XIV. Barnaby Rudge." The Dickens Picture-Book. The Charles Dickens Library Edition, illustrated by Harry Furniss. London: Educational Book Co., 1910. 213-55.
Vann, J. Don. "Charles Dickens. Barnaby Rudge in Master Humphrey's Clock, 13 February-27 November 1841." New York: MLA, 1985. 65-66.
---
Last modified 25 December 2020