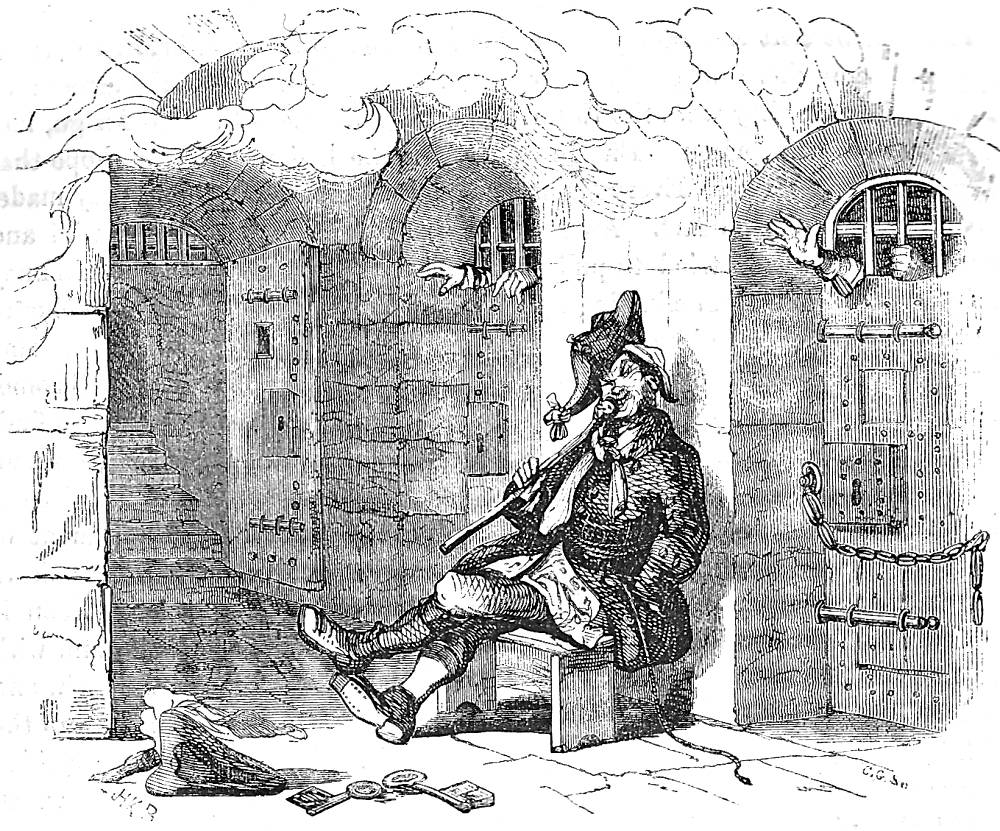 The Hangman's Badinage from instalment 34 (2 October 1841) in Master Humphrey's Clock (Part 77), and published by Bradbury and Evans in volume form in 1849. 3 ¾ x 4 ½ inches (9.5 cm high by 11.7 cm wide), vignetted; composite woodblock engraving dropped into text: sixty-first illustration in the series for Dickens's Barnaby Rudge, Chapter the Sixty-fifth, 313. [Click on the image to enlarge it.]
Passage Illustrated: Ned Dennis and the Four Unlucky Prisoners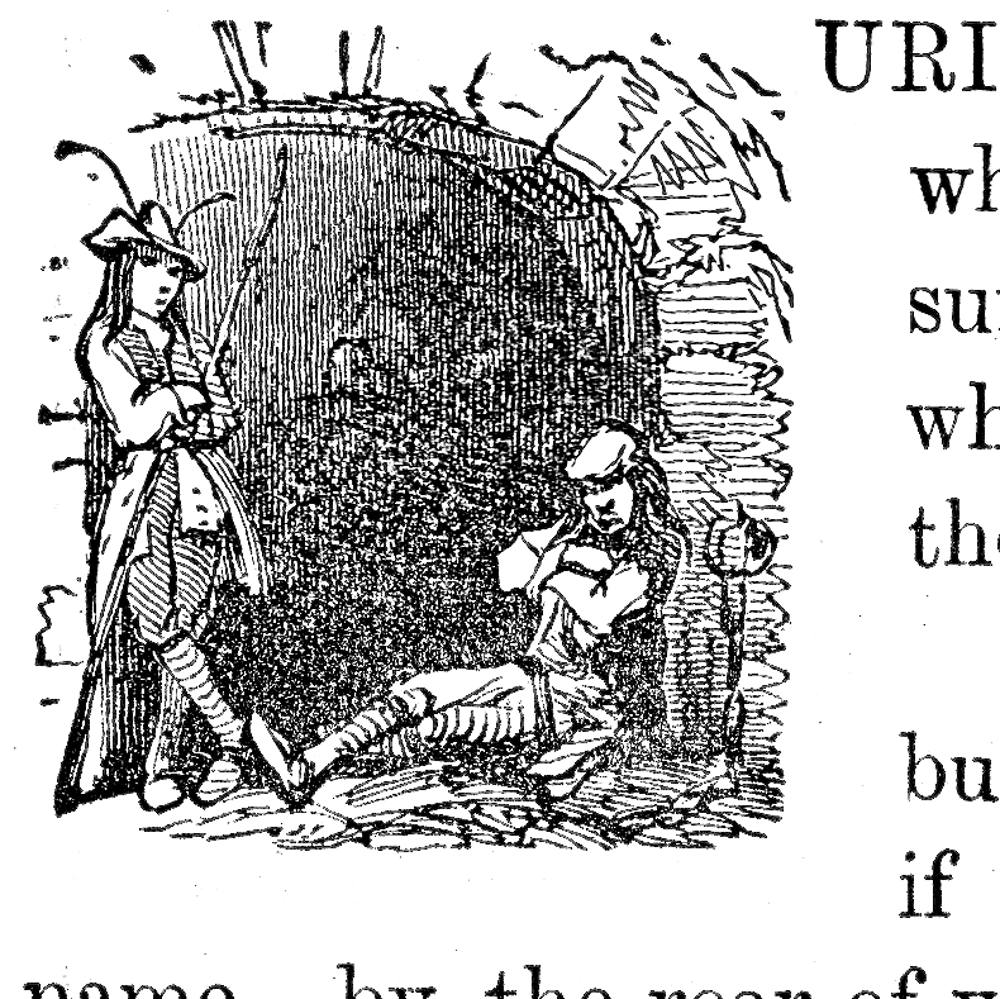 Left: Phiz's ornamental initial letter "D": Barnaby and his father at the cell door.
"You've had law," he said, crossing his legs and elevating his eyebrows: "laws have been made a' purpose for you; a wery handsome prison's been made a' purpose for you; a parson's kept a purpose for you; a constitootional officer's appointed a' purpose for you; carts is maintained a' purpose for you — and yet you're not contented! — Will you hold that noise, you sir in the furthest?"
A groan was the only answer.
"So well as I can make out," said Mr. Dennis, in a tone of mingled badinage and remonstrance, "there's not a man among you. I begin to think I'm on the opposite side, and among the ladies; though for the matter of that, I've seen a many ladies face it out, in a manner that did honour to the sex.—You in number two, don't grind them teeth of yours. Worse manners," said the hangman, rapping at the door with his stick, "I never see in this place afore. I'm ashamed of you. You're a disgrace to the Bailey."
After pausing for a moment to hear if anything could be pleaded in justification, Mr. Dennis resumed in a sort of coaxing tone:
"Now look'ee here, you four. I'm come here to take care of you, and see that you an't burnt, instead of the other thing. It's no use your making any noise, for you won't be found out by them as has broken in, and you'll only be hoarse when you come to the speeches, — which is a pity. What I say in respect to the speeches always is, 'Give it mouth.' That's my maxim. Give it mouth. I've heerd," said the hangman, pulling off his hat to take his handkerchief from the crown and wipe his face, and then putting it on again a little more on one side than before, "I've heerd a eloquence on them boards — you know what boards I mean — and have heerd a degree of mouth given to them speeches, that they was as clear as a bell, and as good as a play. There's a pattern! And always, when a thing of this natur's to come off, what I stand up for, is, a proper frame of mind. Let's have a proper frame of mind, and we can go through with it, creditable — pleasant — sociable. Whatever you do (and I address myself in particular, to you in the furthest), never snivel. I'd sooner by half, though I lose by it, see a man tear his clothes a' purpose to spile 'em before they come to me, than find him snivelling. It's ten to one a better frame of mind, every way!" [Chapter the Sixty-fifth, 317]
Commentary
Although he is one of Lord Gordon's chief leaders, the public hangman, Ned Dennis, does not want to release the four prisoners in Newgate's condemned cells. In fact, he is genuinely looking forward to "working them off" in the next few days. Ironically, he believes that he can be both a leader of the insurgents and a functionary of the state.
Related Material including Other Illustrated Editions of
Barnaby Rudge
Scanned image and text by Philip V. Allingham. [You may use this image without prior permission for any scholarly or educational purpose as long as you (1) credit the person who scanned the image and (2) link your document to this URL in a web document or cite the Victorian Web in a print one.]
Bibliography
Dickens, Charles. Barnaby Rudge. Illustrated by Hablot K. Browne ('Phiz') and George Cattermole. London: Chapman and Hall, 1841; rpt., Bradbury & Evans, 1849.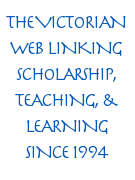 Hammerton, J. A. "Ch. XIV. Barnaby Rudge." The Dickens Picture-Book. The Charles Dickens Library Edition, illustrated by Harry Furniss. London: Educational Book Co., 1910. 213-55.
Steig, Michael. Chapter 3. "From Caricature to Progress: Master Humphrey's Clock to Martin Chuzzlewit." Dickens and Phiz. Bloomington & London: Indiana U. P., 1978. 53-85.
Vann, J. Don. "Charles Dickens. Barnaby Rudge in Master Humphrey's Clock, 13 February-27 November 1841." New York: MLA, 1985. 65-66.
---
Created 29 March 2020

Last modified 25 December 2020