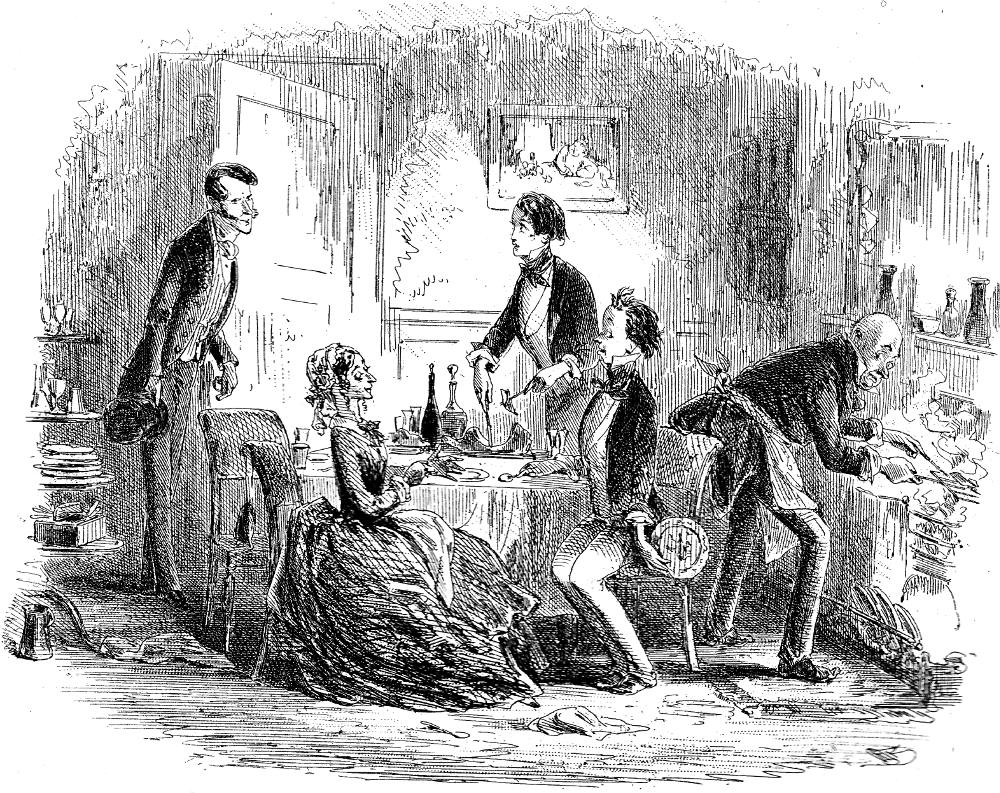 We are disturbed in our cookery by Phiz (Hablot K. Browne). February 1850. Steel etching. Illustration for chapter 28, "Mr. Micawber's Gauntlet," in Charles Dickens's David Copperfield. Source: Centenary Edition (1911), volume one. Image scan and text by Philip V. Allingham. [You may use this image without prior permission for any scholarly or educational purpose as long as you (1) credit the person who scanned the image and (2) link your document to this URL.]
Commentary
For the first illustration in the tenth monthly part, February 1850, Phiz finally introduces Steerforth's "gentleman's gentleman," Lattimer, and Mrs. Micawber, reintroducing the wild-haired Tommy Traddles and the ebullient and irrepressible Wilkins Micawber. According to J. A. Hammerton (1910), the textual passage realized being this:
I am ashamed to record it, but I really believe I forgot Dora for a little while. I am satisfied that Mr. and Mrs. Micawber could not have enjoyed the feast more, if they had sold a bed to provide it. Traddles laughed as heartily, almost the whole time, as he ate and worked. Indeed we all did, all at once; and I dare say there never was a greater success.
We were at the height of our enjoyment, and were all busily engaged, in our several departments, endeavouring to bring the last batch of slices to a state of perfection that should crown the feast, when I was aware of a strange presence in the room, and my eyes encountered those of Lattimer, standing hat in hand before me. [496]
The February 1850 instalment, comprising chapters 28 through 31, contains contrasting illustrations, the comic "We are disturbed in our cookery" (ch. 28) and the serious "I find Mr. Barkis going out with the tide" (ch. 30). The plate by implication continues the story of Emily, for the oily Lattimer has called upon David in his Adelphi rooms to enquire after his young master's whereabouts; "only the rather comical print of Damocles with his sword about to descend hints at the impending disaster of Emily's flight with Steerforth" (Steig 126). The motif of the sword poised to drop may equally apply to the Micawbers, whose milk and water are both about to be terminated for non -payment of accumulated bills.
The moment that Phiz has chosen for realisation is the sort of situational comedy he relished: the "staid," judgmental Lattimer discovers the dinner guests having to cook slabs of lamb on a gridiron because David's housekeeper, Mrs. Crupp, has not sufficiently cooked the joint. David, upwardly mobile in terms of his class status, is embarrassed by the unexpected appearance of his upper-class idol Steerforth's confidential servant. The picture of Micawber's furiously cooking (right) and waiting on the others has a less comic import in that it implies what the marriage of pampered Dora and serviceable David (here, carving for the guests) may come to. We see Dora foreshadowed in the useless figure of Mrs. Micawber, pregnant yet again despite her age, and David years hence in her hapless, apron-wearing husband, by whose drudgery she lives without having to lift a hand herself. Traddles, unable to afford a domestic establishment for the tenth daughter of a Devonshire curate and making his motto "Wait and hope" (485), presents another potential future for David: enforced and protracted celibacy. Such a barren existence, however, would seem preferable to the constant burden of debt — "some temporary embarrassments of a pecuniary nature" (489), as Micawber is wont to remark.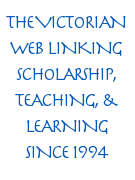 References
Dickens, Charles. The Personal History of David Copperfield, il. Hablot Knight Browne ("Phiz"). The Centenary Edition. London & New York: Chapman & Hall, Charles Scribner's Sons, 1911.
Hammerton, J. A., ed. The Dickens Picture-Book: A Record of the the Dickens Illustrations. London: Educational Book, 1910.
Steig, Michael. Dickens and Phiz. Bloomington & London: Indiana U.P., 1978.
---
Last modified 25 December 2009