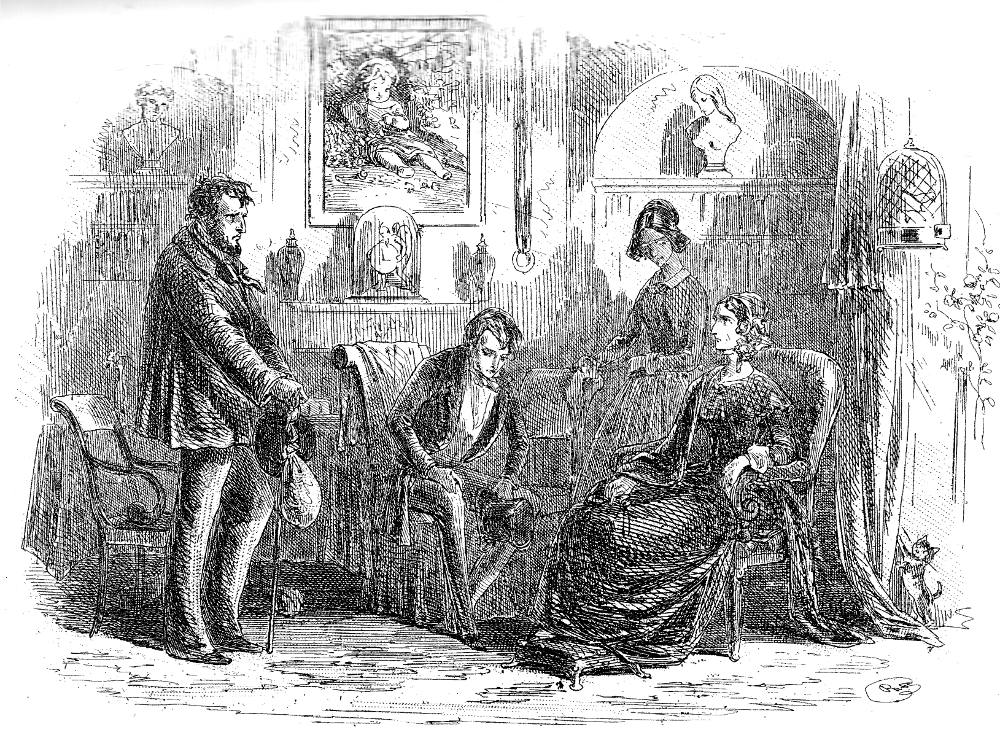 Mr. Peggotty and Mrs. Steerforth by Phiz (Hablot K. Browne). March 1850. Steel etching. Illustration for chapter 32, "The Beginning of a Long Journey," in Charles Dickens's David Copperfield. Source: Centenary Edition (1911), volume two. Image scan and text by Philip V. Allingham. [You may use this image without prior permission for any scholarly or educational purpose as long as you (1) credit the person who scanned the image and (2) link your document to this URL.]
Commentary
For the first illustration in the eleventh monthly number, March 1850, comprising chapters 32 through 34, Phiz and Dickens bring together — one might say, into collision — the novel's chief parental figures who span the extended Victorian middle class: lower-middle class Dan'l Peggotty and upper-middle class Mrs. Steerforth at the latter's drawing-room. According to J. A. Hammerton (1910), the textual passage realized is this:
She sat upright in her arm-chair, with a stately, immoveable, passionless air, that it seemed as if nothing could disturb. She looked very stedfastly at Mr. Peggotty when he stood before her; and he looked quite as stedfastly at her. Rosa Dartle's keen glance comprehended all of us. For some moments not a word was spoken. [vol. 2, 37]
Dickens introduces readers to "the old brick house at Highgate on the summit of the hill" in chapter 20 (November 1849), a slightly dilapidated mansion rising above the noxious vapours of London in the distance and superintended by the "stately" widow. The previous scene occurred in the Steerforths' dining-room, and the focus of David's gaze then had been Rosa Dartle's scar, evidence of James Steerforth's meanness and brutality. Here, Phiz realizes the dramatic confrontation in the drawing room. David's gaze textually is divided between the forthright Mr. Peggotty, a pillar of rectitude in Phiz's illustration, and the afflicted Mrs. Steerforth, regally enthroned, as if reluctantly granting a courtier an audience. Phiz's David looks neither to the right (the enigmatic upper classes) nor the left (the stalwart labouring classes), but, conscious of the part he has unwittingly played in Em'ly's seduction, inward.
Dan'l Peggotty rather than David had proposed the visit to Mrs. Steerforth in order to learn where her son might have taken Em'ly. David had arranged the trip from London by letter earlier that same day. Curiously, the text announces their time of arrival as "two o'clock in the afternoon" (37), but the clock on the mantelpiece behind David shows the beginning of the interview as occurring an hour later. Otherwise, the illustration seems to be a faithful visual adaptation of the text. Dickens stipulates that Mrs. Steerforth is seated in an arm-chair, but does not say where Mr. Peggotty and David are situated in relation to the lady; in particular, although Dickens indicates Rosa Dartle's position as being behind Mrs. Steerforth's arm-chair, he does not indicate David's position relative to the others. Crucially, then, Phiz has placed David in the middle of the scene with the principals to the extreme right (Mrs. Steerforth) and extreme left (Dan'l Peggotty), their poses being complementary. Phiz positions David in the centre, hat in hand, not to describe the protagonist's egocentricity but to emphasize how David feels caught in the middle, appreciating the feelings of both distraught parents. Sympathizing with Mrs. Steerforth because he still loves her son, though not as uncritically as before, David is Mr. Peggotty's companion and support, just as Rosa Dartle is Mrs. Steerforth's. Regarding Steerforth's abduction of Em'ly as a violation of his friendship, David silently commiserates with Dan'l Peggotty, a parent determined to rescue his adopted daughter from a life of disgrace and exploitation. Having just experienced the death of Barkis, David has in essence now suffered a second death, the extinguishing of Steerforth as his male role model. David in he illustration is devastated by the realisation that his idol has feet of clay, although he apprehends Steerforth's fallibility earlier in the chapter, when Miss Mowcher reveals her role in Steerforth's plot to abscond with Ham's fiancee.
In her physical rigidity, which foreshadows Mrs. Steerforth's refusal even to contemplate permitting her son to marry beneath him socially, she (who does not appear elsewhere in Phiz's narrative-pictorial sequence) reminds the viewer of Jane Murdstone. David, who stands below the painting above the mantelpiece portrsaying James Steerforth as an infant, appears stricken, his intense inner gaze perhaps reflecting his sense of personal responsibility for introducing Steerforth to the Peggottys. David is dressed exactly as in the previous illustration, "I find Mr. Barkis 'going out with the tide'" (February 1850), whereas Dan'l Peggotty, although looking much the same and again in profile, is wearing a travelling jacket rather than a nautical smockfrock. He is a far more serious and less jovial Dan'l Peggotty than the one depicted by Phiz in "I am hospitably received by Mr. Peggotty" (May 1849). Now he is animated by a seriousness of purpose that ennobles and dignifies him, so that he is no longer the two-dimensional "comic man" or jolly tar from the Victorian melodrama.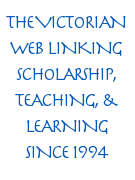 References
Dickens, Charles. The Personal History of David Copperfield, il. Hablot Knight Browne ("Phiz"). The Centenary Edition. London & New York: Chapman & Hall, Charles Scribner's Sons, 1911.
Hammerton, J. A., ed. The Dickens Picture-Book: A Record of the the Dickens Illustrations. London: Educational Book, 1910.
Steig, Michael. Dickens and Phiz. Bloomington & London: Indiana U.P., 1978.
---
Last modified 28 December 2009