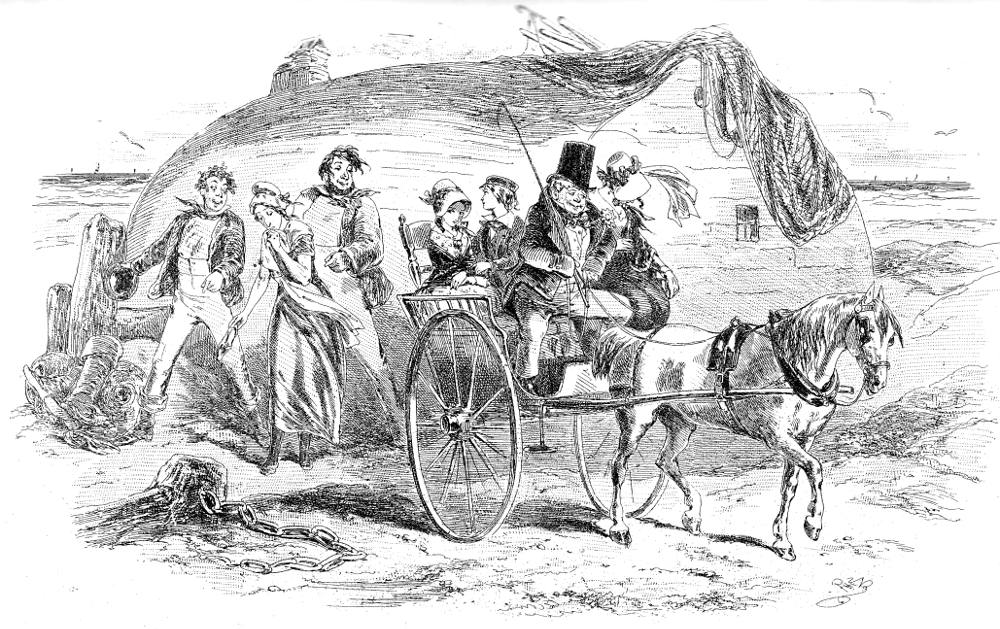 Mrs. Gummidge casts a Damp on our Departure by Phiz (Hablot Knight Browne). August 1849. Steel etching. Illustration for Charles Dickens's David Copperfield Source: Centenary Edition (1911), Volume One; Chapter X, "I Become Neglected, and am Provided for," facing page 174. 10.3 x 17.1 mm (4 ¼ by 6 ¾ inches) vignetted. [Click on the image to enlarge it.]
Commentary: David and Em'ly are off to a Wedding
For the first illustration in the fourth monthly part, Phiz reverts to the relationship between David and his second family, the Peggottys, as the wooing by the carrier Mr. Barkis of Clara reaches closure after the kind-hearted servant's being discharged by the cold, controlling Murdstones. Steig singles this illustration out for commendation because of Phiz's deft placement of a single symbol (the broken chain) and the overall organization of the figures as he captures a precise moment in the narrative, namely Mrs. Gummidge's receiving from Dan'l Peggotty an old shoe to toss after the newly-weds in order to confer luck and prosperity upon them, a tradition going back at least to Tudor times, and probably much earlier:
With no more than one (possible) emblem, "Mrs. Gummidge casts a damp on our departure" (ch. 10) seems more successful artistically in its representation of, the infantile adult couple (Barkis and Peggotty) and the precocious child couple (David and Emily); there is a spirited horse and fine, open handling of the boat house and the sea, and only the chain linked to a broken piling in the left foreground may comment unobtrusively on the perils of marriage, which the rest of the novel is at some pains to elaborate. [Steig 116]
The moment in question comes as the climax of David's narrative of the preparations for the "outing," which is an abbreviated honeymoon for the parsimonious carrier:
At length, when the term of my visit was nearly expired, it was given out that Peggotty and Mr. Barkis were going to make a day's holiday together, and that little Em'ly and I were to accompany them. I had but a broken sleep the night before, in anticipation of the pleasure of a whole day with Em'ly. We were all astir betimes in the morning; and while we were yet at breakfast, Mr. Barkis appeared in the distance, briskly driving a chaise-cart towards the object of his affections.
Peggotty was dressed as usual, in her neat and quiet mourning; but Mr. Barkis bloomed in a new blue coat, of which the tailor had given him such good measure, that the cuffs would have rendered gloves unnecessary in the coldest weather, while the collar was so high that it pushed his hair up on end on the top of his head. His bright buttons, too, were of the largest size. Rendered complete by drab pantaloons and a buff waistcoat, I thought Mr. Barkis a phenomenon of respectability.
When we were all in a bustle outside the door, I found that Mr. Peggotty was prepared with an old shoe, which was to be thrown after us for luck, and which he offered to Mrs. Gummidge for that purpose.
"No. It had better be done by somebody else, Dan'l," said Mrs. Gummidge. "I'm a lone lorn creetur' myself, and everythink that reminds me of creeturs that ain't lone and lorn, goes contrairy with me."
"Come, old gal!" cried Mr. Peggotty. "Take and heave it." [173/174]
"No, Dan'l," returned Mrs. Gummidge, whimpering and shaking her head. "If I felt less, I could do more. You don't feel like me, Dan'l; thinks don't go contrairy with you, nor you with them; you had better do it yourself."
But here Peggotty, who had been going about from one to another in a hurried way, kissing everybody, called out from the cart, in which we were all by this time (Eml'y and I on two little chairs, side by side), that Mrs. Gurnmidge must do it. So Mrs. Gummiclge did it; and, I am sorry to relate, cast a damp upon the festive character of our departure by immediately bursting into tears and sinking subdued into the arms of Ham. . . .[174]
Like the opening scene in the Blunderstone church and the school-room scene in the July 1849 instalment, this scene situates David in a social and group setting; and yet once again he seems strangely aloof from the group in which he finds himself. The points of interest in the plate generally are not the scant details derived from the text — the figures in the scene; Barkis's drab pantaloons, buff waistcoat, and new blue coat with commodious cuffs; the one-horse chaise-cart; and the old shoe to be thrown after it — for these are givens that the author would have insisted upon once the author and graphic artist had selected the scene for illustration. Rather, the astute viewer focuses upon how Phiz extends the scene as Dickens describes it, a case in point being the chain, which is not mentioned in Dickens's description of the upside-down boathouse and its environs when David first visits the Peggottys in the third chapter, a locale which Phiz does not depict at that time and which the narrator describes merely as a "dull waste" (35). Ham's gesturing with his left hand is ambiguous, for he may be drawing our attention to the shoe required by tradition or to the chain attached to the piling, which Phiz intends to be taken as symbolic of marriage generally, and perhaps even the fate of this particular marriage. In this respect, then, Ham acts on the artist's behalf as an internal commentator or Baroque spreker seen in the paintings of El Greco.
The narrator focuses upon Mr. Barkis' wedding suit and Mrs. Gummidge's hysterics when Daniel Peggotty has her throw the shoe, but the artist provides the boathouse as the theatrical backdrop, its drying fishing nets lending the diminutive dwelling verisimilitude, for the outward action — Clara Peggotty's turning away from us to deliver parting words to her family as Mrs. Gummidge casts her gaze downward rather than regard the departing couple as Daniel and Ham (the familial resemblance obvious) joyfully watch her departure. As befits his rather one-dimensional character, Barkis is invested with little "inner life" beyond self-satisfaction. The subjects who attract the reader's attention by virtue of their "inner action" are Em'ly, self-contained and self-possessed in a costume that in every way reflects the bride's right down to the trim on the bonnet, and David, gazing philosophically at his surrogate brother, Ham, and surrogate father, Dan'l Peggotty.
Studies of David and Em'ly at Clara Peggotty's Wedding from Other Editions (1872 & 1910)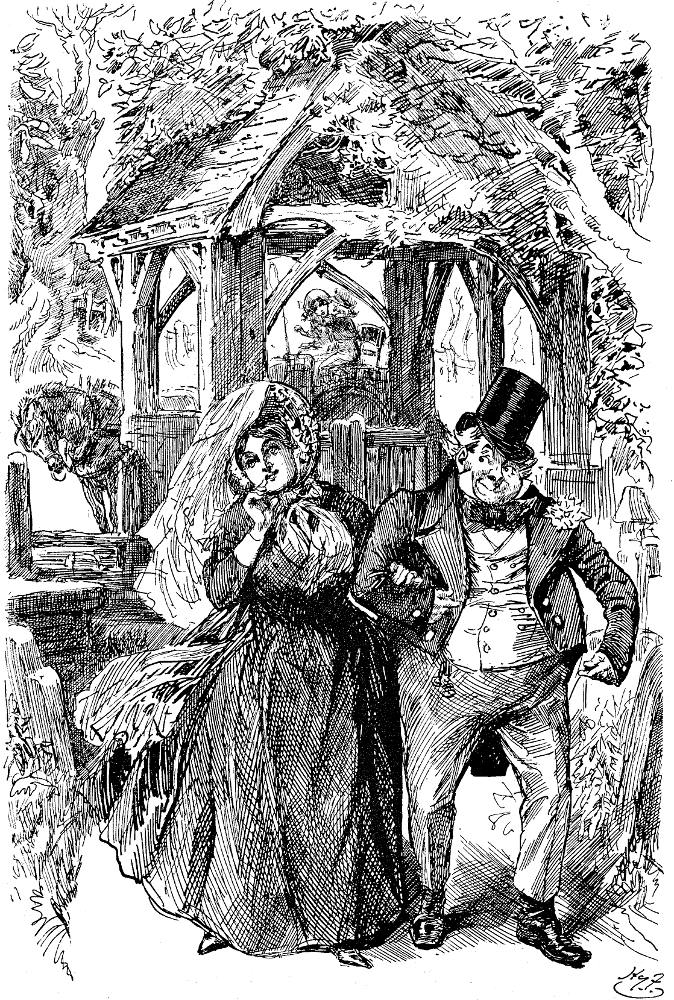 Left: Fred Barnard's Household Edition realisation of Clara Peggotty's relationship with Barkis: "I saw to my amazement, Peggotty burst from a hedge and climb into the cart.". (1872). Right: Harry Furnss's derivative illustration of David with Little Em'ly at Clara Peggottys' wedding: Barkis is Willin' (1910).
Related Resources
Scanned image and text by Philip V. Allingham. [You may use this image without prior permission for any scholarly or educational purpose as long as you (1) credit the person who scanned the image and (2) link your document to this URL in a web document or cite the Victorian Web in a print one.]
Bibliography
Bentley, Nicolas, Michael Slater, and Nina Burgis. The Dickens Index. Oxford and New York: Oxford U. P., 1988.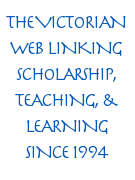 Cohen, Jane Rabb. Charles Dickens and His Original Illustrators. Columbus: Ohio State U. P., 1980.
Davis, Paul. Charles Dickens A to Z: The Essential Reference to His Life and Work. New York: Facts On File, 1998.
Dickens, Charles. The Personal History of David Copperfield, illustrated by Hablot Knight Browne ("Phiz"). The Centenary Edition. London & New York: Chapman & Hall, Charles Scribner's Sons, 1911. 2 vols.
_______. The Personal History of David Copperfield. Illustrated by Sol Eytinge, Jr. The Diamond Edition. 14 vols. Boston: Ticknor & Fields, 1867. Vol. V.
_______. David Copperfield, with 61 illustrations by Fred Barnard. Household Edition. London: Chapman and Hall, 1872. Vol. III.
_______. The Personal History and Experiences of David Copperfield. Illustrated by Harry Furniss. The Charles Dickens Library Edition. London: Educational Book Company, 1910. Vol. X.
Hammerton, J. A., ed. The Dickens Picture-Book: A Record of the the Dickens Illustrations. London: Educational Book, 1910.
Steig, Michael. Dickens and Phiz. Bloomington & London: Indiana U. P., 1978.
---
Created 22 November 2009 Last modified27 March 2022