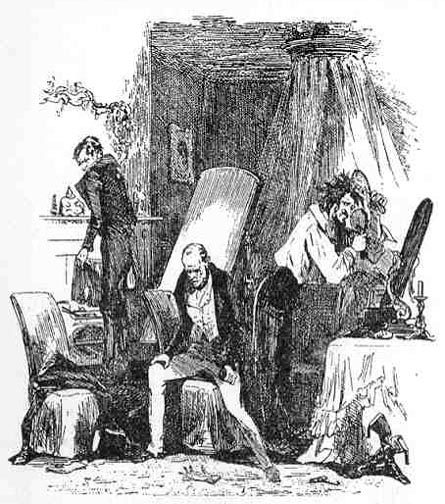 Mr. Nadgett Breathes, as Usual, an Atmosphere of Mystery
Phiz (Hablot K. Browne)
February 1844
Etching
Dickens's Martin Chuzzlewit
Scanned image and text by Philip V. Allingham.
[This image may be used without prior permission for any scholarly or educational purpose.]
J. A. Hammerton at the turn of the last century identified the foregoing and following as the moment that Phiz chose to realize in "Mr. Nadgett Breathes, as Usual, an Atmosphere of Mystery":
"Oh, let him stay!" said Tigg. "He's a mere piece of furniture. He has been making his report, and is waiting for further orders. He has been told,' said Tigg, raising his voice, "not to lose sight of certain friends of ours, or to think that he has done with them by any means. He understands his business."
"He need," replied Jonas: "for of all the precious old dummies in appearance that ever I saw, he's about the worst. He's afraid of me, I think."
"It's my belief," said Tigg, "that you are Poison to him. Nadgett! Give me that towel!"
Careful study of the illustration and the chapter, however, reveals that the subject is not Nadgett but Jonas Chuzzlewit, caught in a vice being tightened by the inscrutable private detective (upper left) and the duplicitous financier (right), who have acquired intelligence against him that will enable them to plunder his hard-won inheritance or to bring him to justice. Moreover, although Jonas's lips betray his shock at this moment, in the letterpress Tigg is close to his uncomfortable business partner, speaking sotto voce as he describes his confidential agent as "a mere piece of furniture" before raising his voice so that Nadgett can hear his approximate description of Nadgett's present commission. In fact, the illustration synthesizes several moments in the chapter, rendering it a symbolic moment rather than a tableau vivant based on a single passage. Jonas's posture suggests the very point at which Tigg has just whispered the guilty secret in Jonas's ear, and Jonas in reflex
drew his chair away, and sat a spectacle of terror, misery and rage. He was afraid to speak, or look, or move, or sit still. Abject, crouching, and miserable, he was a greater degradation to the form he bore, than if he had been a loathsome wound from head to heel.
As in the pictorial sequence Past and Present (1858) by Pre-Raphaelite Brotherhood supporter Augustus Egg, Phiz supplies the viewer with a setting and a limited cast of characters whose poses and expressions supply clues as to their relationship and the central character's circumstances." Whereas Egg's three scenes, however, constitute a narrative in themselves (albeit, assisted by fragmentary journal entries), the 1844 image is a visual accompaniment to a verbal text. Both Egg and Phiz here deal with the revelation of a terrible secret and the consequences of that revelation.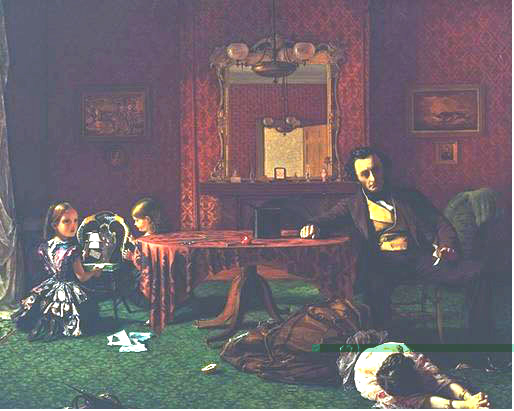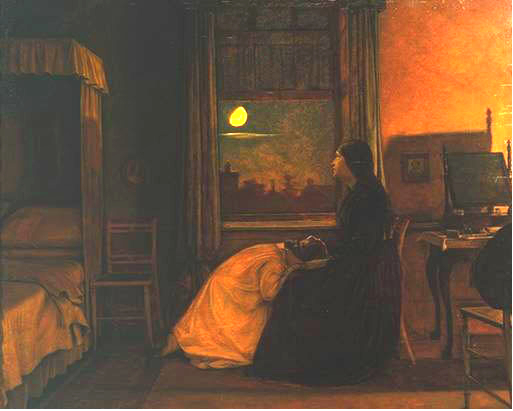 Augustus Egg's triptych now known as Past and Present (the artist did not give it that title): [The Infidelity discovered]; [The abandoned daughters]; and [The wife abandoned by her lover with her bastard child]. Click on thumbnails for larger images and extensive discussions.
The secret that afflicts Phiz's central character, whom we recognize from previous illustrations such as "Mr. Jonas Chuzzlewit Entertains His Cousins" (Chapter 11, Part 5, May 1843), is not immediately revealed in the letterpress for Chapter 38, leaving reader, like Jonas himself, in a state of temporary perplexity and puzzlement, and like Nadgett piecing together visual and verbal clues to ascertain the underlying truth. Appearances are deceptive here, for Nadgett, although merely glancing over his shoulder at Jonas, is observing him closely and Tigg, cheerfully brushing his hair, has only moments before revealed his terror at the prospect of being left alone with his brutal and violent business associate whom he would seem to have at his mercy.
Having already appeared in such illustrations as "Pleasant Little Family Party at Mr. Pecksniff's" (ch. 4), "Martin Meets an Acquaintance at the House of a Mutual Relation" (ch. 13), and "The Board" (ch. 27) that together graph his rise from cadger and sponger to insurance magnate, the elegantly bewhiskered Montague Tigg (alias "Tigg Montague") is as familiar a figure at this point in Phiz's program as the lean and lanky Jonas. Up to this point, however, Nadgett has been at best a shadowy figure in the letterpress and has never once appeared in the narrative-pictorial sequence. Now, as the plot line involving Tigg the swindler and Jonas the murderer begins to take a sinister turn, Nadgett assumes a textual prominence that is not so marked in the visualization of that text. With his back toward the viewer, Nadgett is still partially hidden, for we cannot "read" his face. From chapter 27 Phiz and the serial reader would have recalled that Dickens had described Montague's private detective as "a short, dried-up, withered old man" with an intensely secretive manner and the uncanny ability to blend into his surroundings, seemingly "a mere piece of furniture" and "a dummy." Jonas mistakenly describes Nadgett as "afraid" of him, when in fact he should fear Nadgett. Now, by close observation of Jonas's movements, dogging his subject's footsteps, and making enquiries at Poll Sweedlepipe's and Mr. Mould's, Nadgett has uncovered Jonas's having attempted to poison his own father.
Since the thirty-eighth chapter begins with a detailed and lengthy description of Nadgett's movements and activities, Phiz's title seems appropriate, but his intention upon further reflection seems to be to confuse or mislead the reader. Already the reader, like Tigg, has learned of Nadgett's half-a-dozen "weighty" memoranda — but unlike Tigg the reader is still in dark as to the precise contents of those memoranda other than that they bear "a deeper impression of Somebody's hoof." In order to heighten the suspense, Dickens here has been careful not to reveal the contents of Nadgett's notes, but has indicated through Jonas's reactions how significant they must be. At the beginning of the scene in Tigg's dressing room, Jonas has just entered, Nadgett has retired to the stove which Tigg uses to heat his curling irons, and Tigg has suddenly begun to brush his unruly follicles vigorously. Jonas immediately asks Tigg to dismiss "old what's-his-name," but in vain. Although he reveals no anxiety in either the plate or the letterpress, Tigg is determined to retain Nagett as a witness and even a protector. Tigg's use of the word "Poison" (which Dickens has capitalized to imply the speaker's emphasizing the ominous word) seems to alarm Jonas. Whereas in the letterpress Jonas's shock is communicated by the sudden pallor of his lips, in the illustration it is suggested by his rigid posture and his right hand's gripping his knee.
In the absence of much textual detail about Tigg's dressing room, with the exception of the stove for the curling tongs and the chairs, Phiz was free to improvise, particularly with respect to the cheval glass immediately behind Jonas and a symbolic object on the floor in front of him. Since Tigg is still dressing, Phiz has shown his boots lying conspiratorially against one another (right) and his jacket strewn on a chair (left), and Tigg is concentrating on working the brushes against either side of his head. Meanwhile, as Nadgett observes Jonas over his shoulder as he dries his handkerchief in front of the stove, Tigg is apparently addressing Jonas as he examines his own countenance in the mirror on his dressing table. What then is lying at Jonas's feet?
Upon entering earlier, Nadgett had thrown his hat upon the floor and extracted his pocket-book in order to deliver his memoranda. Although Dickens does not so specify, Phiz has decided that Nadgett has thrown down his beaver glove, too, and that it should appear to have a life of its own since, according to Steig in Dickens and Phiz, it "appears to be reaching for [Jonas's] throat" (72). What one might initially mistake for the feet of a dead rat lying on the carpet are in fact the bent fingers of the detective's glove, shaped by Nadgett's own and fulfilling his intention.
The effect of the slanted standing mirror is both to alienate the seated Jonas from the two standing figures, and to highlight his inward gaze as he ponders the implications of what Jonas has just told him. The immobile image of Jonas Chuzzlewit, elsewhere so vigorous, works upon the viewer's imagination, underscoring a number of textual moments and synthesizing them. Rendered at least temporarily incapable of action and seemingly lost in thought, Jonas will soon enough take decisive action against the schemer who has attempted to entangle him in his web. The reader at this point, from the letterpress and from the accompanying illustration, suspects but as yet has received no confirmation that Jonas had poisoned his father. Trapped like a rat, Jonas may well be contemplating how to extricate himself from his adversary's snare. The thirty- third illustration, "Mr. Jonas Exhibits His Presence of Mind" (chapter 52), therefore, is the natural extension of the thirtieth, as Jonas acts with force and determination to eliminate the threat to his life and fortunes that Tigg represents.
References
Cohen, Jane R. Charles Dickens and His Original Illustrators. Columbus, Ohio: Ohio State University Press, 1980.
Steig, Michael. Dickens and Phiz. Bloomington & London: Indiana U. P., 1978.
____. "Martin Chuzzlewit's Progress by Dickens and Phiz." DSA 2 (1972): 119-149.
---

Victorian
Web

Martin
Chuzzlewit

Illus-
tration

Phiz

Next
Last modified 17 May 2009