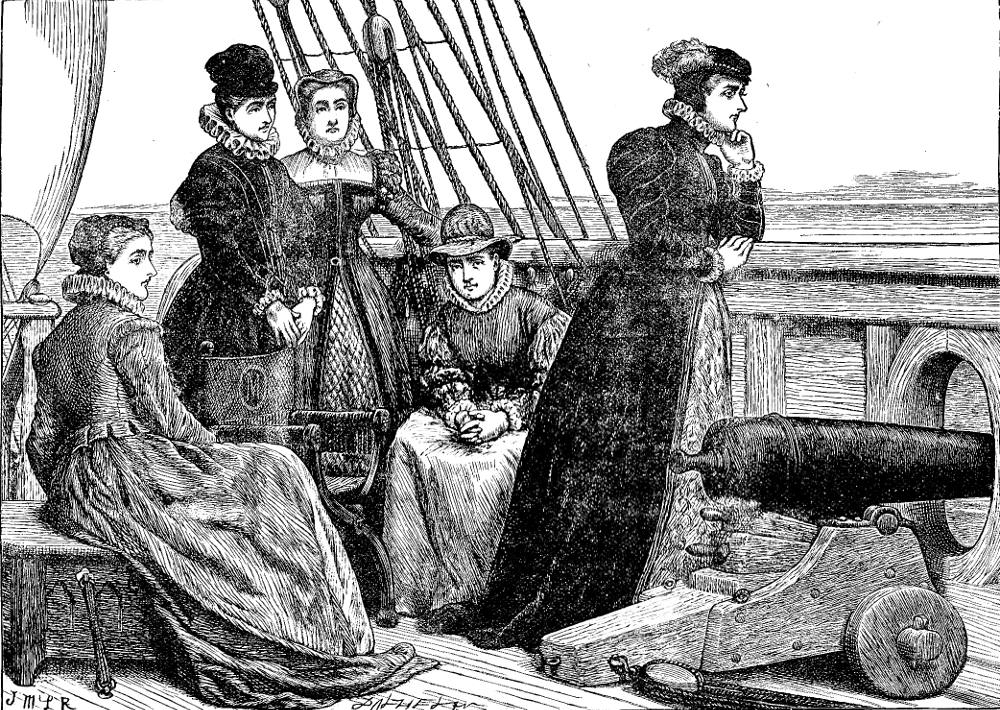 Mary Queen of Scots Leaving France, composed by John McLaren Ralston and engraved by E. Dalziel. Wood engraving, 7 x 5 inches (17.5 cm wide by 12.4 cm high). — Chapter XXXI in A Child's History of England. Frontispiece for Vol. XVIII of the Household Edition. Date of publication: 1878. [Click on the image to enlarge it.]
Passage Illustrated: Towards a Dubious Future
Elizabeth had been Queen three years, when Mary Queen of Scots embarked at Calais for her own rough, quarrelling country. As she came out of the harbour, a vessel was lost before her eyes, and she said, "O! good God! what an omen this is for such a voyage!" She was very fond of France, and sat on the deck, looking back at it and weeping, until it was quite dark. When she went to bed, she directed to be called at daybreak, if the French coast were still visible, that she might behold it for the last time. As it proved to be a clear morning, this was done, and she again wept for the country she was leaving, and said many times, "Farewell, France! Farewell, France! I shall never see thee again!" All this was long remembered afterwards, as sorrowful and interesting in a fair young princess of nineteen. Indeed, I am afraid it gradually came, together with her other distresses, to surround her with greater sympathy than she deserved. [Chapter XXXI — "England under Elizabeth the First," First Part, 133]
Commentary
As Gillian Avery notes, Dickens's decision to avoid dates (presumably to emphasize the anecdotal and less formal characteristics of his "history") occasionally causes readers trouble. Here, for example, a date might readily have established how old Elizabeth was (twenty-eight) when the young widow, Mary Stuart, Queen of Scots, set out for own kingdom. Dickens does make it abundantly clear that the young Elizabeth found her cousin a political minefield: "The one great trouble of this reign, and the unfortunate cause of the greater part of such turmoil and bloodshed as occurred in it, was Mary Stuart, Queen of Scots. We will try to understand, in as few words as possible, who Mary was, what she was, and how she came to be a thorn in the royal pillow of Elizabeth" (xxx). The reader would find it informative if Dickens had explained the relationship between the cousins by letting the reader know that, when she set out from the Port of Calais for Scotland on 14 August 14, 1561, Mary was just 18 years old. Elizabeth, seven years her senior, was undoubtedly rankled by Mary's romantic and political career, and by the support Mary had received from the Catholic Church that implied Elizabeth's claim to the throne was inferior and illegitimate because she was a Protestant. Sometimes, as Dickens should have realised, dates matter; as Avery remarks, "the reader has to struggle with complicated dynastic marriages and claims to the throne without a lifeline to grasp" ("Introduction," XX).
Although Dickens does not describe either the size or the reactions of Mary's retinue towards having to leave France, McLaren Ralston indicates that they were hardly overjoyed at the prospect of taking up residence in a country so different in climate and culture. The illustrator seems to have missed an opportunity for injecting a dramatic element as he has not shown the ominous sinking of the vessel just outside the port of Calais.
Related Material
Scanned image, caption material, and commentary by Philip V. Allingham. [You may use this image without prior permission for any scholarly or educational purpose, as long as you (1) credit the person who scanned the image, and (2) link your document to this URL in a web document or cite the Victorian Web in a print one.]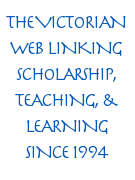 Bibliography
Avery, Gillian, ed. Charles Dickens: "A Holiday Romance" and Other Writings for Children with All the Original Illustrations. Everyman edition. London: J. M. Dent, 1995.
Dickens, Charles. A Child's History of England". Illustrated by John McLaren Ralston. Household Edition. London: Chapman & Hal1, 1878. XVIII.
_______. A Child's History of England in Works. Centenary Edition. 36 vols. London: Chapman and Hall; New York: Charles Scribner's Sons, 1910-12.
---
Created 7 March 2021