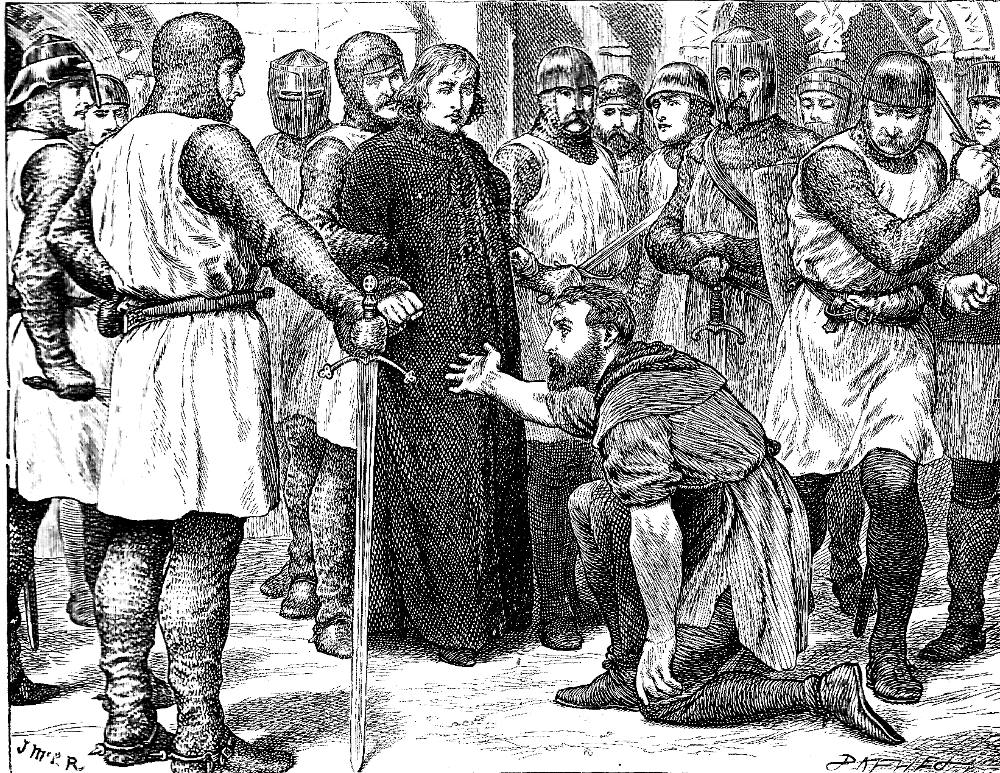 Hubert de Burgh and The Black Band, composed by John McLaren Ralston and engraved by E. Dalziel. Wood engraving, 4 ¼ by 5 ½ inches (10.7 cm high by 13.8 cm wide). — Chapter XV in A Child's History of England, Vol. XVIII of the Household Edition: 56. Date of publication: 1878. [Click on the image to enlarge it.]
Context of the Illustration: The Noble Blacksmith defies The Black Band
Hubert, who relied upon the King's word, though I think he was old enough to have known better, came out of Merton Abbey upon these conditions, and journeyed away to see his wife: a Scottish Princess who was then at St. Edmund's-Bury.
Almost as soon as he had departed from the Sanctuary, his enemies persuaded the weak King to send out one Sir Godfrey de Crancumb, who commanded three hundred vagabonds  called the Black Band, with orders to seize him. They came up with him at a little town in Essex, called Brentwood, when he was in bed. He leaped out of bed, got out of the house, fled to the church, ran up to the altar, and laid his hand upon the cross.  Sir Godfrey and the Black Band, caring neither for church, altar, nor cross, dragged him forth to the church door, with their drawn swords flashing round his head,  and sent for a Smith to rivet a set of chains upon him. When the Smith (I wish I knew his name!) was brought, all dark and swarthy with the smoke of his forge, and panting with the speed he had made; and the Black Band, falling aside to show him the Prisoner, cried with a loud uproar, "Make the fetters heavy! make them strong!" the Smith dropped upon his knee — but not to the Black Band — and said, "This is the brave Earl Hubert de Burgh, who fought at Dover Castle, and destroyed the French fleet, and has done his country much good service. You may kill me, if you like, but I will never make a chain for Earl Hubert de Burgh!" [Chapter XV — "England under Henry the Third, Called, Of  Winchester," 54]
Related Material
Scanned image, caption material and commentary by Philip V. Allingham. [You may use this image without prior permission for any scholarly or educational purpose, as long as you (1) credit the person who scanned the image, and (2) link your document to this URL in a web document or cite the Victorian Web in a print one.]
Bibliography
Avery, Gillian, ed. Charles Dickens: "A Holiday Romance" and Other Writings for Children with All the Original Illustrations. Everyman edition. London: J. M. Dent, 1995.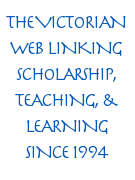 Churchill, Winston. "Growth and Turmoil." The History of the English-Speaking Peoples. Vol. I, No. 11: Anarchy in England. London: Purnell, 1969.338-346.
Dickens, Charles. A Child's History of England". Illustrated by John McLaren Ralston. Household Edition. London: Chapman & Hal1, 1878. XVIII.
_______. A Child's History of England in Works. Centenary Edition. 36 vols. London: Chapman and Hall; New York: Charles Scribner's Sons, 1910-12.
---
Created 7 March 2021